Beyond the Golden Door: Jewish American Drama and Jewish American Experience by Julius Novick. Palgrave Macmillan, 2008; paperback 2009, 200 pages.
Reviewed by Caldwell Titcomb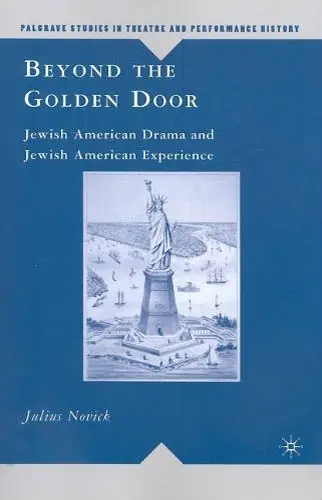 The Jewish presence in the United States goes back to the16th century. In 1584 Sir Walter Raleigh recruited the expert Prague-born Jewish metallurgist and mining engineer Joachim Gans/Gaunse to join him on an expedition to Virginia to establish a permanent settlement. But Gans decided to return to England two years later. In 1654, however, enough Jewish families immigrated from Spain and Portugal (via Brazil) to establish Congregation Shearith Israel in New York, followed in 1658 by Congregation Jeshuat Israel in Newport, Rhode Island, whose Touro synagogue, started in 1759 and dedicated in 1763, is the oldest extant Jewish house of worship.
Four Jewish playwrights were active in the early decades of the 19th century. Isaac Harby (1788-1828) was writing plays already as a teenager, and later became a critic for the "New York Evening Post." Mordecai Manuel Noah (1785-1851) was a diplomat and journalist as well as a playwright, and was the first native Jew to attain national prominence. He wrote for the stage from 1808 to 1840, and his "She Would Be a Soldier" (1819) made him the first important Jewish American writer. "The Evil Eye" (1831), by Noah's cousin Jonas B. Phillips (1805-69), was staged throughout the rest of the century. Samuel Benjamin Helbert Judah (1798-1869) – who, incidentally, in 1816 became the first Jewish graduate of Rutgers University – had considerable success with four plays from 1820 to 1823.
It is understandable that these Jewish playwrights avoided Judaism in their writing.When Jewish characters did turn up, it is not surprising that they were unsavory. The first play to have a Jewish character in the cast was apparently "Slaves of Algiers" (1794) by the non-Jewish writer Susanna Haswell Rowson (1762-1824). The Jewish merchant, Ben Hassan (who speaks in heavy dialect), is greedy and repulsive, and converts to the Muslim faith. He also has a half-Jewish daughter, Fetnah. In "The American Captive" (1812), by another non-Jew, James Ellison (whose dates I could not find), Ishmael is a miserly Jew who even starves his own servant.
From this prolegomenon I turn to Julius Novick's important new book, "Beyond the Golden Door: Jewish American Drama and Jewish American Experience."
Novick was already writing insightfully about the theater as a Harvard undergraduate, and proceeded to a doctorate at Yale in 1966. In 1968 he published "Beyond Broadway: The Quest for Permanent Theatres," a still valuable survey of some fifty regional theaters in the United States and Canada. For many years he reviewed theater in diverse publications, and in 1982 won the George Jean Nathan Award for drama criticism. From 1972 to his recent retirement he was a professor of drama at Purchase College of the State University of New York.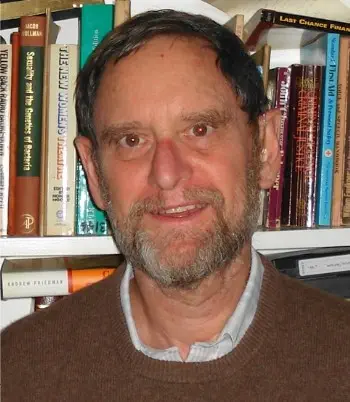 The trickle of Jewish playwrights eventually became a flood following the extensive immigration of Jews in the second half of the 19th century and the early decades of the 20th until restrictions were instituted by the Immigration Act and National Origins Quota of 1924.
Novick does not attempt to be encyclopedic. He acknowledges the absence of David Mamet – and he might have added names like Israel Horovitz and Arthur Kopit – because "other plays by other writers cast a more vivid light on the specific question of what it can mean to be Jewish in America." And he does not deal with Yiddish theater, which had its heyday from the 1880s to the 1930s.
He focuses on some three dozen plays, from 1908 to 2001. Arthur Miller and Neil Simon each get full chapters as "the two most prominent Jewish American playwrights," but no other dramatist is represented by more than two works. Early on, Novick quotes the most famous sentence in W.E.B. Du Bois' 1903 classic, "The Souls of Black Folk": "One ever feels his two-ness,–an American, a Negro; two souls, two thoughts, two unreconciled strivings." And he applies it to the Jews a dozen times as the book proceeds – but not monolithically, for he is careful to distinguish between the descendants of German immigrants and those from Eastern Europe and Russia.
In his exploration of Jewish drama he finds a number of recurring themes: "the memory of persecution; the fear of the big Gentile world and the yearning to join it; generational conflict; upward social mobility…the counterpoint of outward success and inward disappointment…the survival of Jewish identity among those indifferent to Jewish religious belief and religious observance." The umbrella subject is thus "the question of how (or whether) to be Jewish and American at the same time."
Novick starts off with Israel Zangwill's "The Melting-Pot," whose 1908 premiere was attended by an admiring President Theodore Roosevelt. He asserts that it "may well be the most influential play ever written about the Jews and America," even though it is its title that has survived over the decades. Its protagonist falls in love with a shiksa (non-Jew), which raises the hot-button issue of intermarriage. Actually Zangwill – uniquely among those surveyed – was himself British, not American, and he married a non-Jewish woman while remaining active in Jewish causes all his life.
After a discussion of Aaron Hoffman's "Welcome Stranger" (1920), in which a virulently anti-Semitic small-town mayor is eventually revealed to have been born Jewish, the protagonist of Samson Raphaelson's "The Jazz Singer" (1925) is again romantically attracted to a non-Jew (this work is famous for being turned into the first cinema "talkie" two years later).
Novick devotes a chapter to Elmer Rice, who changed his surname from Reizenstein and once said Judaism was "a creed that meant nothing to me." His "Street Scene" (1929), which won the Pulitzer Prize, presents a multiethnic New York tenement, which houses the Jewish Sam Kaplan, who is, once more, in love with a Gentile upstairs. Novick might have mentioned that this play was in 1947 turned into a highly successful and often revived opera, with lyrics by Langston Hughes and music by Kurt Weill.
Rice's "Counsellor-at-Law" (1931), Novick tells us, "is one of the few Jewish American plays that depict a Jew as powerful." At its center is lawyer George Simon – a role that was turned down by Paul Muni and went to John Barrymore, "who gave a smashing, though not at all Jewish, performance." One can see this performance in the film version (1933), directed by William Wyler. Rice surmised that Muni did not want to be typed as a Jewish actor. Muni had changed his name from Meshilem Weisenfreund – as did a host of other performers such as Bernard Schwartz/Tony Curtis, Fania Borach/Fanny Brice, Emmanuel Goldenberg/Edward G. Robinson, Betty Joan Perske/Lauren Bacall, Leon Jacob/Lee J. Cobb, and Asa Yoelson/Al Jolson.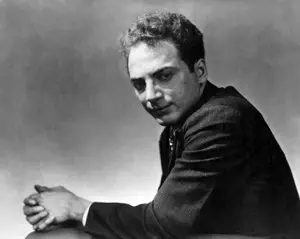 Clifford Odets' "Awake and Sing!" (1935) is one of the most powerful American plays ever written. Penned at 28, it was the first success for both Odets and the Group Theater for which it was written. Its nine-person cast make up three generations of a Jewish family in the Bronx struggling to survive in the Depression. Novick says that "the Bergers swim in Jewishness without thinking about it," confronting American values "in several very Jewish manners."
Novick tells us that Arthur Miller "is manifestly the most eminent Jewish playwright who ever lived," and his "Death of a Salesman" (1949) "by general agreement Miller's most important play." He cites Christopher Bigby, who has written books on Miller, as stating in 1984 that Willy Loman "was not Jewish." Novick points out, however, that Miller himself in 1999 "explicitly identified the Lomans as Jews – but as Jews who have lost their Jewishness." Certainly some of the play's lingo is patently Jewish, as is also true of Miller's autobiographical "After the Fall" (1964). I recall seeing a London production in which the character patterned on Marilyn Monroe, Miller's second wife, was magnificently enacted by black actress Josette Simon.
Miller's "Incident at Vichy" (1964) and "Playing for Time" (1980) both have Jewish content. But Novick cites "The Price"(1968) as having "the first unmistakably, explicitly Jewish American character to appear in a Miller play," the 89-year-old furniture dealer so memorably originated on Broadway by the late Harold Gary. "Broken Glass" (1994), Novick says, was "his first play to focus explicitly on what it could mean to be Jewish in America." In it Philip Gellburg "is a brilliant, complex portrait of what Miller himself has been accused of being: a self-hating Jew, yearning to escape his Jewishness, knowing that he never can."
Neil Simon has often been cited as the most commercially successful playwright in all of history. I must admit that I am not much of a Simon fan. But I do admire the Pulitzer-winning "Lost in Yonkers" (1991) – not the least because it provided, in the tough German-Jewish grandma Kurnitz, a wonderful role for the great Irene Worth, whose performance won her a third Tony Award (she reprised the part in the 1993 film version).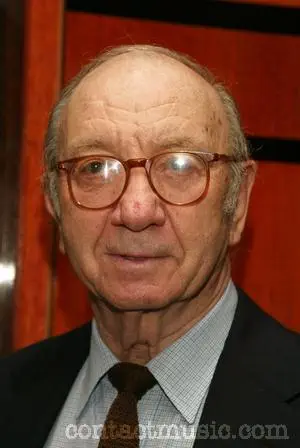 Novick accords Simon a long chapter and discusses eight of his plays, several of which are largely autobiographical. Novick concedes that Simon's work "is often vitiated by glibness, sentimentality, and unearned optimism." He also discusses another Pulitzer winner concerning a German-Jewish lady and her black chauffeur, in the South this time: Alfred Uhry's "Driving Miss Daisy" (1987), which has been repeatedly staged – partly, no doubt, because it requires a cast of only three. Uhry acknowledges that it is "a play about my grandmother and her driver."
Donald Margulies' "The Loman Family Picnic" (1989) and "Sight Unseen" (1991) both "dramatize different generations of Jewish American unease," Novick tells us. The former has an eleven-year-old boy who is writing a musical version of "Death of a Salesman," in an attempt "to cope with the tensions in his own family." It also has four different endings, played one after another – the last being the "real" ending.
Novick turns from sons to daughters in another chapter, discussing Barbara Lebow's "A Shayna Maidel" (1985), and Wendy Wasserstein's "Isn't It Romantic?"(1981) and "The Sisters Rosensweig" (1992). The last proved a huge hit. Its three sisters are by no means young when they have a reunion in London: Pfeni, 40, is a travel writer; Gorgeous, 46, is a radio talkmeister in Massachusetts; and Sara, 54, is an international banker. They are markedly differentiated, Sara even "on the verge of being a Jewish anti-Semite, or perhaps over the verge." The playwright, Novick says, "wants us to know that American Jews…can gain strength from their ancestors to live fulfilling lives in the present, even if those lives are not conventionally Jewish."
Novick moves from straight plays to musicals in one chapter. He could not overlook "Fiddler on the Roof" (1964) – book by Joseph Stein, music by Jerry Bock, lyrics by Sheldon Harnick – which ran on Broadway for seven years and nine months, and has been staged all over the world. Novick calls it "a true ancestral myth for American Jews, celebrating the great founding trauma that was our immigration." The work, set in 1905, deals with Tevye the milkman and his five daughters who live precariously in a rundown Russian shtetl. When tradition is disrupted, what do we do then? The work is both thoroughly Jewish and universal.
Novick might for comparison have brought in "The Rothchilds" (1970), the last collaboration between Bock and Harnick (book by Sherman Yellen this time). Instead of five daughters, Mayer Rothchild has five sons, who manage to pull the family out of their German ghetto beginnings and become highly prosperous businessmen throughout Europe, eventually being ennobled with the title of baron (this is all true history). The opening music smacks of Gilbert & Sullivan, but the Act I song "Everything" is clearly Jewish.
Joseph Stein, the book writer for "Fiddler" also wrote the book for "Rags" (1986), with music by Charles Strouse and lyrics by Stephen Schwartz. The work is a rarity in that it "focuses directly on the immigrant experience in America….Jewish American playwrights, themselves American-born, are usually too busy working out their struggles with their parents, who are often also American-born, to pay tribute to their immigrant grandparents." I have never understood why "Rags" flopped on Broadway after only four official performances. Even if you agree with Novick that it is "dramaturgically flawed, with a leaden subplot," its superb Strouse score should have been enough to keep it running (and luckily a 1991 studio recording is available).
Novick concludes that it "is one of the few works of any stature to present the story of an American Jew as a story of heroic struggle and triumph. 'Rags' does honor to my grandmother, who bribed the officials with her wedding ring in order to bring her children to America."
The last musical dealt with by Novick is William Finn's "Falsettos" (1992, book by James Lapine), a revision and combination of earlier one-acts. The Jewish Marvin leaves his wife Trina for the half-Jewish Whizzer. His son Jason rebels against having a bar mitzvah. But when Whizzer is dying of AIDS Jason decides he will after all hold the ceremony – in Whizzer's hospital room. As Novick states, "Among this distinctly secular group of Jews, an unorthodox bar mitzvah becomes the occasion for a boy's giant step toward maturation in sympathy, in sensitivity, in humanity."
As an epilogue, Novick speaks briefly about Tony Kushner's two-part "Angels in America" (1991-92), "the great American play of the 1990s." Each part won the best-play Tony Award. Novick points out that only two of the seven main characters are Jewish, but he quotes Kushner: "Judaism isn't what the play is about, but I'm Jewish and it took me by surprise that it wound up being all over the play." Novick feels, "Today all three major Jewish denominations are moving toward more traditional observance." How this will all turn out "remains to be seen – and to be dramatized by future playwrights."
I have not mentioned all the plays and playwrights dealt with in Novick's book. For that you will simply have to consult the book itself. There is an extended Bibliography, followed by an Index of Playwrights. The ensuing Index of Plays contains titles and page references where they are mentioned; I noticed three works that were overlooked here: "The Adding Machine," "The Man Who Came to Dinner," and "Waiting for Lefty," plus a dozen or so missing page numbers. Finally there is a General Index.
This is a volume that fills a major need in a highly distinguished manner, thanks to one who has thought long and hard about its subject matter.