Let me get this straight. President and CEO of the Citi Performing Arts Center (CPAC), Josiah Spaulding Jr., presides over five straight years of budget deficits and arts programming cuts, including slashing the budget of this summer's Shakespeare on the Common production, and he earns a $1.265 million bonus. This is shameful, especially given that Spaulding is one of the most highly paid leaders of an arts center in the country. Worse, it looks like another scam is on the horizon…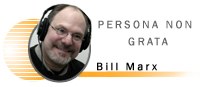 Every once in awhile somebody wakes up in the Boston Globe arts section, perhaps when the lulling flow of happy talk is suddenly interrupted. CPAC's announcement that the Commonwealth Shakespeare Company's (CSC) annual Shakespeare on the Common production would run one week rather than the customary three rang alarm bells. A Globe editorial suggested some people were "profoundly" disappointed with how the Bard was being treated.
CPAC bankrolls the CSC show, and when asked about the cutback President and CEO Spaulding blamed budget overruns on earlier Shakespeare on the Common productions as well as on hard times for arts funding. Here is the line he fed Alexander Stevens of the Tab newspapers:
He [Spaulding] said that for the past five years, he's raised a total of about $3 million for the CSC shows. But the productions cost a total of about $4.2 million. That's a deficit of $240,000 a year. Add in the fact that this year both John Hancock and Target discontinued funding the show, and you can see why Spaulding knew in the middle of last summer's run they'd have to make changes for this summer's show.

"It's all about sustainability," says Spaulding, adding that he sees "Free Shakespeare" as a "core program" that he hopes to present for many years to come.
It is about "sustainability" all right, but the goal is to keep Spaulding's core bank account fat rather than fully fund the arts. Geoff Edgers's fine piece in the Boston Globe reveals that — at a time Shakespeare on the Common and other parts of CPAC cultural programming are floundering — Spaulding is receiving a 1.265 million dollar bonus. Add up the five years of deficits accrued by Shakespeare on the Common and what do you get? Roughly the same amount Spaulding is taking home for doing such a great job.
"We know arts funding gets harder and harder and harder," Spaulding told the Tab. But things are not tough for everyone – it has become easier for honchos of nonprofit arts organizations to rake in big bucks. And to find employment for their loved ones – Edgers points out that Spaulding's wife is CPAC's website manager. CPAC will not disclose her salary. Spaulding's salary is public, and it turns out he took a $100,000 cut in his salary this year. He told the Globe he wanted to do his bit during difficult economic times. The 1.265 million dollar payoff should blunt some of the pain of the sacrifice. The response of the CPAC to the controversy over Spaulding's bonus, as reported by the Globe, is pathetic.
But there are more ominous signs that the CPAC is about incubating marketing techniques rather than funding the arts. On July 20, MSN reported that CPAC is collecting money for a "visionary" venture. More cultural productions? You must be kidding…
Citi Peforming Arts Center is implementing a new seven-year strategic plan that calls for a new business model it hopes will become a national model for other cities, Citi senior management said Friday.

Under the new plan, the Boston-based organization, formerly known as The Wang Center for the Performing Arts, will focus on new technology and interactive and educational programming to bring the arts into the community.

The plan, which Citi management calls visionary, is a multimillion-dollar undertaking that includes setting up video screens in Boston Common that display ongoing live performances, providing kiosks for people to sign up for classes and purchasing theater tickets via cell phone.

"The market has told us we had to do this," said Nancy Sullivan Skinner, recently brought on as the organization's new chief development officer. "The industry has undergone significant changes in recent years and the traditional operating business model that the former Wang Center was operating under was no longer sustainable."

The plan also calls for a shift in earned income to a greater focus on fund raising, said Skinner.

Citi Performing Arts Center heads said it will also continue renting out the Wang Theater and other venues to increase earned income, and leverage internal expertise to offer theater management services.

The organization said it will look for strategic partners and sponsors to help implement the plan. It has about $1 million in funds so far.
Let me get this straight. This "visionary" program, inspired by the command of the market, amounts to setting up screens in the Boston Common, putting up kiosks so people can sign up for classes, and developing ways to order tickets via cell phones. At this point, CPAC has collected about a $1 million. It takes all that money to do that? Those screens must be gold-plated. And isn't showing people "ongoing live" performances on screen contradictory? We want to get audiences away from their TVs. Why not also come up with a system where people can sign up for classes using cell phones? No doubt that prophetic idea will spawn another million dollar program. At the CPAC, fundraising is the name of the game — the arts are the window dressing to get the suckers into the tent.
Those outraged by Spaulding's obscene bonus, and perplexed that a purported nonprofit arts organization is acting like a corporate greed machine, should keep a close eye on this scheme.