By Peter Keough
A lot seems to be going on beneath the surface, but the surface itself is so beguiling, with the scenery, sea, and sunsets rapturously shot on digital cameras by cinematographer Artur Tort, and with the alternately lulling and agitating soundtrack, that the urgency tends to lapse.
Pacifiction, directed by Albert Serra. Screens at the Brattle Theatre March 17 through 21.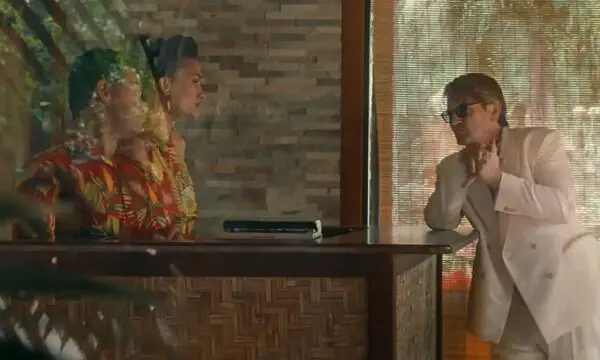 The films of sui generis Spanish filmmaker Albert Serra show how the powerful, or those who pretend to be, turn out to be as prone to human frailties as everyone else, if not more so.
In his low budget Quixotic/Honor de Cavelleria (2006), the would-be knight referred to in the title lolls about the countryside with his sidekick Sancho, chatting philosophically, with nary a giant or windmill to tilt at within sight. The idealistic, deluded spirit of chivalry lamented by Cervantes has languished into the lyrical nihilism of Samuel Beckett.
In his claustrophobic period piece The Death of Louis XIV (2016) a much-reduced Sun King (played by an immensely bewigged Jean-Pierre Léaud) lays dying in bed, the gangrene in his foot spreading upward despite the futile efforts of his quack physicians. But the business of the state goes on despite the pending demise of the king, and the advice he gives to his great-grandson and successor, the 5-year-old future Louis XV, not to "imitate me in my love of buildings and war," goes unheeded. Then there are the doomed nobles in Liberté (2019), who, in 1774, the year Louis XV died and 15 years prior to le déluge he allegedly predicted, indulge in polymorphously perverse sexual antics in a labored, lengthy, pseudo-Sadean, Salo-esque romp in the forest.
Such fevered ennui and inertia persist in Serra's new film Pacifiction, but its beleaguered potentate De Roller does get out and about a bit more than the other Serra protagonists, engaging in possibly pointless efforts to counter threats to his realm which may or may not exist. Played by Benoît Magimel (still sexy but a bit stouter and seedier since his steamy scenes in The Piano Teacher in 2001), he's the High Commissioner of the French Polynesian island of Tahiti. Clad in a white linen suit with a honey blond coif, he resembles a cross between Marlon Brando in Gillo Pontecorvo's Burn! (1969) and a more benign '80s vintage Donald Trump. He loves the place and his job, which entails mostly tooling about in his chauffeured Mercedes to picturesque places of interest on the island or schmoozing with the clientele at the unimaginatively named hot spot "Paradise Nights" run by the genially gangsterish Morton (Sergi López).
But troubles haunt this paradise, though whether real or imaginary is unclear. Meeting with local representatives, De Roller learns that some of the island's Christian religious leaders have forbidden the native population to patronize the club. He tells them he'll take care of it, invites them to an upcoming Bastille Day shindig, then later drops by a seaside church and more or less says, nice place you've got here it would be too bad if something happened to it. De Roller seems to run the island like a tropical Don Corleone.
Another issue, though, is more threatening. Rumors have been bruited about that a French submarine has been loitering offshore and that it is part of a plan to resume nuclear bomb testing, a practice that had been terminated decades before but has left islanders with lingering radiation-linked cancers and other diseases. Exacerbating that suspicion, a contingent of French sailors and Marines and their fey admiral have shown up at the club while boatloads of island girls have supposedly been taken away in skiffs to destinations unknown.
Played by Marc Susini, the dainty, diminutive French admiral gets soused at the club and dances with his strapping Marine escorts and the tighty-whities-clad native waitstaff as he freely spills his vague threats and poisonous, jingoistic opinions. He is the most odious representative of a decadent militaristic mindset since Adolphe Menjou's general in Paths of Glory (1957). Not only does that development threaten De Roller's peace of mind, but it has also stirred up discontent with younger island leaders like Matahi (Matahi Pambrun, with a sinister intensity like a young Ray Liotta), who threatens De Roller with violent demonstrations. What's more, he has been hanging out with creepy types with apparent connections to US and other espionage agencies.
A lot seems to be going on beneath the surface, but the surface itself is so beguiling, with the scenery, sea, and sunsets rapturously shot on digital cameras by cinematographer Artur Tort, and with the alternately lulling and agitating soundtrack, that the urgency tends to lapse. De Roller seems enclosed in a world of sensuous hues — peach, saffron, an occasional venomous green — like tropical fruit just past the point of ripeness, a series of Gauguin canvases pulsating with lassitude and menace. He breaks out now and then to hunt for the subs offshore in a launch with a lantern or from the air in a plane, but as the film eases its way through its 165 minutes you start to wonder if it's all in De Roller's head. It evokes a Conradian nightmare of colonial arrogance gone off the deep end — there's even a scene where, like Colonel Kilgore in Apocalypse Now (1979), he joins a surfing competition on a jet ski.
Lucky for him he has Shannah (Pahoa Mahagafanau), a transgender woman of stunning beauty, to serve as his voice of reason, his moral compass, and when the situation calls for it, his secret accomplice. Her eyes shine with clarity and compassion, but will it be enough to defend against the deluge promised in the film's final sequence?
---
Peter Keough writes about film and other topics and has contributed to numerous publications. He had been the film editor of the Boston Phoenix from 1989 to its demise in 2013 and has edited three books on film, most recently For Kids of All Ages: The National Society of Film Critics on Children's Movies (Rowman & Littlefield, 2019).