By Peg Aloi
Featuring a transcendent performance by Bill Nighy, Living inspires viewers to look inward, and then outward, gently begging us to muster whatever power we have to seize the day.
Living, directed by Oliver Hermanus. Screening at Lexington Venue and the AMC Liberty Tree Mall.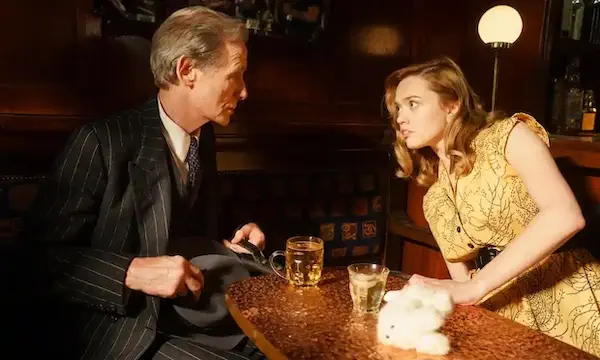 The opening credits of Living are curated from the British Pathé archives (decades worth of newsreel footage showing everything from wartime updates to travelogues to short documentaries on working life and culture). The scenes of 1952 London glow with color, bustling images of cars, buses, people, and shopfronts. These are moments in time: we see ordinary city dwellers on their way to work or buying bread in a bakery. These alluring shots of vintage London are then melded seamlessly into Living's first scene. The inimitable Bill Nighy plays Mr. Williams, a civil servant whose life consists of a drab office job and a practically non-existent social life. When he gets on the train in the morning his co-workers barely greet him: a nod, a barely perceptible tip of their bowler hats. Their interactions once they arrive at the office where they work are similarly bland and businesslike. It's not because they dislike him, it's that Williams (whose first name we never learn) sets the tone in their interactions. Behind his back, younger men in the office mock Williams' dour manner. Yet they also find themselves imitating his passionless approach to his work; like him, they fail to take the initiative or to move projects forward. One new employee (Alex Sharp) is shocked by the cynical inaction he sees around him, but soon enough finds himself playing along with it.
Everything changes the day Williams receives bad news from his doctor. Realizing he doesn't have much time left, Williams stops going into the office. He runs into a young woman (Aimee Lee Wood) he met on her first day at work (the day he decided to take a leave of absence) and invites her to tea. She understands he is lonely but her initial wariness warms to admiration for Williams' kind manner and wry sense of humor. They begin to spend time together regularly, neither of them worried about propriety, and an odd but plausible friendship blooms. Wood (best known for a recurring role on Sex Education) shows herself to be an actress of great malleability here, caught between the world's expectations of her and her own aspirations.
Williams also befriends a free-spirited young man (The Souvenir's Tom Burke) who introduces him to some colorful nightlife. One evening, when they're in a pub, Williams sings a traditional Irish song, his voice cracking with emotion. The scene is unpretentious (unlike so many period films that spotlight traditional music these days) and it works as well as it does because Nighy inhabits his repressed character with such quiet veracity. He wants to try new things, to experience life's everyday pleasures, and with the help of newly-found friends, he does.
Williams also returns to work on newly-defined terms. He insists on transforming the bureaucratic boondoggle. It is pouring rain the day he visits a vacant lot locals want turned into a playground. Williams' appearance is a shock to the residents of the neighborhood, who had given up on any progress ever being made. But Williams steps into the lot — full of old bricks and rubbish –with determination, wading ankle deep in filthy water. The gleam in his eye is not disgust, but passion: here is a man who finally understands his purpose and the implications of his legacy. Dedicated to inaction for so many years, Williams' newfound zest ignites a hopeful spark of change throughout the office. His colleagues both young and old find themselves reconsidering the nature of their work. For some, however, it may be too late to change. And therein lies this film's central theme: that life is a series of choices, made daily, setting things in motion that can ripple outward in space and time.
Nighy's performance (a nomination for a Best Actor Award at this year's Academy Awards) is nothing short of transcendent. Known as a comic actor since his iconic turn in Love, Actually, he has built a prolific, impressive career playing over a hundred character roles and voiceovers. Now, at 73, Nighy embarks on the role of a lifetime, something of a meta-cinematic celebration of his own accomplishments. But despite Living's themes of existential crisis and rebirth, Nighy never telegraphs sentimentality or showy epiphanies. In true Nighy style, this subdued and delicate portrait is an invitation rather than a proclamation.
South African filmmaker Oliver Hermanus has crafted one of the finest contemporary heritage films I've seen since Autumn de Wilde's Emma. The archival documentary footage at the beginning helps considerably, but the entire look and feel of Living is plush with period detail. There isn't a whiff of anachronism anywhere along the way, visually or verbally. The story is a reimagining of Akira Kurosawa's 1952 masterpiece Ikiru, adapted to a '50s British setting by Nobel prize-winning novelist and screenwriter Kazuo Ishiguro (The Remains of the Day, Never Let Me Go). The score and period music are effectively juxtaposed to underline the staid, sleepy existence Williams struggles to rise above.
Living is a heartbreaking and powerful paean to, well, life, and what it means to reinvent oneself. It is not all smiles and laughter: there are dark moments propelled by the crushing dullness of work culture, and the depressing ease with which people slip into self-destructive states of procrastination, fear, loneliness, and acquiescence. But, in the spirit of Kurosawa's film, Living inspires viewers to look inward, and then outward, gently begging us to muster whatever power we have to seize the day.
---
Peg Aloi is a former film critic for the Boston Phoenix and member of the Boston Society of Film Critics, the Critics Choice Awards, and the Alliance for Women Film Journalists. She taught film studies in Boston for over a decade. She writes on film, TV, and culture for web publications like Time, Vice, Polygon, Bustle, Mic, Orlando Weekly, and Bloody Disgusting. Her blog "The Witching Hour" can be found on substack.