By Amy Merrill
By focusing on dialogue and artistic collaboration, Her Story Is explores what life is like for Iraqis now, especially the country's women.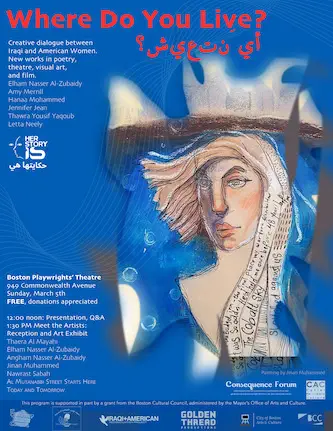 On March 5 at 12 p.m. Boston Playwrights Theater will be the home for a very special event, Where Do You Live? Creative Dialogue between Iraqi and American Women. The afternoon gathering will showcase ongoing work in poetry, theater, and the visual arts from members of Her Story Is, a collective of women based in Iraq and the US that is committed to peaceful dialogue and creative partnerships. In addition to presenting collaborations between women of both countries, the event will be dedicated to remembering the 20th anniversary of the March 2003 US invasion/ occupation of Iraq as well as the 16th anniversary of the 2007 bombing of Al-Mutannabi Street, in the cultural district of Baghdad.
The United States fought two disastrous (in my opinion) wars in Iraq, but there is little or no news about that country in the US media. The list of casualties, among US troops and contractors, is not precise. Regarding casualties among Iraqi military and civilians, the numbers are even more elusive. There seems to be little appetite for discussion about these wars and the aftermath. Why did we go in? What was the extent of the damage? And, what is life like for ordinary people in Iraq today?
Focusing on women-to-women dialogue and artistic collaboration, Her Story Is tries to answer the third question, i.e. what is life like for Iraqis now, especially the country's women. Over the nearly six years of the organization's existence, the women in this organization have discovered that they have a lot to say to and with each other.
WHY BASRA?
Most, but not all, of the contributing Her Story Is artists live in Basra, the second largest city of Iraq. If you look at a map of Iraq you'll see that Basra is located on the western bank of the Shatt Al-Arab, at the confluence of the Tigris and Euphrates rivers. An industrial hub, the city was also the center of the once major Iraqi oil industry.
"Why Basra?" My answer is serendipity. Like many efforts of this kind, the project began because one person knew another person. Boston-based theater and visual artist Anne Loyer began doing exhibitions with Amir Al Azraki, an Iraqi playwright from Basra (now living and working in Canada). I had written a play about a US veteran of the Iraq war and was looking for others who were as outraged as I was about the war, I went to a performance of a play about the Iraq war in 2013 and met Anne and Marc Miller, both members of Fort Point Theater Channel. Eventually we began meeting with colleagues of Amir's, in this case women who were connected to Lotus Cultural Women's League, a Basra-based organization dedicated to supporting educated women and helping them become leaders. Jennifer Jean, a gifted Boston-area poet dedicated to writing and working on behalf of women, joined us. Meetings led to exhibits. We put on events about poetry and translation in both countries. We called ourselves the Basra-Boston Project.
THE "SOFT WEAPON"
Our work took a big step forward when we decided to become an all-woman collective, calling ourselves Her Story Is, a feminist re-working of the celebrated William Faulkner quote, "The past is never dead. It's not even past."
We began planning an in-person meet-up for late 2017.
In December at the Golden Sands Hotel in Dubai, three women from different parts of Iraq met with four Boston-area women and three Iraqi translators. Except for Amir Al Azraki, who translated and presented, we were all women. Over four days, and a lot of laughter and tears, but also food and music, we formed a deep connection borne out of speaking honestly face to face. Nadia Al Esi, one of the translator/presenters, wrote perceptively about the meeting: "Moving stories, tough and challenging, were shared and felt. Sooner than later, labels and stereotypes were broken away, worries and assumptions were replaced by respect, love and compassion. The impact of the HSI process proves to be beyond limits, beyond expectations despite multiple geographic locations and different languages and time zones. Through the articulation of cross-cultural agency, the artists' output serves as a 'soft weapon' that opens up spaces for creative dialogue and collaboration. It contributes to personalize and humanize voices of women that are frequently unheard, unseen."
We parted, tearfully, committed to working together more closely in the future.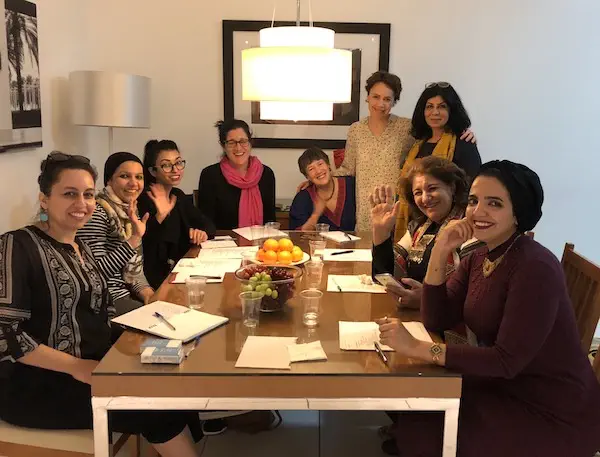 The connections forged in Dubai in 2017 will bear fruit at the Boston Playwrights Theater. Boston-area Middle Eastern actors will take part in a staged reading of a play about an Iraqi journalist interviewing women in refugee camps. A poetic dialogue between Jennifer Jean and Hanaa Ahmed Mohammed — illustrated with artwork by HSI visual artists based in Iraq — is at the center of a video edited by a young filmmaker based in Baghdad. Also on video, a conversation about hair, families, and the TV show Roots between women of African descent from both countries. There will be a premiere of a film about climate change that is based on a poem by Elham Nasser Al Zabeedy, poet, visual artist, and a leader of Lotus Cultural Women's League. Live music and a Q&A with the artists, including Iraqi artists attending via Zoom. Tea and sweets to follow.
And we will remember lives lost in both countries.
After this event, Her Story Is and its work will be featured at a March 8 Woman's Day celebration in San Francisco, hosted by Golden Thread Productions. The following weekend, the artists will join Dunya Mikhail at a March 12 event at Open Book in Minneapolis. This final gathering will be hosted by the Iraqi and American Reconciliation Project, an organization based in the Twin Cities that is dedicated to providing assistance to refugees from Iraq, from food baskets for families in Minneapolis and Iraq to cultural programming.
"WE WRITE, WE PAINT, WE ARE READY"
That these ambitious projects are happening at all is thanks to the persistence and dedication between a small group of Iraqi and US artists, that 'soft weapon,' so movingly described by Nadia. "We write, we paint, we are ready," said Elham during the early months of the Covid lockdown. Our work is supported by small foundation grants and personal donations. We feel that what we are doing is a response to America's misguided foreign policies. Years of war heightened by the indifference, even apathy, in this country towards complex political and social situations. We don't like to look at the messes we have made.
Our work is as rewarding as it is necessary, but it is not without its serious challenges. Five years after our Dubai meeting, members of Her Story Is wanted to meet in-person. Unfortunately, months of planning came to naught when hotel reservations were cancelled after visa applications were turned down. For Iraqis, receiving visas continues to be a problem. And, on February 25, Iraq had its earthquake, with Mosul City as its epicenter. Hanaa, our poet from Mosul, wrote, "(W)e are OK, until further notice."
Nevertheless, we persist in our commitment to using 'soft power' to attract a wider audience interested in creative work that is dedicated to messages of remembrance and peace. We can and will do more in the future, especially regarding the increasingly pressing climate crisis. At this point in time, Iraq is considered one of the hottest places in the world. Summer temperatures are now reaching 50C (122F ), which means shrinking rivers and marshes. In future months, Her Story Is plans to present its work on the climate crisis as it affects Iraq and the US.
---
Amy Merrill is a Boston-based playwright, producer, and featured artist and planner with Her Story Is. The event at the Boston Playwrights Theater is free, but seating is limited, so RSVPs here are strongly encouraged.