By Jason M. Rubin
"I love music, I play every day," John Lodge says. "I don't want to let the audience down or myself or the members of my band. They give me 150 percent every night so I have to be physically and mentally right for them."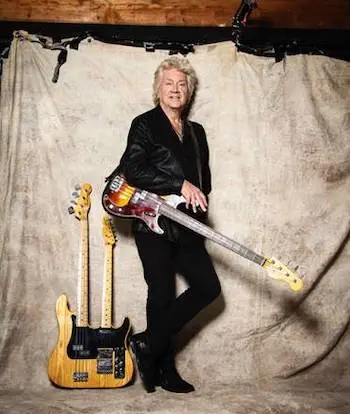 Rock historians and fans are locked perpetually in debate about what should be considered the first progressive rock album. The highly influential King Crimson debut, 1969's In the Court of the Crimson King, has many champions, chiefly because of its enormous impact, though first-wave prog groups like Yes and the Nice predate it. Another popular candidate is Days of Future Passed by the Moody Blues, its 1967 release coming just six months after the Beatles' Sgt. Pepper's Lonely Hearts Club Band (which also tends to get a few votes). That album is receiving the complete concert treatment courtesy of Moody Blues bassist, singer, and songwriter John Lodge, whose tour hits the Greater Boston area twice: at Cary Hall in Lexington on February 18, and The Cabot in Beverly on February 24.
What set Days of Future Passed apart from the psychedelia of that year was its union of pop group and symphony orchestra — a marriage surprisingly arranged by the band's own record label, Decca. For those who don't know, the Moody Blues was formed in 1964 in Birmingham, England, one of many British groups founded on a love of American blues music. Despite a number one single (the Merseybeat ballad "Go Now"), their first album did not chart in the US and two key members — including Denny Laine, who later joined Wings — left in 1966, to be replaced by Lodge and guitarist Justin Hayward. According to Lodge, the revamped lineup were all in favor of a new musical direction well before Decca stepped in to play matchmaker.
"When we joined, Justin and I had a meeting with the rest of the guys and they felt they'd gone through the pop thing with 'Go Now,' and rather than continue to do cover versions of American songs, they wanted to start writing and recording their own songs. This was exactly the same as what Justin and I wanted to do.
"So we went to a little town in Belgium in 1966 and stayed there for a couple of months, writing, rehearsing, and playing in clubs to see how it worked out," recalls Lodge. "We were all American blues aficionados and we knew that the blues is about where you grew up and what affected you. We talked about it and decided that we should write about our own experiences. All the material that ended up on Days of Future Passed came from that time period."
It almost didn't turn out that way, Lodge notes. "When Decca approached us, they wanted us to do Dvořák's New World Symphony with the London Festival Orchestra but with lyrics that we would write and sing. When the conductor Peter Knight came to see us in play in a club, however, he thought we should do our own songs, which was great."
Ultimately, it was agreed that the record would be a concept album tracking a day in the life of Everyman, with original songs relating to different parts of the day performed in chronological order, introduced and interspersed with orchestral music. Considering that all five members of the group wrote material for the album prior to the concept being established, it's remarkable how seamless the execution of it was.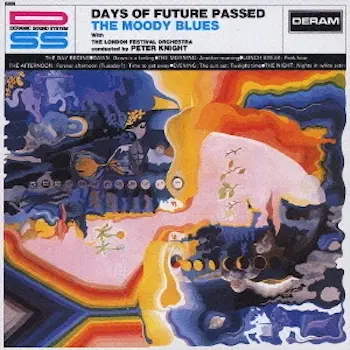 Because the album featured an orchestra, the Moody Blues became known as one of the key proponents of the Mellotron, a keyboard instrument played by Michael Pinder that mimics the sound of strings. It was also a key part of King Crimson's arsenal in their earlier years. But how will the music sound when performed live on stage in 2023?
"We've got all the scores, and our music director Alan Hewitt reworked them for the live show," says Lodge. "I don't want to change it very much from the original. It's a beautiful album that means so much to me, so it's important that the emotion of the original stays intact. So we're moving the sound technically into 2023 but I hope it still has the same impact for people who know the album and for those who don't know it."
Two members of the Moody Blues, drummer Graeme Edge and flutist Ray Thomas, are no longer with us. Edge's best known works are the poems that are recited at the beginning and end of Days of Future Passed. Before Edge died in 2021, Lodge visited him to ask his blessing for this project and to film him reciting his poetry. Those clips will be played during the concert.
"I told Graeme he would always have a part on stage with me," says Lodge.
Also featured in the concert is current Yes vocalist Jon Davison, who will perform Hayward's lead vocals on the album's hit songs, "Nights in White Satin" and "Tuesday Afternoon." Lodge and Davison met a few years ago at a floating progressive rock festival called Cruise to the Edge (a play on the 1972 Yes classic, Close to the Edge). About the singer Lodge says, "He's a beautiful musician with a wonderful voice. We planned this around the Yes tour, so he'll be at all my shows."
The rest of Lodge's 10,000 Light Years Band are keyboardist Hewitt and drummer Billy Ashbaugh (both of whom were part of the Moody Blues touring band in recent years), as well as Duffy King on guitars and Jason Charboneau on cello. Lodge's voice still sounds great, something he partly attributes to his band: "I love music, I play every day," he says. "I don't want to let the audience down or myself or the members of my band. They give me 150 percent every night so I have to be physically and mentally right for them."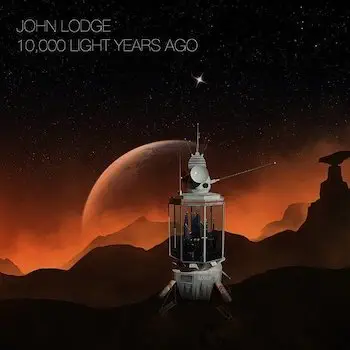 Though it doesn't appear on Days of Future Passed, one of Lodge's best songs for the group, and a top 20 hit in the US, is "I'm Just a Singer (In a Rock and Roll Band)," from 1972's Seventh Sojourn. The single was released on January 19, 1973, and so just celebrated its 50th anniversary. Addressing the audience directly and specifically in the lyrics, Lodge clearly stated that he and his colleagues — despite their fame and space-gods image — have only so much power, that the cure to the ills of the world can't be solved by someone who sings songs for a living.
"Somehow, some of our fans attributed us with having the answer to the universe," he recalls. "I remember coming home from a tour of the US and when I got to my house I saw all these people camping out in the front yard. I asked what they were doing and they said, 'We've been told you're going to fly the spaceship that's going to save us all.' I actually don't like flying! I respected that young people at that time were looking for answers but like I said in the song, 'If you want the wind of change to blow about you/And you're the only other person to know, don't tell me/I'm just a singer in a rock and roll band.'"
That song and other Moody Blues classics, as well as solo material, will be performed in concert along with the complete Days of Future Passed. Aside from the Massachusetts dates, Lodge will be in Plymouth, NH, on February 19; Fairfield, CT, on February 22; Hartford, CT, on February 25; and Newport, RI, on February 26.
---
Jason M. Rubin has been a professional writer for more than 35 years, the last 20 as senior creative associate at Libretto Inc., a Boston-based strategic communications agency where he has won awards for his copywriting. He has written for Arts Fuse since 2012. Jason's first novel, The Grave & The Gay, based on a 17th-century English folk ballad, was published in September 2012. His current book, Ancient Tales Newly Told, released in March 2019, includes an updated version of his first novel along with a new work of historical fiction, King of Kings, about King Solomon and the Queen of Sheba. Jason is a member of the New England Indie Authors Collective and holds a BA in Journalism from the University of Massachusetts Amherst.