By Aaron Keebaugh
Dave Malloy's musical takes us through the personal creative hell of Russian composer Sergei Rachmaninoff.
Preludes, with music, lyrics, book, and orchestrations by Dave Malloy. Directed by Courtney O'Connor. Music direction by Dan Rodriguiez. Staged by the Lyric Stage, 140 Clarendon Street, Boston, through February 6.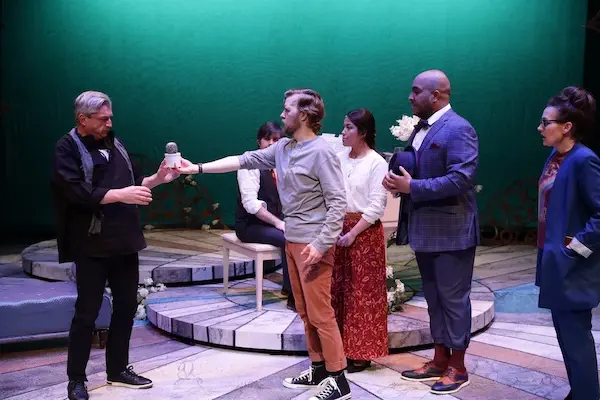 By 1900, nothing was going well for Sergei Rachmaninoff.
The disastrous premiere of his First Symphony three years earlier thrust the composer into a deep depression. Unable to work, he turned to hypnosis, which gradually lifted him out of a darkness brought on by the desire to be more than what he was.
But Rachmaninoff's struggle amounts to more than yet another cliché about tortured genius. Rather, it reminds us that the stultifying effects of mental illness are never as final as they seem.
That is the nexus of Preludes, a musical written and composed by Dave Malloy that takes us through the personal hell of the Russian composer's distorted thoughts. The show paints a sympathetic and uplifting portrait of an artist who wrestles against a fixation on the negative — including his battle not to hate himself.
Malloy plunks Rachmaninoff in full-on twenty-first-century angst. Subways and cell phones exacerbate his anxiety, and he faces frequent bouts of rage when he is pigeonholed by critics and rejected by the public. His fiancée Natalya offers him what comfort she can. But his illness strains their relationship. Drawn to great thinkers, he seeks advice from Anton Chekhov, Pyotr Tchaikovsky, and Leo Tolstoy, but he is left intimidated or puzzled by their solutions. Eventually, Rachmaninoff finds solace in hypnotherapist Nikolai Dahl. Depression is not overcome by magically snapping out of it, he tells the composer, but by making incremental strides towards a healthier perspective. And while Rachmaninoff still struggles with serving what he thinks should be his legacy, he discovers that it may be enough just to create music at the moment, for ordinary listeners. How one is remembered should not be crushingly primary.
Malloy achieves dramatic resolution through a score inspired by the composer's most beloved melodies, an aesthetic mix that unites romantic excess with modern popular idioms. Quotations from the Second Piano Concerto, the "Vocalise," and Variation 18 from Rhapsody on a Theme by Paganini do an effective job of underscoring Rachmaninoff's self-pity. Malloy wraps these familiar strains in a synth-pop soundscape teeming with beats and assorted electronics, paying tribute to the source material without resorting to either sentimentality or exaggerated anachronism.
Rachmaninoff is split into two roles. Dan Prior portrays the defeated and insular composer, lost in the daily mire. Prior's voice is clear, even momentarily warm, while reminiscing with first cousin and eventual wife, Natalya. Meanwhile, Dan Rodriguez, seated at a white piano center stage, plays snippets of Rachmaninoff's music to heighten the psychological tension. The performers excel at this tasteful back and forth, each serving as a foil for the other. Rodriguez represents the artist Rachmaninoff longs to be; Prior conveys the suffering Rachmaninoff undergoes as he grapples with the challenges along the long road to recovery. A capable pianist, Rodriguez gets at the power and lyricism of the musical excerpts; Prior's clarion tenor transforms "Lilacs" into a soulful reflection on the everyday beauties ignored by the protagonist's troubled mind.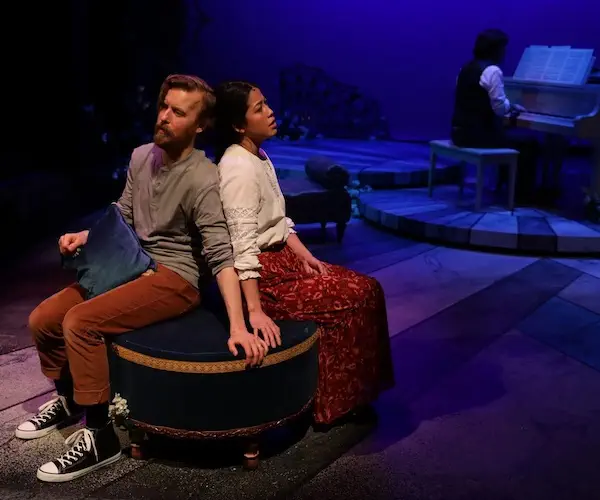 But the Lyric Stage production's greatest strength is Kayla Shimizu's performance as Natalya. Her optimism convincingly offsets Rachmaninoff's moodiness. But the woman has her limits, and Shimizu's heartfelt performance reveals that she also had to deal with depression.
As the opera singer Chaliapin, Anthony Pires, Jr. provides some welcome leavening humor and a radiant voice to match. "Loop," an eerie, electronic collage set to the familiar 18th Variation, is given a sensuous and mesmerizing rendition by Pires, Jr.
Will McGarrahan provides sensitive support in a variety of roles. His stage presence is adroitly fluid: he is a proud and aloof Tolstoy, a brusquely humorous Chekhov, and a Tchaikovsky who makes a case for Platonic idealism while accompanying himself on piano during the "Child's Song." The updated version of  the latter heard here is receiving its American premiere. As Dahl, Aimee Doherty sings with avuncular tenderness.
Sparsely populated sets — sofa, chair, a piano framed in chrome and blues — serve as the aptly minimal background for director Courtney O'Connor's fine staging of a compelling internal drama with music. Rachmaninoff's plight, suggests Preludes, may be about becoming lost in inner space.
---
Aaron Keebaugh has been a classical music critic in Boston since 2012. His work has been featured in the Musical Times, Corymbus, Boston Classical Review, Early Music America, and BBC Radio 3. A musicologist, he teaches at North Shore Community College in both Danvers and Lynn.