By David Greenham
At its core, the Revels is about bringing together actors and audience, but there are several stagecraft successes to note this time around.
Midwinter Revels. Written and directed by Patrick Swanson. Music direction by Elijah Botkin. Choreography by Rosalba Solis and Kelli Edwards. Scenic design by Jeremy C. Barnett, costume design by Heidi Mermiller, lighting design by Jeff Adelberg, sound design by Bill Winn, puppet design by Sara Peattie. Produced by Revels, Inc. Performed at Sanders Theatre, Harvard University, Cambridge, through December 28.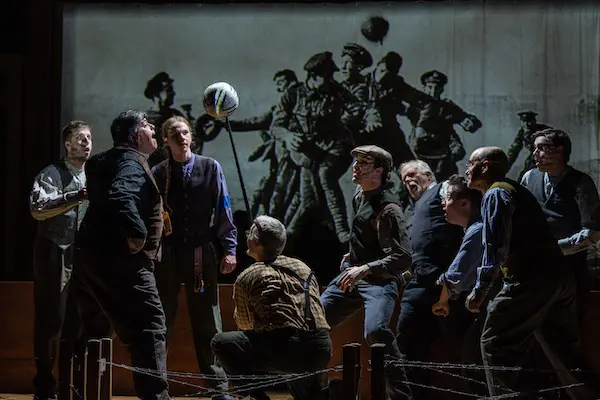 Covid posed a couple of challenging years, but the 52nd edition of the Revels has fully arrived on the stage of the historic Sanders Theatre for its annual visit. This year the theme is "Tales from Ellis Island."
Artistic director Patrick Swanson has once again crafted a script whose historical drama interweaves new and traditional ethnic music with the expected roasting of such annual chestnuts as "Dona Nobis Pacem" and "Lord of the Dance."
Set in 1924, this version focuses on two groups of immigrants landing at Ellis Island on Christmas eve. The families from County Cork, likely refugees from the Irish Civil War, include a widowed father (Luke Olivier), and his precocious teenage daughter, Bridget (Maeve Leahy, an "almost 13"- year-old who lives in County Cork — she stays in the Boston area with her grandparents every year so that she can participate in the Revels.)
They encounter a group of Ukrainian immigrants. The Ukrainians would have represented the end of the mass immigration of Eastern European Jews. Strict immigration laws (with quotas) went into effect the following year. Among these families there's a mother (Stephanie Clayman) and a young boy, Isaac (Ewan Swanson).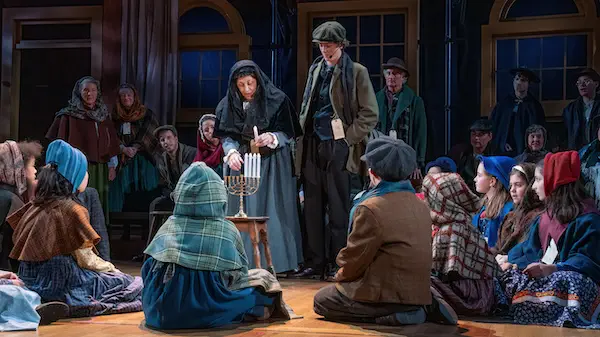 The story also welcomes the "mysterious spirit of place" (Carolyn Saxon), who magically manages the proceedings as two very distinct ethnic traditions, Irish and Jewish, spend a night together at Ellis Island. The immigrants are within eyesight of their final destination — America.
The young people, Bridget and Isaac, soon meet. Bridget is shocked to learn that Isaac has no favorite Yuletide traditions. "They don't DO Christmas!" she tells her father, outraged.
Regardless of these and other differences, all the families are united by the traumatic memory of World War I, the "great" war. As the clans begin to share songs, they learn about each other's traditions. What drives this coming together is the recollection of the famous 1914 Christmas in the trenches at Bois de Ploegsteert, Belgium. The British of the 1st Battalion of the Royal Warwickshire Regiment and the Germans of the 134 Saxons Infantry met in no-man's-land. They shared stories, drinks, and even played soccer. The highlight of the first act is a section devoted to the story, featuring several songs, including a rousing sing-along of "It's a Long Way to Tipperary."
Playwright and director Swanson plays around with verisimilitude introducing into the story line a "substitute physician," Dr. Hernandez (Ricardo Holguin), who is Mexican. Dr. Hernandez has been brought in to cover for the regular staff during the holiday break. (It's unlikely that a Mexican doctor would have been brought in — or even hired — for such a task.) The place that many refer to as the "Mexican Ellis Island" was (and still is) in El Paso, Texas. No matter, Holguin is an exceedingly talented singer; he is a welcome addition to these Revels.
As always, vivacious host and song leader David Coffin serves as a warm buffer between the audience and action on stage. He ends the first act with a bouncy and energetic rendition of the "Lord of the Dance," which leads the audience to the lobby for intermission. There's a fun twist in this year's version of the Revels ritual: music director and arranger Elijah Botkin injects a little of the Jewish folk song "Hava Nagila" into the performance. It is greeted by amused smiles.
Act II begins with a sweet conclusion to the initial conflict between Bridget and Isaac. Bridget's violin had been broken during the trip, but Isaac, whose father was a maker of musical instruments, repairs the violin. He uses parts of a Jewish violin. "It's an Irish fiddle," Bridget insists. "It's a Jewish fiddle," Isaac replies, "but it can learn to play an Irish tune."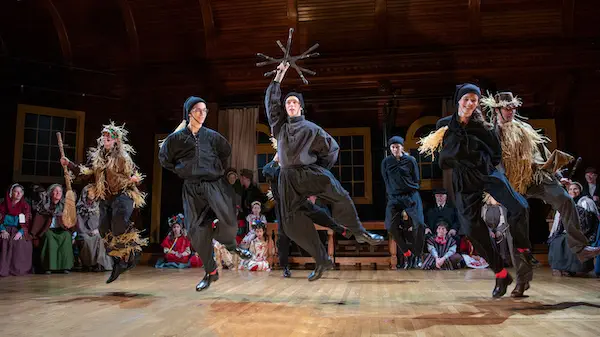 From there on, the attempt at storytelling gives way (mostly) to singing, dancing, and celebration. The Irish, Ukrainian Jews, and Mexicans  (via Holguin and dancer Rosalba Solis) take turns lifting our spirits.
The Great Meadows Morris and Sword dancers offer a slick and clean sword dance. "De Zedye Mit Der Bobe/Odessa Bulgariah," a Klezmer-like tune that features Glenn Dickson on clarinet, spurs a lively group dance. Baritone Holguin displays a beautifully agile voice that can range up to tenor with a rendition of "La Malageuña," a traditional Huapango song from Mexico.
In fact, there are so many musical highlights in Act II that the traditional Straw Folk Mummers' Play almost seems to be an afterthought.
No matter, the Revels' musical feast leads to the recital of Susan Cooper's classic poem "The Shortest Day" before the cast members welcome in the New Year with a rousing Sussex Mummers Carol.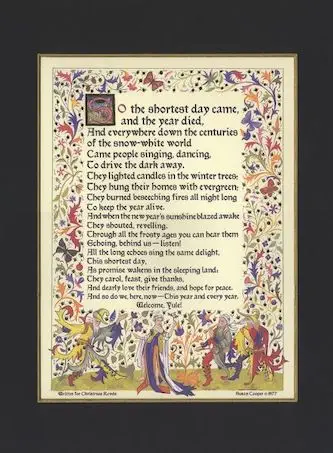 At its core the Revels is about bringing together actors and audience, but there are several stagecraft successes to note this time around. In particular, Jeremy Barnett's set design offers clever hints of the majesty and foreboding of the great hall at Ellis Island, making terrific use of the windows hanging at stage level as well as above — all of them beautifully lit by Jeff Adelberg. But the scenic design can also shift, very effectively. A curtain upstage becomes a screen on which are projected historic photos. The transformation for the section that's set in the muddy WWI trenches in Belgium is especially powerful; the lighting is used to suggest barbed wire and battlements. Several times during the proceedings the story or lyrics are adroitly augmented by Sara Peattie's puppets. Costume designer Heidi Hermiller  (and what must be a team of dedicated helpers) ensures that everyone looks spectacular.
Along with the traditional tunes from the British Isles, and the introduction of some Mexican folk songs, it was compelling to hear music from the Ukrainian Jews, who don't celebrate Christmas. But the healing message of the season is the same, as the Shabbat tune "Hinei Ma Tov" (Behold How Good) reminded us: "Behold how good and how pleasing it is for people to sit together in unity."
---
David Greenham is an adjunct lecturer of Drama at the University of Maine at Augusta, and is the executive director of the Maine Arts Commission. He has been a theater artist and arts administrator in Maine for more than 30 years.