By Aaron Keebaugh
If Handel and Haydn Society's annual Baroque Christmas program had one takeaway, it was that its new music director, Jonathan Cohen, is a superb fit for the job.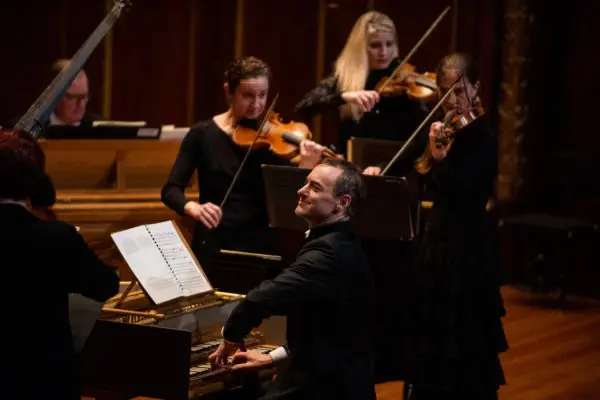 Last month the Handel and Haydn Society named Jonathan Cohen its new music director, a position he officially begins next season. But the hope for a bright future under his leadership came early this holiday season when he led the period-instrument ensemble in its annual Baroque Christmas program Thursday night at Jordan Hall. (The program will be repeated on December 18 at 3 p.m.) If the event had one takeaway, it's that he's a superb fit for the job.
Cohen achieved visceral excitement by exploring the subtle details that make the music sing. In concertos by Zelenka and Handel, he worked like a sculptor, shaping passages between the orchestral and solo forces, paying agile attention to every arc and turn. Short cantatas by Handel and Bach, the evening's centerpieces, also delivered plenty of Yuletide cheer.
Actually, few of the works reflected a literal Christmas theme. But they were still festive. Handel's "Silete venti" for soprano and orchestra relays the ecstasy of steadfast faith. To her featured arias, guest soprano Robin Johannsen brought nimble vocal delicacy. Her tone was bright and clear, with vibrant trills injecting live-wire intensity. Arpeggios and vocal flourishes expressed a longing for devotional bliss in "Dulcis amor." The "Date serta" was a true exaltation, the urgency carrying into the florid "Alleluia."
Handel's "Gloria" coursed with a turbulence that gradually danced toward light. Johannsen's soft tone inspired an emotional gravity in "Et in terra pax," and she laid bare the desolation of the "Domine Deus." In support, Cohen pushed the tempo to release the pent-up tensions of the "Qui tollis."
A gentler touch in Bach's Cantata 51, "Jauchzet Gott in allen Landen," channeled reverence as much as grandeur. Johannsen had an equal partner in trumpeter Steven Marquardt, who deftly wove his clarion line around hers. Johannsen's ringing high notes likewise made "Wir beten zu dem Tempel an" into a warm song of praise.
Other moments were just as affecting. Cellist Guy Fishman provided just enough tether to let the delicacies of "Höchster, mache deine Güte" gently float. Concertmaster Aisslinn Nosky and violinist Christina Day Martinson's fiery passages provided a foil for the serene chorale. The "Alleluia," complete with Marquardt's fanfares, brought it all to a suitably radiant conclusion.
As concertos go, Zelenka's Sinfonia Concertante in A minor frolics and unfurls in many dimensions. Cohen's supple continuo — he played dual roles as conductor and harpsichordist — highlighted every melodic peak and valley. His swift gestures drew seismic energy from the onset, framing elegant solos from Nosky and oboist Debra Nagy, a few slipped fingers apart. The Aria da Capriccio featured bassoonist Stephanie Corwin and cellist Fishman in complementary darkness. The dance movements had all the right zest: the Gavotte was stately, even regal; the Minuets lilted.
Cohen conveyed a similar vitality from Handel's Concerto Grosso Op. 3, No. 4. The opening movement unfolded in a colorful tapestry of rhythm and harmony. From the galloping Andante to the buoyant Allegro and Minuet, Cohen and the orchestra roused real Baroque fire.
The concert opened with Dr. Jennifer Kane leading the H&H Youth Chorus Concert Choir in Johann Vierdanck's "Ich verkündige euch große Freude." The young singers lifted their parts with soulful conviction. Joy may be fleeting in today's world. But that makes moments provided by performances like these even more special.
---
Aaron Keebaugh has been a classical music critic in Boston since 2012. His work has been featured in the Musical Times, Corymbus, Boston Classical Review, Early Music America, and BBC Radio 3. A musicologist, he teaches at North Shore Community College in both Danvers and Lynn.