By Jonathan Blumhofer
For balance and virtuosity, the Berlin Philharmonic Orchestra plays Rued Langgaard's "Klippepastoraler" for all it's worth. That just doesn't end up being very much.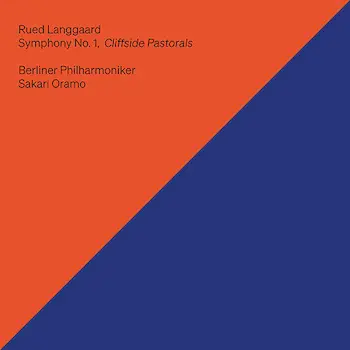 What is one to make of Rued Langgaard's Symphony No. 1? Is it the effort of a master-in-the-rough, a visionary composer at the start of a brilliant, if erratic career? Or is it, to paraphrase, Macbeth, "…a tale…full of sound and fury, signifying nothing?" Something in between, perhaps?
At its most basic level, the piece is the work of a teenager: the Danish composer was fourteen when he began it and he finished the score three years later. The orchestration is brilliant. Clearly, Langgaard knew his Wagner and Bruckner. Also, Richard Strauss and, perhaps, Erich Wolfgang Korngold. Subtitled "Klippepastoraler" ("Cliffside Pastorals"), the Symphony anticipates Strauss's Eine Alpensinfonie by a nearly a decade, plotting a journey from the foot of a mountain to its summit.
Even so, Langgaard's score lacks melodic immediacy and dramatic focus – not just compared to the Strauss, but simply as the baseline for what's required to justify its fifty-five-minute duration. What it offers instead of those two elements is a lot of overheated puffery; the repetition-to-death of banal motives; too-busy-for-their-own-good instrumental textures; and frequent reminders of the young composer's evident conviction that volume compensates for musical inspiration.
And these are the characteristics that emerge from what, by any measure, is an exemplary performance of the piece by the Berlin Philharmonic Orchestra and Sakari Oramo. The conductor is a Langgaard champion whose 2018 account of the composer's Symphonies Nos. 2 and 6 with the Vienna Philharmonic certainly knew its way around those scores' tricky spots.
The same principle applies here. For balance and virtuosity, the BPO plays the "Klippepastoraler" for all it's worth. That just doesn't end up being very much.
The turbulent first movement, for instance, is basically an elongation of the "Gewitter und Sturm" section in Eine Alpensinfonie – only drawn out to about thirteen minutes (the other seven are largely devoted to a lyrical theme that's consistently overdecorated but has likely never before been rendered more beautifully). Many of its ideas are resolved, after a fashion, in the finale.
In between come meditations on mountain flora and rocks followed by a stern ascent up the hill. The most striking stuff comes in the central "Pastorals of the Rocks," with its canonic, chant-like motive that expands and then collapses back in on itself. Notably, this is the Symphony's shortest movement.
If only the larger piece added up to more of the sum of its parts. Ultimately, Oramo's expert management of the music's thick textures, the BPO's incandescent playing, and engineering that balances it all with becoming naturalness make strong cases for themselves. But, once arrived at the double-bar, one's left primarily with the conviction that André Previn's adage that the canon consists of music that's "invariably better than any performance of it" has, for once, been turned completely on its head.
---
Jonathan Blumhofer is a composer and violist who has been active in the greater Boston area since 2004. His music has received numerous awards and been performed by various ensembles, including the American Composers Orchestra, Kiev Philharmonic, Camerata Chicago, Xanthos Ensemble, and Juventas New Music Group. Since receiving his doctorate from Boston University in 2010, Jon has taught at Clark University, Worcester Polytechnic Institute, and online for the University of Phoenix, in addition to writing music criticism for the Worcester Telegram & Gazette.