Each month, our arts critics — music, book, theater, dance, television, film, and visual arts — fire off a few brief reviews.
Jazz
Pee Wee Russell and Coleman Hawkins's Jazz Reunion is a delight.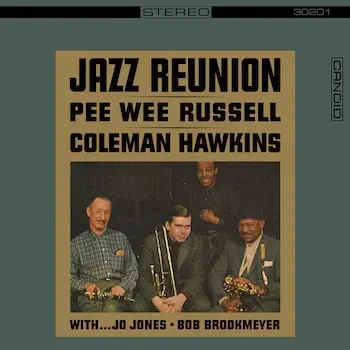 Candid Records wasn't around long (1961-63), but during its brief span A&R director Nat Hentoff recorded a wide range of music, from piano blues to the new sounds of Eric Dolphy. Jazz Reunion falls in the category that, sometime in the '50s, was dubbed "mainstream" — essentially, small group swing. The term can cover a fairly wide range of styles, and such is the case here. A gathering of individualists play with enough stylistic variation to keep things interesting. A wide range of material and creative arrangements seal the deal. The recording's personnel: drummer Jo Jones, bassist Milt Hinton, pianist/arranger Nat Pierce, trombonist Bob Brookmeyer, tenor sax Coleman Hawkins and clarinet Pee Wee Russell.
Russell and Hawkins first recorded together in 1929 (hence the album's title) on an interracial recording of the "Mound City Blue Blowers." Hawkins developed the tenor sax into a key jazz instrument, with a distinctive tone and harmonic approach that became the dominant influence on tenor, until the rise of Lester Young (after which the question for tenor players became: "which one?"). Hawkins chose to play with the best jazz musicians of the bop and post-bop eras and, while he maintained his approach to eighth notes and his singular tone, he responded to harmonic innovations and his note choice evolved.
Pee Wee Russell never really engendered a school of followers, probably because he was a very hard player to label. Sometimes his performances are predictable; yet on occasion he slides into unexpected filigrees or elaborations. One has the occasional sense of being stranded on a strange island as he plays notes that set a trap he's forced to escape. For example, his tune "28th and 8th" might easily be mistaken as a lost Thelonius Monk composition. In fact, Russell performed and recorded with Monk in the '60s.
Bill Berry is a straight-up solid swing player. My one quibble is that when he plays with a harmon mute (the mute Miles Davis often used) he lets the intonation get a little out of hand. Valve trombonist Bob Brookmeyer might be called a more "modern" player. He's conversant with harmonic and rhythmic developments from the '50s, but he's a fluid mainstream player who fits right in. Jo Jones was the longtime anchor of the Count Basie band — a savvy and adaptable drummer who knows how to push or lay back when necessary. Nat Pierce (from Somerville, Massachusetts) is an adept pianist and a valued arranger who was Woody Herman's chief arranger from 1951 to 1966.
This recording contains a very eclectic group of songs, ranging from "All Too Soon," "What Am I Here For," and "Tin Tin Deo," to two Russell originals. Although these tunes are rooted in different eras and approaches, Pierce artfully utilizes elements from the original arrangements while adding his own touches.
The album is a delight.
— Steve Provizer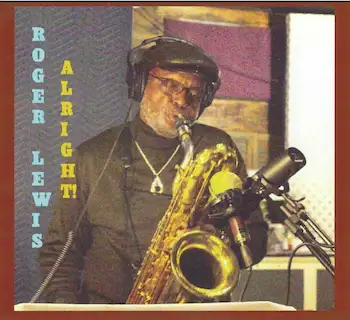 Just when you think you have Roger Lewis's album Alright! pinned down, it keeps slipping away into something else just as soulful and expressive.
Saxophonist Roger Lewis is a veteran member of New Orleans' Dirty Dozen Brass Band. On the opening track, Kirk Joseph's sousaphone sets up the bass riff, and you'll think this is going to be another loose-limbed New Orleans jam band album in the Dirty Dozen style. But by the second track, "Carrying the Saxophones," the wheels have come off that wagon. The blues is still there, but this is the sound of New Orleans if it were on Saturn. They've processed the sound of the sousaphone into something weird and wobbly, and Lewis has overdubbed himself multiple times into a kind of one-man Sun Ra Arkestra saxophone section.
Alright! (Irresistible/Revolutionary) is Lewis's first album as a leader in more than 60 years. After 45 years with the Dirty Dozen, he's here to do his own thing in his own way. At 80 years old, more power to him! The result is a record as fun as it challenging and surprising.
There are two back-to-back versions of the ballad "Little Things," one a thoughtful piano/tenor sax duet, and the other featuring Lewis freely extemporizing around the spoken-word vocal of Don Paul.
Then the music shifts to soulful gospel with "Glory Glory Glory Is for Us All," again in two versions with and without vocals. Joseph's sousaphone sounds powerful in combination with Michael Torregano Jr.'s church organ. Lewis's multiple overdubs on various saxophones make an entire choir. The vocal version is more restrained, clearing a space for the two singers. There isn't much to the lyrics, but they're enough to lift Lewis into some sanctified playing.
Another pair of instrumental and vocals is "Maybe You See Horses." Lewis plays an EWI to solo in close harmony with himself, exploring blues-based declarations in a space free of set tempo and key. (Also, at least once in your life, you owe it to yourself to hear some synthesized free jazz sousaphone.) Just when you think you have this one's number, here come the cowbell, Charlie Parker quotes, and Cuban percussion, by turns free and funky. Paul's abstract poetry pins some images to the wandering sounds (and tips a hat to Black musical heroes). Lewis thrives in the spirit of dialogue.
Finally, "Get Your JAM On!" moves back to the Dirty Dozen groove, only this time with Mario Abney on trumpet, indulging in some Miles Davis-style wah wah pedal to keep things off-kilter. Lewis nails down the bass line on baritone sax in counterpoint with Joseph's sousaphone, while Lewis just rains down a barrage of sax solos from all directions.
Free, funky, bluesy, endlessly creative, fun, unpredictable, independent, jazzy, and a gumbo of influences — that's New Orleans, and that's Roger Lewis's Alright!
Craig Davis pays expert tribute to his fellow Pittsburghian, Dodo Marmarosa, with 10 covers showing a representative range of the bebop composer/pianist's catchy and urbane compositions.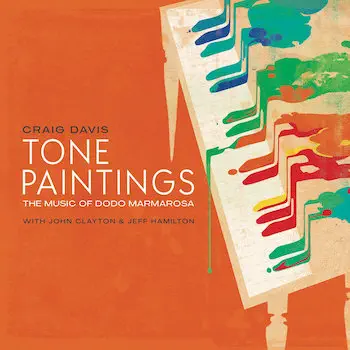 Tone Paintings: The Music of Dodo Marmarosa, Craig Davis (MCG Jazz) does two things, and does them both well: it provides an excuse to revisit some wonderful compositions by the overlooked Michael "Dodo" Marmarosa, and it delivers a warm program of first-rate piano trio jazz from an up-and-coming musician paired with two established masters.
Marmarosa was based in California rather than New York, which is how he might have missed his opportunity to become one of the formative bebop pianists on par with Bud Powell. You can hear him with Charlie Parker on some of the Dial recordings from Los Angeles that rank among Bird's very best. Marmarosa was a big band veteran while still in his 20s, putting in long tours with the Tommy Dorsey, Gene Krupa, and Artie Shaw orchestras. Still, Marmarosa had a difficult time as a professional musician. From being mocked for his appearance (hence the name "Dodo"), to divorce, being blocked from his children, illness, getting drafted (which didn't stop him from being beaten into a coma by sailors who accused him of being a draft dodger), and increasingly severe mental health difficulties, Marmarosa became an elusive figure. He left the music scene in 1963, moved to Pittsburgh, became a recluse, and rarely played after the early '70s.
Craig Davis pays tribute to his fellow Pittsburghian with 10 covers that display representative range of Marmarosa's catchy and urbane compositions. Marmarosa brought touches of the big band era's swing and stride elements to his bebop compositions, smoothing them out in ways that look ahead to the more conventionally graceful compositional style of Horace Silver or Vince Guaraldi. Davis is a fine match for these compositions, favoring the middle register and simpler lyrical solos over displays of knuckle-busting chops. Davis offers assured, confident playing without being the least bit intimidated by his galaxy-class rhythm section partners of John Clayton on bass and Jeff Hamilton on drums. These longstanding musical partners are simply the gold standard for steady, mature jazz. Even Hamilton's drum solos are lyrical. There are few surprises, but it's richly recorded and enthusiastically performed, and it of course it swings flawlessly.
Davis, a graduate of Indiana University-Bloomington's and the Manhattan School of Music's notable jazz programs who went on to play with the Artie Shaw ghost band, has a lighter style than Marmarosa. Davis's style is more uniform, smoothing out the rough edges but never veering into easy listening territory. He can stretch out the groove with delayed triplets like Erroll Garner on "Dodo's Blues," or he can gently place notes on a pillow of impressionistic chords in the classically influenced "Tone Paintings 1." His sense of time and phrasing is flexible but always precise, and he swings at various tempos from the upbeat "Ballad of the Balcony Jive" to the melancholy "Dodo's Lament."
Tone Paintings makes a strong case for these compositions, and the pianist playing them, to be much more widely known.
— Allen Michie works in higher education administration in Austin, Texas. His favorite word to say out loud is "sousaphone."
A disc whose celebratory spirit (of its drummer leader and his adventures in music) is infectious.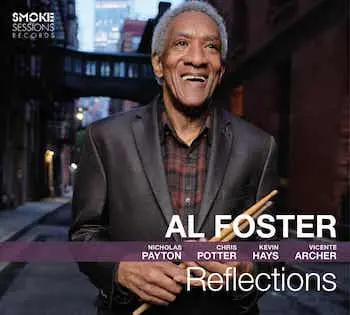 Just months away from turning 80 years old, drummer/bandleader/composer Al Foster can look back on a long career that has spanned several eras in jazz. I still marvel at his assertive funkiness behind Miles Davis in the latter's electric groups of the '70s and '80s. But he was into much more, both before and since.
With his latest release, Reflections (Smoke Sessions Records), the Virginia-born percussionist primarily applies his Milesian chops through a gathering of classic and original tunes that celebrate some of the stellar associations and important inspirations he experienced throughout his career.
Joining Foster is a solid band of youthful veterans featuring Nicholas Payton on trumpet, Chris Potter on saxophones, Kevin Hays on keyboards, and Vicente Archer on bass. The quintet turns in solid work all around, at its best moments attaining a striking balance of thoughtful form and sparky fire.
Their take on Sonny Rollins's "Pent-up House" is a favorite. The tune's stop and start rhythmic strategy encourages the build up of plenty of tension. The band is tightly wound. Tenor sax Potter doles out some occasionally-too-showy virtuosity, a Rollins-esque brawniness. Payton follows with a charged-up statement. Hays's solo secures the tune's hard bop roots. All the time, Foster rolls and tumbles; he, along with Archer, holds the proceedings to a boisterous boil.
Joe Henderson's "Punjab" contains the composer's signature Eastern lilt, the group nurturing a smooth swing under semi-relaxed solo statements. Payton is fleet as ever and Potter readily evokes Henderson's expressive lyricism. Foster's accents and embellishments are (again) contoured to fit the slightly more exploratory solos. Unison horns take it all home.
Miles's "Half Nelson" is an optimal tune for the talents of this group, which is schooled in the classics of bop but never sounds like an academic homage. Foster's timekeeping is impeccable behind an extended Payton solo, which nimbly embraces the logic and symmetry of the language of mid-20th-century jazz.
Foster's own "Anastasia" is a lovely (and affecting) ballad with a Latin tinge. Potter's soprano sax serves the song's passion sublimely.
The leader salutes Thelonious Monk by way of a couple of Monkish originals on a disc whose celebratory spirit (of the drummer and his adventures in music) is infectious.
— Steve Feeney
---
Classical Music
Conductor Gustavo Dudamel seems intent on micromanaging any sense of naturalness right out of these scores.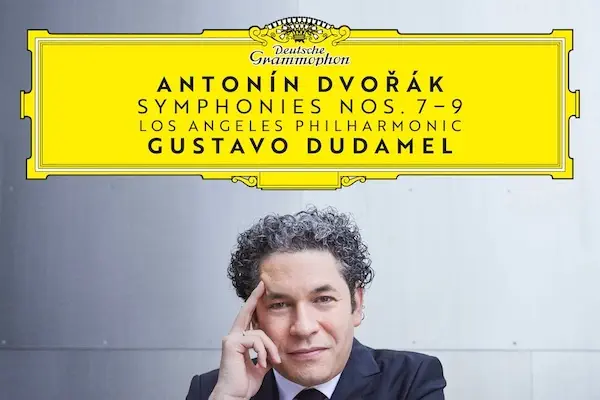 Gustavo Dudamel has amassed a respectable discography in his 13-plus seasons at the helm of the Los Angeles Philharmonic Orchestra (LAPO). However, he has yet to prove reliably convincing with them in standard Romantic fare. That trend continues in this new recording of Antonin Dvořák's Symphonies Nos. 7, 8, and 9.
On the one hand, something is clearly going right on the Left Coast. The LAPO sounds sumptuous — oftentimes exhilarating — in these three favorites. Solos, particularly from woodwinds and horns, are lovely, especially in the Seventh's opening movement and the Ninth's famous Largo. Across the ensemble, balances impress: textures in each third-movement Scherzo, for instance, are the epitome of nimbleness and lucidity. And, for tonal warmth, well, nothing the Philharmonic does really disappoints.
Interpretively, though, this set is another story. At the root of it, Dudamel seems intent on micromanaging any sense of naturalness right out of these scores.
The Seventh suffers the most, its first movement plodding and stiff, the Poco Andante wanting for wonder and spontaneity, and the finale inexplicably toned down (its swells and fortissimo climaxes aren't anywhere near terrifying enough). The latter is further marred by fussy phrasings: rallentandos at the end of the main theme and interventionist massaging of the second subject make this one of the more mannered Dvořák Sevens imaginable.
In the Eighth, an approach that suggests that thrilling big moments compensate for a lack of detail in less flashy spots prevails, though here, admittedly, some of the symphony's materials (particularly in the ebullient finale) are better suited to Dudamel's general tack than not. Even so, the reading's phrasings occasionally draw attention to themselves in ways they shouldn't, especially in the outer movements (the eight-bar patterns that comprise the quiet interlude before the Allegro ma non troppo's coda feel egregiously square) and it says something that, despite an alertness to metronome markings, the Allegretto seems to last much longer than its less-than-six-minute run time demands.
The most successful item here is the Ninth. Yes, the first movement has its quirks (odd tempo shifts and spacey phrasings among them), as does the finale (the main theme doesn't quite sit firmly in the brasses and there's an unnecessary luftpause just before the final peroration). But in between come a ravishing slow movement and a taut, smartly focused Molto vivace. And those outer movements, even with their occasional "soft is slow, loud is fast" vibe, don't fail to, ultimately, pack a couple of punches.
In the end, though, this is hardly enough: given what's already out there for this fare — modern cycles from Mácal, Bělohlávek, and Järvi; classic recordings by Kubelik, Kertész, and Fricsay; individual installments from Karajan, Davis, Dohnányi, and Honeck (among many, many others) — Dudamel's Dvořák just doesn't add up. Especially given the uniform excellence of the LAPO's playing, this is a much less artistically satisfying effort than it ought to be.
Composer Žibuoklė Martinaitytė's writing, fast or slow, busy or not, is unfailingly delicate, her musical language is marked by gripping expressive clarity and beguiling detail work.
Saudade, composer Žibuoklė Martinaitytė's debut album, was among 2021's early recording highlights. Its follow-up, Ex Tenebris Lux (Ondine), is one of this year's. This time, the focus of Martinaitytė's writing is the string ensemble with and without soloists (as opposed to the full orchestra); as in the earlier release, though, her musical language is marked by gripping expressive clarity and beguiling detail work.
Both characteristics are clearly evoked in Nunc fluens, Nunc stans, the disc's quarter-hour-long opening track. This is music that is at once very well shaped and structured, often floating and trancelike but marked by subtle coloristic percussion gestures (deftly managed here by Pavel Giunter). In fact, Nunc fluens seems, at times, to channel a similar spirit and sense of direction as John Adams's Common Tones in Simple Time or the finale of El Dorado. Yet harmonically, Martinaitytė's writing is more complex than Adams's, and structurally, well, her piece proudly goes its own way.
So does Ex Tenebris Lux. Lasting nearly half-an-hour, the score is largely meditative in character. Even so, its thick textures (which are sometimes given a shimmering, spiky edge) don't want for momentum or shape. Some of the reason for this is surely due to the discreet and utterly sympathetic performance Karolis Variakojis draws from the Lithuanian Chamber Orchestra (their playing in Nunc fluens is likewise excellent). At the same time, Martinaitytė clearly understands what her music needs and when: Ex Tenebris's closing apotheosis is as delicate and cathartic as one might wish for.
Slightly more varied in tempo, mood, and texture is Sielunmaisema, a meditation for cello and orchestra on the four seasons. True, as a concerto, the solo part is rather subdued — there's nothing overtly showy or hyper-virtuosic about it; rather, Martinaitytė's writing is generally reflective (the driving "Spring" movement excepted). This makes for, perhaps, a surprisingly quiet approach to "Summer." Regardless, it suits "Fall" well. "Winter" is conjured through frigid sonorities and fragile, fragmented melodic lines. As played by Rokas Vaitkevičius, the tetralogy proves an affecting, atmospheric effort.
Still, perhaps what's most impressive about Sielunmaisema is Martinaitytė's captivating harmonic language. While there's much that might suggest a reliance on gesture or preference for chromaticism during the piece, the music never loses its centrifugal tonal pull. Yet it never becomes predictable or derivative. That's a trick not every composer can pull off.
What's more, Martinaitytė's writing, fast or slow, busy or not, is unfailingly delicate. As a result, it gives off a singular feeling of rightness — of character, atmosphere, duration, you name it. Yes, there's a certain stasis of mood inherent to her style that's trendy, especially among contemporary Nordic composers. But she crafts some beautiful singular sounds from her forces and materials, and she doesn't carelessly recycle them. At the end of the day, Ex Tenebris Lux provides something all too rare, especially when it comes to new-music albums: an oasis.
— Jonathan Blumhofer
---
Concert Review: Norah Jones/Regina Spektor
The two chanteuses seemed to have a mutual admiration society vibe going on.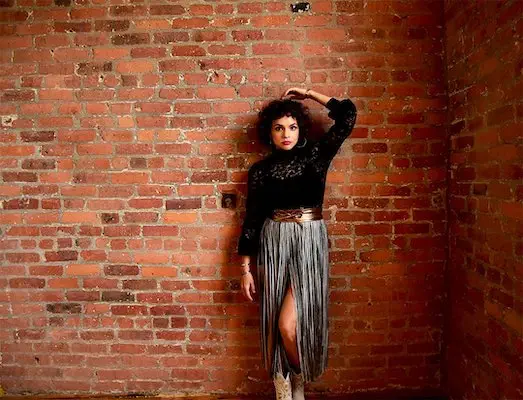 On August 2, a sweltering night during one of Boston's brutal heat waves, I sat mesmerized at Leader Bank Pavilion listening to the music of two wonderful musicians as sweat dripped from every pore of my body. Minus the music, the experience would have been sheer torture. Yet the quality of the performances made the physical discomfort endurable. The bill was a natural: Norah Jones (daughter of Ravi Shankar) and Russian-born Regina Spektor, two female singer-songwriters who primarily play piano. They ran through sets of about equal length, unencumbered by the heat and humidity, filling the saturated air with beautiful sounds.
Spektor opened the show in a bright red, flowing dress, looking every bit the bridesmaid yet delivering perhaps the stronger set of the evening. She appeared solo, seated at her piano, offering her typically amusing commentary in between each killer composition. She is a terrific player, a very good singer, and a sparklingly irresistible personality. Her songs are by turns deep, funny, and surreal (like a less-sexy Tori Amos, my girlfriend and I concluded). Surprisingly, she played just one song, "Raindrops," from her new album, Home, Before and After, which came out in June. Still, every song was appreciated by the drenched crowd. She concluded with the powerful, "Samson," which may be the best weaving of a love lament with a biblical character since Leonard Cohen's "Hallelujah."
After a much-needed break, which allowed the audience to seek an ocean breeze and a cold beverage, the show resumed with Jones and her trio of backing musicians, including the amazing Brian Blade on drums. Her sultry style required a bit more patience in the stifling heat. If we're going to sweat, we might as well do it by dancing, but Jones's music (like a less-sexy Sade, my girlfriend and I concluded) tends to enfold you in a warm blanket of sweet and gentle songs. As a result, we sat still and sweated into our seats while Jones and her band executed some undeniably beautiful music. Midway through her set, Jones brought Spektor back on stage to collaborate on Tom Petty's "Angel Dream (No. 2)." The two chanteuses seemed to have a mutual admiration society vibe going on. Jones then turned in a Tom Waits cover ("Long Way Home") and later ended her set with her biggest hit, "Don't Know Why." One encore, "Come Away With Me," and the night was over.
Because of the weather, this was a show I couldn't wait to leave, and yet it was a top-notch evening of music by two great talents. Hopefully, they'll come back in the fall or spring.
— Jason M. Rubin
---
Film
Confessions of Ethiopian Khat-eaters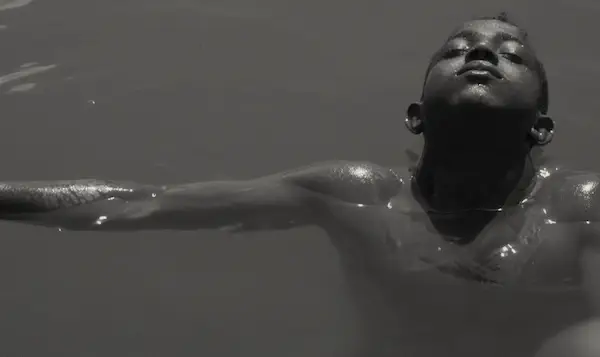 One of last year's best documentaries, Jessica Beshir's hypnotically lush Faya Dayi (2021) opens with a scene of enigmatic, oneiric beauty. In misty black and white landscape that might have emerged from a film by Béla Tarr, a youth joyously splashes through a river. Who he is and where he is going is never made clear in a film in which dreams both inspire and deceive.
Beshir's extraordinarily accomplished feature debut was shot over the course of 10 years among the impoverished inhabitants of the agrarian Ethiopian region of Oromo, capturing the lives and voices of those who can choose either to pay a fortune to a human trafficker for a doomed boat trip to Europe or stay home and grow and consume khat, an intoxicant once reserved for Sufi euphoric rituals but now the gateway to a more subtle and insidious inner prison.
Perhaps reflecting the disorienting nature of the drug, the film's style and its rhythmic soundtrack conflate and confuse points-of-view and narratives. Voice-overs of conversations hover over unrelated scenes: a narrator intermittently relates a fable about a search for the water of life. Spurned lovers lament their fates while gorgeously shot images unreel of bearded holy men reading books and performing rites, figures walking through forest paths or down narrow alleys, children playing in a river, beautiful women dressed as brides, and defeated revolutionaries vowing that their cause is not lost.
These elusive glimpses of a paradise lost or found can be attributed to the consumption of the drug. But Beshir also focuses on the harsh realities of its production. Workers engage in the onerous toil of gathering, preparing, and packing the plant, which they also consume to palliate their misery. It is the opium of the people, and the people's labor produces it. A youth is instructed in the work by an older man who advises him against sampling the drug himself. But, given the options, the temptation will be hard to resist.
And the cost will be hard to avoid, especially for those who are dependents of those addicted. One story line involves a boy (perhaps the one in the ethereal opening sequence) whose father is addicted to khat and who abuses him. The boy recognizes his father's pain and sympathizes with him (his description of his father's torments of loneliness and powerlessness are heartrending). Still, he must escape. He considers taking the desperate route of flight to Europe, which a friend describes to him as prolonged, harrowing, usually fruitless, and often fatal. The film's dream logic takes him to what seems a crude, abandoned movie theater where he examines an ancient projector — suggesting, perhaps, that the illusion of cinema might offer the escape he seeks.
Faya Dayi is available to stream for free until September 29 at pbs.org and the PBS Video app. It is also available from the Criterion Collection  on DVD ($23.96) and Blu-ray ($31.96).
— Peter Keough
---
Books
The acclaimed architect chronicles his remarkable career — over five plus decades of practice — commenting on his influential and often iconic structures as well as sharing his thoughts about architecture's role in society as a source for good.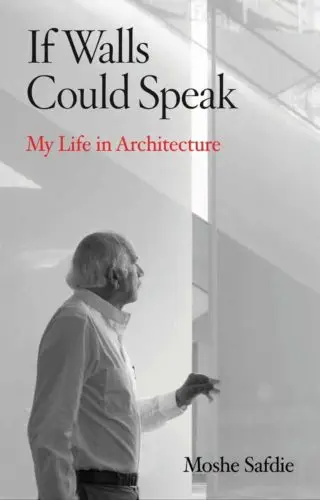 They usually speak best with their sketches, drawings, renderings, or scale models. So it is uncommon when an architect writes as well as he designs. Moshe Safdie is one of these rare individuals. The proof is in his book If Walls Could Speak: My Life in Architecture (Grove Atlantic Press, 353 pages). The acclaimed architect chronicles his remarkable career — over five plus decades of practice — commenting on his influential and often iconic structures as well as sharing his thoughts about architecture's role in society as a source for good. The volume appealingly tracks his early works to his latest ones, from his breakthrough project at age 28, Habitat in Montreal, to Jerusalem's Yad Vashem, Arkansas's Crystal Bridges Museum, and Singapore's Marina Bay Sands.
In this eloquent narrative, Safdie refers to the "silent client" that he believes an architect must serve. These are the people who live in, work in, or experience his structures. Throughout If Walls Could Speak he explores how an architect thinks, describing how imagination drives the intricate design process. He goes through many aspects of design, from creating models to selecting materials and envisioning building in a process shaped by politics, the environment, and engineering.
Safdie is very concrete: there are memorable stories about what has inspired him, from his childhood experiences in Israel and Montreal to the international projects and personalities that propelled his work. He skillfully dramatizes the complex back and forth that takes place between competing interests, a tug-of-war that is fundamental to every successful project. In this way, If Walls Could Speak makes the mystery that surrounds architecture more transparent. Still, not everything can be easily analyzed — Safdie talks about the spell cast by an inner alchemy. Amazingly, along with other quite senior star architects, such as Norman Foster (87), Frank Gehry (93), and Renzo Piano (85), Safdie (84) continues to demonstrate an almost superhuman energy, strength, and indomitable will. He continues to imagine, to create, and to build — taking on ambitious projects that would exhaust individuals half his age. And, on top of that, he writes very well.
— Mark Favermann
The Uyghur novel The Backstreets is a fierce and brave cry of moral repugnance.
Unreal City,
Under the brown fog of a winter dawn,
A crowd flowed over London Bridge, so many,
I had not thought death had undone so many.
Sighs, short and infrequent, were exhaled,
And each man fixed his eyes before his feet.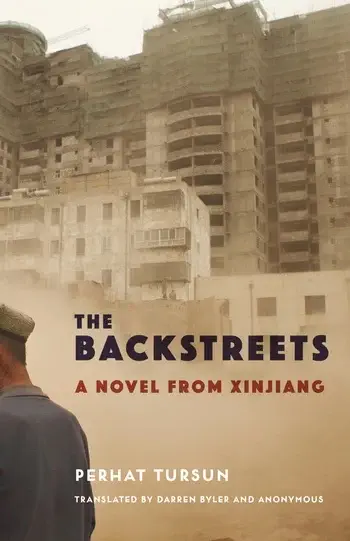 Darren Byler's informative introduction to this fascinating 2015 novel about the rural-to-urban immigrant experience, by prominent Uyghur poet and writer Perhat Tursun (he was detained by authorities in 2018 and reportedly given an 18-year sentence), tells us that the narrative's zigzagging stream-of-consciousness was influenced by Ralph Ellison's Invisible Man and Albert Camus's The Plague. The signs are there: but the lines from T.S. Eliot's The Waste Land ran through my head as I read The Backstreets (Columbia University Press, 168 pages, translated by Byler and Anonymous).
Fog, as an agglutinating metaphor for weather, pollution, alienation, and disease, is omnipresent in this narrative, told from the deranged point of view of a nameless 21-year-old of doubtful sanity working at a dead-end office job in Ürümchi. The authorities have learned that he is living at the office: a desk drawer is he only space he can call his own. Ordered to search for a place to live, he wanders about an "unreal city" during an evening of fog-besmirched inscrutability, his unstable mind (obsessed with smells, afraid of sensuality, addicted to a personal — and magical — system of numerology) intermittently flashing back to a bucolic childhood fending off an alcoholic father and a lonely education in Beijing.
The Backstreets is not just a look at mental dysfunction among Uyghurs living in perpetual fear from Han Chinese oppression in segregated sections of Ürümchi. Eliot envisioned the spiritual death-in-life of a culture, and Tursun intends that here as well, via a fable of gripping power. The protagonist's desiccated consciousness — clinging for safety via a crazed stabilizing order, beset by eternal threat — reflects the cancer of an authoritarian mentality that systematically dehumanizes its purveyors as well as its victims. ("My body … was slowly breaking the limits of sense and shape as it evaporated into the fog.") Tursun savagely critiques China's nationalism: this is a society populated by bloodless people, fueled by dread, performing superficial rituals. The political resonances of this vision of homicidal nullity are international.
According to dissident Uyghur journalist Ilham Tohti (who is also in prison) "Han society has turned fascist. There are already 'skinheads' targeting Uyghurs." The book's hapless narrator runs into a gang of these thugs, whose eyes spread contamination into the inanimate.
Because a violent light emitted from those eyes covering the whole world, my tiny, completely different, lonely, skinny miserable body couldn't be tolerated anywhere in the wide universe. The light from those eyes could infect the trash in the gutter like a plague, making it as mean as they were. As a result, the trash would become as heavy as the whole of life and the earth itself.
Tursun provides too many answers to the narrator's torments at the novel's wrap-up, including a B-movie solution to his search for a home. Regardless, The Backstreets is a fierce and brave cry of moral repugnance.
— Bill Marx