By Jonathan Blumhofer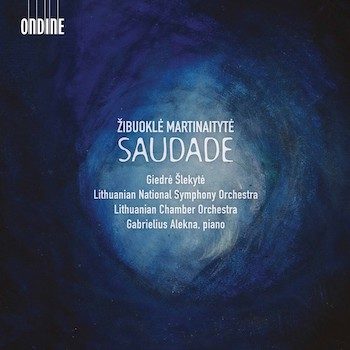 Taken together, these four pieces showcase a composer whose handling of the orchestra is expert and whose sense of form, in these works at least, feels unerringly right.
Here's a thoroughly welcome release from composer Žibuoklė Martinaitytė. Saudade, a collection of four orchestral pieces by the Lithuanian-born, New York City-based composer, gives only a small glimpse of her copious output. But it's an ear-catching, fascinating one all the same.
The biggest work here is 2013's Horizons, a twenty-minute-long essay that explores the idea of overlapping storylines; in Horizons, they're represented by two distinct types of music, one static, one active. Each are viewed from a variety of angles and both are clearly delineated, the former often involving thick, soupy textures while the latter are typically lean and driven.
Martinaitytė's handling of her materials is anything but predictable. At one point, an iteration of the stabile subject builds to a searing climax while, around Horizons' midpoint, there's a ravishing episode of soft, natural-harmonic arpeggios, bowed cymbals, bent-note woodwind melodies, and a discreet duet between double basses and harp. Indeed, the apparent simplicity of some of Martinaitytė's materials in Horizons is belied by her fresh, absorbing handling of them.
Much the same can be said of 2018's Millefleur. A piece that Martinaitytė describes as a "search for acoustic pleasures," its form is relatively straightforward: sustained pitches illuminated by shimmering string aureoles make up its first part. Around the middle, a pummeling riff figure takes over but shortly cedes way to arpeggiated textures; a reprise of some of the first part's materials serves as a coda.
If the score lacks a degree of variety in terms of tempo, rhythm, and harmony, it doesn't want for sonic richness or contrast. Quite the opposite: for depth of color and warmth of orchestration, Millefleur offers "artistic hedonism" at (or at least close to) its best.
Likewise, Saudade, the album's title track, if often beguiling. Written in 2019, it's a piece that, conceptually at least, deals in terms of nostalgia, loss, and transition. Accordingly, Martinaitytė's writing is, expressively, at its most ambiguous in Saudade's pages.
There are subtle, shifting colors galore: undulating individual lines give the impression of a gently rippling surface, with tensions roiling just beneath. To be sure, Saudade turns on a dime, with three big, terrifying climaxes that suddenly drop off, lending it an aura of harrowing mystery.
Rounding out the disc is Martinaitytė's 2017 Chiaroscuro Trilogy. Written for solo piano and string orchestra, it's a study in darkness, light, and the shadows in between. Broadly speaking, darkness is represented by dense textures, thudding clusters (or thereabout), and low sonorities; the light calls forth episodes of textural clarity, diatonic chords, luminous harmonics, and high registers.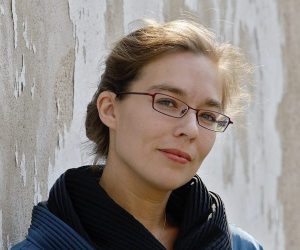 Martinaitytė's keyboard writing in the Trilogy is anything but overtly virtuosic. Rather, there's a uniformity in the subdued character and style of her scoring for piano and strings over the Trilogy's three movements that is striking.
Repetition of figures is common, especially rhythmic tattoos, in the dusky first movement, "Tunnel." The central one, "Meteors," with its stratospheric string tremolos and glissandi, provides an oasis of sorts. "Darkness in Light," the finale, is largely bright-toned and texturally static, though some darker gestures intrude as the movement proceeds.
Taken together, these four pieces showcase a composer whose handling of the orchestra is expert and whose sense of form, in these works at least, feels unerringly right. One might quibble about the music's narrow range of tempos (especially in Chiaroscuro Trilogy) and, for strongest effect, one should probably listen to each composition individually rather than in succession. Even so, each of these scores persuasively engages the ear on its own merits.
The performances are uniformly terrific.
Surely the Lithuanian National Symphony Orchestra's technical and stylistic command of Saudade, Millefleur, and Horizons is definitive: they play each with the familiarity you expect a standing orchestra to bring to Beethoven or Brahms – not challenging contemporary fare. Gabrielius Alekna is the attentive soloist in the Trilogy, in which he's joined by the strings of the Lithuanian Chamber Orchestra.
Conductor Giedrė Šlekytė presides over all the performances. She deserves the highest praise for the commanding sense of structure and expressivity she draws from her forces in all four selections.
Add to this Frank J. Oteri's typically informative liner notes and you've got about as engrossing – and accessible – an album of recent orchestral music as they come.
---
Jonathan Blumhofer is a composer and violist who has been active in the greater Boston area since 2004. His music has received numerous awards and been performed by various ensembles, including the American Composers Orchestra, Kiev Philharmonic, Camerata Chicago, Xanthos Ensemble, and Juventas New Music Group. Since receiving his doctorate from Boston University in 2010, Jon has taught at Clark University, Worcester Polytechnic Institute, and online for the University of Phoenix, in addition to writing music criticism for the Worcester Telegram & Gazette.