By David Greenham
Grand Horizons at the Gloucester Stage Company is a wild, funny, and sometimes wonderfully touching ride.
Grand Horizons by Bess Wohl. Directed by Robert Walsh. Scenic design by Jenna McFarland Lord. Costume design by Chelsea Kerl. Lighting design by Anshuman Bhatia. Sound design by Dewey Dellay. Properties design by Lauren Corcuera. Produced by Gloucester Stage Company, East Main Street, Gloucester, through August 21.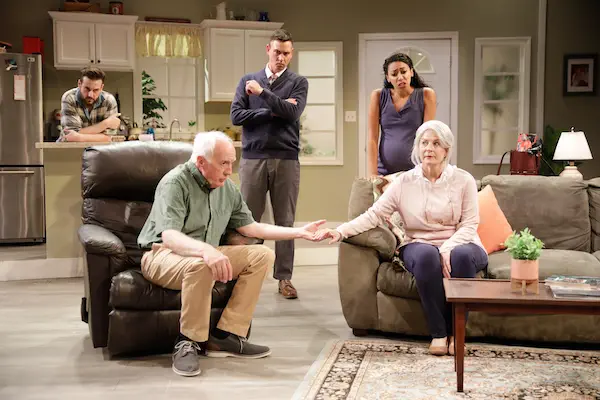 There's a running theme about eggs in dramatist Lanford Wilson's love story Talley's Folly. The idea is that human beings are like eggs: fragile and thus worried about bumping into each other and cracking our protective shells. Families definitely fit Wilson's eggs analogy, so it is tempting to see Bess Wohl's Tony-nominated play, Grand Horizons, as a tasty omelet. The family not only cracks, but is whipped up into a marvelous and often hilarious repast.
Husband and wife Nancy and Bill recently celebrated their 50th wedding anniversary by moving into an independent living apartment in a retirement community. Played by legendary Boston-area actors and partners Paula Plum and Richard Snee, the couple have long ago lost their fire. As the play begins, they are mechanically preparing to eat dinner, each silently going about their chores. Bill sets the table and pours the drinks; Nancy cuts the meat and spoons vegetables on to each plate. It's a ritual that has been performed, with boring exactitude  thousands of times. This time, however, as they sit, Nancy sets a grenade on the plate. Breaking a long silence, she says, "I think I would like a divorce." Bill, not missing a beat, pulls the pin: "Alright," he says without emotion. And with that, we're off to a wild, funny, and sometimes wonderfully touching ride.
Plum, who shines in the production, is currently serving as the interim artistic director at Gloucester Stage. She's invited her friend, former Gloucester artistic director Robert Walsh, to direct what has the makings of a summer hit for the popular Cape Ann playhouse.
While Nancy and Bill maintain a fairly even keel throughout the proceedings, their sons Ben (Jeremy Beazile) and Brian (Greg Maraio) are a mess. Ben, the elder, has money saved and a secure job, so he is convinced (inaccurately) that he's the family's anchor. Luckily, his very pregnant wife Jess (Marissa Stewart) is there to call the airhead on every one of his nonsensical whims.
Brian, a high school drama teacher, believes that his theater experience makes him the one who is more securely in touch with reality (a deliciously common thought among us in the theater world). His training and experience, he believes, leave him best positioned to have his parents' issues figured out.
Confronted at a "family meeting," both Nancy and Bill admit their dissatisfaction with their five-decade partnership, although hubby admits, "I would have just slogged it out." Their children are dumbfounded. "If you wanted to get a divorce, you should have gotten it after we went to college, like normal people," says Ben, adding, "you're almost 80, how much more is there?"
For Brian, not for Ben, it's the timing of the divorce that's inconvenient. The decision comes at a stressful time for him: he is in the middle of directing an absurd-sounding production of Arthur Miller's The Crucible featuring a cast of 200 student actors. Even Jess, while mostly hewing to emotional sanity, can't resist the urge to jump into the frenzy by practicing some armchair therapy, which is greeted with hilarious skepticism by everyone else in the family.
Nancy and Bill stick to their guns. Bill makes knee-jerk plans to move out and Nancy begins to see a life that includes a new purpose.
On the face of it, this family is very familiar. We've seen versions of Bill & company before; they share traits with the silly clans at the center of decades of popular sitcoms. But, to her credit, Wohl moves beyond easy slapstick. The upheaval forces Ben, Brian, and Jess to fall into moments of self-reflection. They end up making uncomfortable discoveries that  might even cause them to learn a little about themselves and the needs of others.
The GSC production snaps along, and the cast embraces the twists and turns served through a series of short, episodic scenes.
Fun additions along the way include Christhian Mancinas-Garcia's Tommy, who Brian brings home on a Tinder date gone awry, and June Kfoury's Carla, a stand-up comedy classmate of Bill's, who might end up being stuck with more than she bargained for. One of the best scenes in the staging is between Carla and Nancy. It's a warm, wide-ranging, and very funny exchange between two characters who should be hostile to each other. Instead, they're comrades in arms – women "of a certain age" fighting against a world that makes unfair assumptions about them.
Jenna McFarland Lord's set perfectly reflects the comfortable yet sterile sameness of independent living community cottages. The rest of the design team quietly succeeds in keeping the spotlight set firmly on the script's characters. Plum's Nancy is the dramatic engine, the driving force that yanks the others along, including Snee, who, like a wizened anchor, plants himself amusingly in the way. His expressive face and impish eyes provide deadpan commentary on the chaos whirling around him.
Grand Horizons ends up not reaching all that high, but it gets to where it wants to go. The strong cast and confident direction serve up an engaging entertainment that allows us to forget, at least for a couple of hours, that Covid and so much more has cracked our protective shells — and they can't be easily glued back together.
---
David Greenham is an adjunct lecturer of Drama at the University of Maine at Augusta, and is the executive director of the Maine Arts Commission. He has been a theater artist and arts administrator in Maine for more than 30 years.