By Jonathan Blumhofer
Taken together, this is a release that showcases both the Rotterdam Philharmonic Orchestra and its chief conductor — as well as their repertoire choices — in a brilliant light.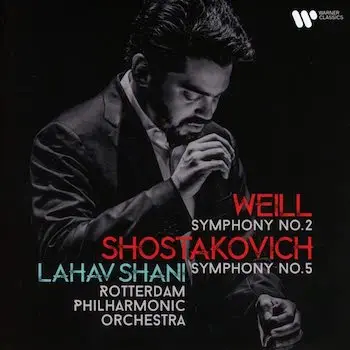 To posterity, Kurt Weill may be best remembered as the composer of The Threepenny Opera, The Rise and Fall of the City of Mahagonny, The Seven Deadly Sins, and a spate of standard-setting Broadway shows in the late-'30s and '40s (including Lady in the Dark and Street Scene). But he was also an accomplished symphonist, and it is to Lahav Shani's credit that he both included and so brilliantly conducted Weill's Symphony No. 2 in his second album for Warner Classics with the Rotterdam Philharmonic Orchestra (RPO).
Weill wrote the piece just around the time he fled Nazi Germany for Paris (and, later, America), and its 1933 premiere was led by, of all people, Mahler's protégé Bruno Walter. Yet the music's mellifluous attitude and theatrical quality were hammered by synchronic critics and it never gained a foothold in the repertoire (the score wasn't published until 1966 — 16 years after Weill's premature death).
That's our loss, as Shani's invigorating performance reminds.
Yes, the music's full of tunes — what lasting symphony isn't? — and there are stylistic echoes with various of his collaborations with Bertolt Brecht (particularly, to these ears, The Seven Deadly Sins of 1934). But why is any of that a problem?
If anything, Weill's symphony is fundamentally a Classical sinfonia transferred to the early 20th century. Its three-movement form (fast-slow-fast) certainly hearkens back to that archaic form. So do the disparity of ideas in the brisk outer thirds.
Shani and his forces clearly love the piece. The outer sections are rhythmically taut and vigorously driven, though never at the expense of the longer musical line or its peculiar sense of character. To be sure, the finale's repeated Harmoniemusik (i.e., for winds and brasses) march is brilliantly cheeky, while the opening section doesn't want for textural clarity or tonal blend.
In between comes a dancing Largo that flows with uncommon purpose. The tempos all fit, the music's architecture is strongly etched, and the whole performance never quiet loses the cabaret-esque edge that provides it such a distinctive flavor.
It says something — both of Shani's interpretation and Weill's music — that this 26-minute-long effort more than holds its own against the blistering account of Dmitri Shostakovich's Fifth Symphony that fills out the disc.
Though premiered just four years after the Weill, Shostakovich Five inhabits a very different psychological and political space than its older cousin. Written, supposedly, as "a Soviet artist's response to just criticism," it's the work that began Shostakovich's rehabilitation after Stalin's drubbing of his opera Lady Macbeth of Mtsensk.
That the piece has been played and recorded to death clearly has no effect on Shani's approach to it: his is an imperative Shostakovich Five. The first movement, in its quiet moments, is beautifully spare and austere, though fundamentally songful. Indeed, nothing — neither the shaping of the music's structure or its expressive content — is underlined too heavily. Rather, the whole section proceeds with an unaffected ease that is very rare to come by.
The Scherzo is fittingly slashing and heavy-footed. Meanwhile, the Largo unfolds with a mix of astonishing delicacy — the shaping of its opening phrases are downright haunting — that culminates in a mighty climax, while the finale's furious apex paints an aural picture of unrelenting defiance and passion.
Taken together, this is a release that showcases both the RPO and its chief conductor — as well as their repertoire choices — in a brilliant light. Highly recommended.
---
Jonathan Blumhofer is a composer and violist who has been active in the greater Boston area since 2004. His music has received numerous awards and been performed by various ensembles, including the American Composers Orchestra, Kiev Philharmonic, Camerata Chicago, Xanthos Ensemble, and Juventas New Music Group. Since receiving his doctorate from Boston University in 2010, Jon has taught at Clark University, Worcester Polytechnic Institute, and online for the University of Phoenix, in addition to writing music criticism for the Worcester Telegram & Gazette.