By Peg Aloi
Hellbender is not just a fabulous indie film about witches, it's also an original coming-of-age horror movie.
Hellbender, directed by Zelda Adams, Toby Poser, and John Adams. Streaming on Shudder, Amazon Prime, and available on demand.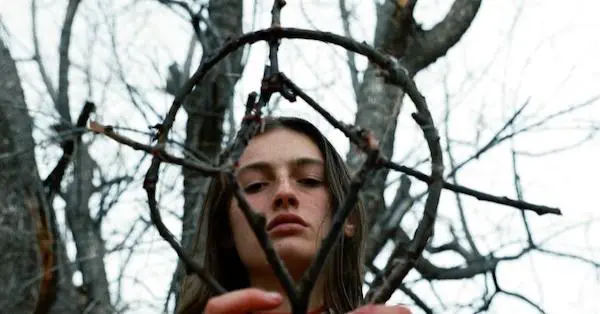 There's been an increasing number of intriguing indie films and series about witches in recent years, mirroring the increasing interest in witchcraft and the occult across social media. Perhaps galvanized by Robert Egger's stunning 2015 debut, The Witch, a folk horror masterpiece, filmmakers are eschewing fancy Hollywood effects for a more naturalistic (but no less frightening) depiction of witchy magic. Popular classics from The Wizard of Oz to Hocus Pocus highlight flashy visuals and scary mood-setting; think lightning bolts shooting from fingertips, sudden puffs of colorful smoke, dramatic orchestral music, etc.
But even films exploring "real" witches such as The Craft or Practical Magic include stereotypical elements, including supernatural style special effects and story arcs. he intent, within the horror genre, anyway, is to drive home the malevolent nature of witches. Confession time, dear readers: I am working on a book about the representation of witches and witchcraft in film and TV. I have my favorites over the years, but I find myself wishing for more stories that depict witchcraft without all the smoke and mirrors and CGI. For me, witchcraft in films can be multi-faceted: modern in ways that are life-affirming and empowering or linked back through the ages to dark periods of superstition and religious zealotry, portraying oppression and patriarchal abuse. It is time to ditch the usual battle between good vs. evil that is so showily engineered by Industrial Light & Magic. I want complexity, humanity, nature, and, sure, horror!
Along with You Won't Be Alone, the stunning period piece set in Macedonia by director Goran Stolekvski, there is one other film I've seen recently that turns witchy cliches on their heads. Hellbender is not just a fabulous indie film about witches, it's also an original coming-of-age horror film, a stellar effort made on a micro-budget by a small family filmmaking collective (Wonder Wheel Productions) that lives in the Catskill mountains of New York State. The film revolves around a teenage girl named Izzy (Zelda Adams) and her mother (Toby Poser) who live in a remote but large and lovely house in the forest. Mom occasionally goes into town for supplies, but her daughter is home schooled and not allowed to leave the house because she is told she has a communicable disease and can't be around other people. Of course, this reflects recent pandemic precautions and our fears that, because school-aged children have been kept away from their peers, they are missing out on crucial social interactions due to fear of infection.
As one might expect, Izzy's isolation makes her socially awkward, but she is smart and curious, super-savvy about current culture and slang. And she does have a creative outlet: she and mom play in a band (called, naturally, Hellbender): they get dressed up in goth-style makeup and costumes and play hard driving heavy metal songs in their basement. Izzy doesn't know it yet, but the name is a reference to the particular type of witch she will soon become: in a short prologue scene we see a group of women in 19th century dress attending a hanging of one of their own in the woods. It's hard to say what this unusual community is supposed to represent: coven or accusers? But we get a taste of the potency of their powers and the hint of a family legacy.
Izzy seems happy to hang out with her mom foraging for weird looking meals in the forest (one dinner plate includes pine cones, moss, and berries), she also seems hungry for contact with other people. One day on a hike she comes across another hiker — a man who says his niece lives nearby. She is about Izzy's age and maybe they would like to meet and be friends. He's a nice and perfectly harmless guy (played by John Adams, the co-director and dad in the family collective of filmmakers), but when mother hears of the encounter she does what she must to preserve their secrecy and safety. A few days later Izzy is out hiking again and sees a house with a swimming pool; a teenage girl is sunbathing, spies Izzy in the woods, and calls her over. Amber (Lulu Adams) teases Izzy in a sort of brusquely good-natured way, and then invites her to hang out sometime. Izzy goes back to take a swim one day and there are some other teenagers at the pool. They play a drinking game and Izzy inadvertently consumes a living creature. This first taste of blood (a metaphor for puberty?) awakens her powers. The world is a different place for her from that day forward. Izzy's mother understands, as we do, that this experience catalyzes Izzy's true witchcraft calling. Her mother begins to teach her daughter things.
As Izzy refines her power she also has to deal with the growing pains of trying to make friends as a sheltered teenage girl. She begins to understand that there's something not right about the way her mother has kept her in isolation. This disagreement not only reflects the mother-daughter struggle one often sees embodied in standard coming-of-age films: it is also an effective horror arc, with chilling possibilities.
I really loved the agile tone of Hellbender, the way it seamlessly juxtaposes earthy naturalistic scenes with mind-bending hallucinatory hellscapes. The performances are excellent, and deft touches of humor throughout nicely balance the horror elements. This effort supplies a fresh take on what a witch movie can be: beyond a story of evil and magic, the notion of witchcraft as a way of life can be grounded in human interactions and cultural tensions. The dramatic conflict between the characters is complex and intricate, with layers of lore and symbolism. But the story is straightforward; there's no need for cumbersome exposition or heavy doses of backstory. Izzy and her mom are, simply, the coolest folk horror witches I've seen in a while, and I'm excited to see what this talented filmmaking team does next.
---
Peg Aloi is a former film critic for the Boston Phoenix and member of the Boston Society of Film Critics. She taught film studies in Boston for over a decade. She's written on film, TV, and culture for web publications like Time, Vice, Polygon, Bustle, Mic, Orlando Weekly, RadioTimes, and Bloody Disgusting. Her blog "The Witching Hour" can be found on Substack.