By Vincent Czyz
This novel of ideas reads like an essay narrated in the first-person by a self-absorbed automaton.
Venus&Document by Jared Marcel Pollen. Crowsnest Books, 200 pages, $19.99.
There are certain writers "—often among the academic avant-garde—who seem expert /interested in neither plot nor character, whose books' movement and appeal depend entirely on rarefied meta-aesthetic agendas." –David Foster Wallace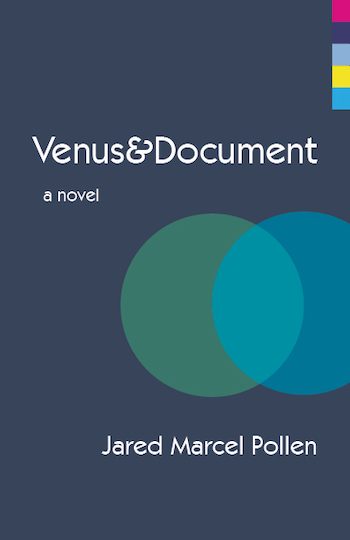 I had a problem with Jared Marcel Pollen's Venus&Document from the first sentence, which I'll quote because it's emblematic of much of what was off-putting about the novel as a whole: "I find myself oddly contemplative in times of crisis." The narrator, Paul Kenning, elaborates: "crises encourage us to see ourselves as participants in the great cultural drama, players living through hinge moments in history …" Only someone not affected by crisis, who is not a participant, has the luxury of daydreaming over how historians will remember it. For those actually caught up in calamity (think of Ukraine), it's a struggle—often desperate—to salvage possessions, homes, lives.
The crisis Kenning is referring to is a storm that's slammed into New York City, where the action of the novel takes place. While it's not a crime to be too preoccupied with plotting the course of future history to be present in the moment, it makes him detached, coldly aloof. No doubt that's intentional, but a deliberate choice isn't necessarily the right one.
Kenning is a journalist of sorts, not a beat reporter or the voice-of-the-street columnist Jimmy Breslin was, but rather, one who composes "essays" "on literature, politics, or culture" (which invites the question: Why's he writing up this storm on deadline?). Kenning also has a penchant for the overblown: "It was 8:15 and I was writing the first draft of history. […] It was another Sandy-type event, another one of the biblical disasters that seemed to strike this side of the American coastline every annum." Old Testament cataclysms, it should be noted, can generally be counted upon to smite a good deal more than 44 souls (the toll Sandy exacted from New York).
The storm, in typical literary fashion, is more than a storm; it's a harbinger: "the message Nature seemed to be sending us was that some order had been disturbed …" A more lasting and widespread sign that something's rotten in Denmark soon follows: Occupy Wall Street–style protests, known as "Events," coalesce in various cities around the world.
The storyline isn't complicated. Karen, a photographer who works at the same unnamed magazine as Kenning, "a beautiful shamble of a woman," asks to crash at his place since her Brooklyn flat, post-deluge, isn't accessible without scuba gear. Shortly thereafter, with neither warning nor transition, she goes from "a name in a list" to his bedmate. This, as we later discover, turns a love triangle into a quadrangle—Kenning has been having an affair with Eleanor, his best friend's long-time lover. (Technically, it's more of a pentangle since there's yet another woman Kenning's involved with, but she dumps him early on). Jim, the cuckolded bestie, is a director whose first feature film launches him into stardom and who has since become embedded with the radical Left. When Eleanor isn't pinballing between Kenning and Jim, she's busy working on a PhD dissertation.
What passes for the central conflict begins as fallout from the storm. Taking a cue from Voltaire, Kenning wonders, "What could this disaster do for us? What new narratives would emerge?" Similarly inspired by the Events, he decides to write the unified field theory of essays, "an exploration of the alienation, anomie, weltschmerz—whatever you wanted to call it—that defined our time." The rest of the book consists primarily of his drifting from conversation to conversation—with his financial advisor (the short-lived love interest); his editor, Bill, who's dying of cancer (my favorite character); as well as with Eleanor, Jim, and an enigmatic leader of the Event in Paris.
The novel dwells so much on information overload it might have germinated out of a Guy Debord observation: "There is a contradiction between the mass of information collected … and the time and intelligence available to analyze it." All the more possible since Debord, a founding member of the Situationist International, gets a couple of mentions in Pollen's novel (so does SI). "There was so much to know about everything," Kenning laments. "What could I do? I was surrounded by more knowledge than I could use in a hundred lifetimes. […] We had more words in our pockets than the Library of Alexandria at the height of its collection. And we lived in an age of non-stop commentary and analysis—with books built out of other books, articles written in response to other articles, which themselves were responses to other responses."
This deluge of data seems to result in Kenning's inability to experience the world without dropping a name and filtering his thoughts through someone else's. On the night of the storm, for example, he brings in Roland Barthes's observations about "the floods in Paris in the fifties, as an antic moment of mythic splendor." (There's that penchant for the overblown again.) A bit later, while gazing out at Staten Island, Kenning thinks, "as Wordsworth might have, of the sea that bares her bosom to the moon." The litany of names begins on page 1 with Hegel, who is referenced several times, and includes Borges, Thomas Carlyle, Alexis de Tocqueville, Goethe, Seneca, Plato, Oscar Wilde, Shelley, Leibniz, Archimedes, Aristophanes, Philip Roth, Da Vinci, Flaubert, Ernest Rutherford, and Nietzsche among still others. It becomes tiresome because it often feels contrived, because Pollen doesn't get into any depth when citing the rarefied products of these singular minds, and because Kenning is constantly framing the world in abstractions—philosophy, ideology, interpretations of history.
No doubt that's the point. Eleanor, also good at dropping names, "quoted a line from Valery, a thing she'd taken to heart about what happened when the intellect forced itself on beauty: it installed theories in place of feelings, replaced reality with an encyclopedia of memories; it transformed one's life into an endless library, making Venus into a document." Kenning seems to have been intended as an embodiment of Valery's observation (though Kenning's interpretation isn't entirely faithful). This is most clearly demonstrated in a scene in which, lying in bed with Eleanor, Kenning traces words out on her back and muses: "I ran the essay through my head and wrote it out across her body." Unfortunately, the reader has to suffer through Kenning's constant abstractifying, which too often makes him sound like a writer writing, rarely like a person living.
Jim too is guilty of turning Venus, whom Eleanor seems to represent, into a document. The movie that made him a celebrity was based on their failing relationship, and the project ends up costing him what's left of their romance: tired of being seen primarily as film fodder, she moves out.
It's worth noting that Valery's essay, "The Problem of Museums" so central to Pollen's novel, argues against bringing erudition to the aesthetic experience, against applying theory to works of art, not against imposing the intellect on human beauty or lived experience. Offering a variation on Valery's theme is fine, even admirable, but the differences should be made clear.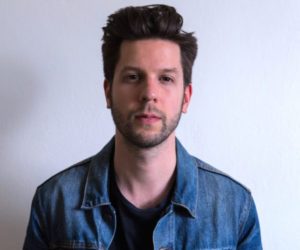 Kenning's abstractifying isn't a deal-breaker—he is, after all, a writer—but there are other problems. Among the more minor ones are mistakes with the location, Manhattan. The High Line, for example, is not a block long; it's 22 blocks long. Nor is there a "factory landscape" across the Hudson from the World Trade Center. Lower Manhattan looks into the mirrored glass of Jersey City's lesser and fewer skyscrapers. Later in the novel and farther uptown, Kenning repeats this mistake, singling out "smokestacks" as the defining feature on the Jersey side. But if there's still one to see, it was long ago decommissioned, a funnel for rain falling, not smoke rising, a standing reminder of how heavy industry fled the Jersey waterfront decades ago.
A larger difficulty is the prose, which, though polished and skillfully executed at times, has a tendency to overreach. Pollen rechristens a nor'easter a "macro-storm" and for no apparent reason goes with the legalese "every annum" instead of "every year." He describes traffic noise as "a discourse of horns," which sounds a bit too writerly for its own good. There are also strikingly maladroit adverbs: billiard balls slide "Newtonially" across a pool table and a cigarette is "pinched rodentially between" lips. I suspect the yen for upselling the reader was acquired from David Foster Wallace, but whereas Wallace usually gets away with it, Pollen generally doesn't, and the writing comes off as contrived.
Some of the overcooked phrases may have been meant to be humorous—Venus&Document is billed as an "intellectual comedy"—but the effect was largely lost on me. I see the book, instead, as a novel of ideas, an undertaking to which I'm partial. This one, however, made me feel more like I'd read an essay narrated in the first-person than a work of fiction (a somewhat disjointed essay at that). Moreover, the ideas themselves, while promising, are never fully articulated and can't make up for the passivity of the protagonist, who moves through the pages a bit like a self-absorbed automaton.
I recognize that Kenning's detachment is deliberate; I'm just not convinced by the end result. Karen is just as intentionally his opposite: She's a go-getter who's been on "dangerous missions … that require combat books and parachuting … into enemy territory." This highlights another problem: Karen reads like a foil. That is, she and the other characters come across more like literary devices than the strange creatures Alexander Pope described as "created half to rise, and half to fall."
As for that "supreme work" Kenning promised us, we never get a peek at it, only at how it was received, which feels decidedly anticlimactic.
Ultimately, the novel's elements fail to come together. Nonetheless, Pollen is talented, and I don't doubt he has within him better books (this is only his second). The painstaking dramatization of a little-known aesthetic argument is a lofty aim and worthwhile in itself. I look forward to future works in which he brings off the literary tasks he's set himself.
---
Vincent Czyz is the author of Adrift in a Vanishing City, a collection of short fiction that was awarded the Eric Hoffer Award for Best in Small Press; The Christos Mosaic, a novel; The Three Veils of Ibn Oraybi, a novella; and the recently published essay collection The Secret Adventures of Order (Rain Mountain Press). He is the recipient of two fellowships from the NJ Council on the Arts, the W. Faulkner-W. Wisdom Prize for Short Fiction, and the Truman Capote Fellowship at Rutgers University. His work has appeared in many publications, including New England Review, Shenandoah, AGNI, Massachusetts Review, Georgetown Review, Tin House, Tampa Review, Boston Review, and Copper Nickel.