By David Greenham
The musical's book, lyrics, and score are strong enough to warrant productions elsewhere.
Sabina, written by Willy Holzman. Music by Louise Beach. Lyrics by Darrah Cloud. Co-directed by Danilio Gambini and Daniella Topol. Music direction by Bradly Vieth. Scenic design by Anita Stewart. Costume design by Fabian Fidel Aguilar. Lighting design by Christopher Akerlind. Sound design by Charles Coes. Produced by Portland Stage Company, Portland, ME. Live performances through May 22, digital performances through June 5.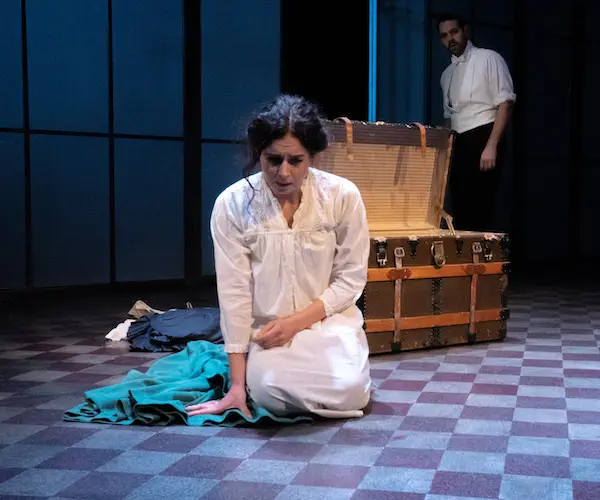 If you recognize the name of the early 20th century Russian physician Sabina Nikolayevna Spielrein at all, it is probably because of David Cronenberg's 2011 film A Dangerous Method.  The brilliant Sabina, one of the first female psychoanalysts, was a patient, eventually a colleague, and probably more to Carl Gustav Jung, the Swiss founder of analytical psychology. Jung was initially a friend of Sigmund Freud, eventually becoming a rival. A decade ago, Sabina Spielrein's fascinating story appealed to Hollywood — if she was played by the sexy Keira Knightly. (Editor's Note: Cronenberg's film is based on Christopher Hampton's 2002 play The Talking Cure, which was produced at London's National Theatre. Ralph Fiennes played Jung and Jodhi May was Sabina.)
Luckily for us, Sabina can now command attention for considerably more. Its another example of exploring the fate of a marginalized female voice in a male dominated field. That's the feminist premise of Sabina, a new musical by Willy Holzman, Louise Beach, and Darrah Cloud, which is receiving its world premiere at the Portland Stage Company.  The moving story begins in 1904 at the Burghölzli Psychiatric Hospital near Zurich, where 19-year-old Sabina (Stephanie Machado) has been delivered for analysis by doctors Ludwig Binswanger (Jason Michael Evans) and Carl Jung (Philip Stoddard). Sabina has been labeled a "psychotic hysteric" who doesn't speak. While Binswanger is willing to put her in with the rest of the "refugees from the land of abnormal," Jung hopes to pry open the locked gates to whatever terrifying past she has created.
"What do you say to a catatonic?," he sings. Jung soon reaches out, via correspondence, to Sigmund Freud (Bruce Sabath) for advice. Although the two would not meet until a few years later, Freud sees the connection with a non-Jew as a beneficial step in overcoming the growing anti-semitism in Vienna that was stigmatizing psychoanalysis. Guided by Freud's method of word association, Jung's use of the word "sister" finally unlocks Sabina's paralyzed mind. An examination of the unknown causes for her psychosis begins. In the meantime, we learn more about Jung and his wife, Emma (Sarah Anne Fernandez). Emma's expecting their first child, and Jung worries that raising a family on the campus of a psychiatric hospital might be detrimental. Emma assures him that everything will be fine, and he stays. Daily routines set in, and the entire cast sings a beautifully scored and infectious song "Waking to Life."
Jung, Freud, and eventually Sabina herself enthusiastically dug into the nature of her illness and look for patterns, triggers, and sense. I'm "sailing through the dark without a map or a moon or a star," Jung declares in song. Sabina insists that she's living in two worlds at once – one real and one dreamed. "They call that madness," she observes. When she finally meets Freud, Sabina worries that she will ruin his relationship with Jung. The latter tells her not to fret: "Freud will engage you in small talk." To which she replies, flatly: "I make big talk." And she does.
The consistently interesting production at the Portland Stage 'makes big' as well. It runs about two hours and a half with an intermission and moves with ease through a range of emotional tones: comic and sad, light and heavy. The music, performed by a six-piece chamber ensemble live on stage with piano, strings, an oboe, and a few notes from an English horn, is beautifully tempered.
As I've mentioned in previous reviews, Portland Stage Executive and Artistic Director Anita Stewart is one of New England's most thoughtful and inventive set designers. The expansive stone walls and windows of the Burghölzli hospital provide perfect opportunities for a striking use of shadows and reflections; we imagine the ghosts that must waft around the place. In contrast to that expanse, a small cubby hole downstage left serves as Freud's carpeted and claustrophobic Vienna office, its size reflecting the world that's closing in on him and the rest of the Jews of Europe. Along with Stewart's visuals, Christopher Akerlind's carved and crafted lighting, Fabian Fidel Agular's lovely costumes, and Charles Coes' sneakily smart sounds create a world that we inhabit for the course of the narrative's three decades. Co-Directors Danilo Gambini and Daniella Topol ensure that, despite the complications of psychoanalytic science and the shifting personal relationships, the narrative path is clear and easy to follow.
The cast is very strong – all are skilled and wonderful singers. But Machado's charismatic Sabina carries the evening. The actor's charm and confidence are buoyant, and when the protagonist finally gets a handle on what she's learning, she's a formidable force. As, it seems, Sabina Spielrein was in real life.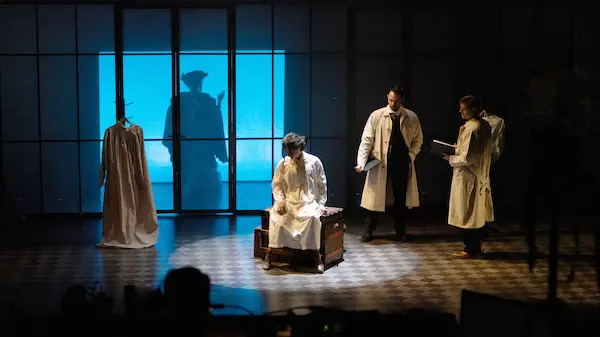 The musical's book, lyrics, and score are strong enough to warrant productions elsewhere. Beach's score is rooted more in opera than music theater, and that is just fine, given that it lends the narrative depth and soul. We are not only supposed to engage with these characters, but grapple with what they are thinking, particularly in their confrontation with the constructive and destructive elements in the unconscious. Of particular note is the dream-like song "Smoke," an effective cliff-hanger that ends the first act. Still, there are tunes that reflect a Broadway sensibility. Freud's solo "Every Father" is a fun piece that has a kind of 'Sigmund meets the Borscht Belt' feel. And the second act opens with the bright, amusingly ironic "Another Day" quintet. The song would be a light confection in any other setting, but here the characters are referring to another day in the asylum, which makes it all the more wryly humorous.
Along the way, of course, we fall in love with the show's protagonist, Sabina. In real life, she dreamed about her hometown of Rostov-On-Don. Today, that coastal city is likely being used as a staging ground for Russian troops — it is just 180 kilometers from the besieged port city of Mariupol, Ukraine. Sabina wished that, when she died, her ashes would be spread in a field in Rostov-On-Don with a stone that read: "I was once a human being." She eventually returned to her the city to continue her psychiatric work. The Red Army repelled the first Nazi invasion of Rostov-on-Don in November, 1941. Six months later, the Nazis attacked again and occupied the city. Sabina and her two daughters, aged 29 and 16, were among the 27,000 Jews and others who were rounded up and murdered by the Einsatzgruppe, the Nazi SS death squad. They were early victims of the regime that would end up murdering more than 6 million Jews and others in the Holocaust.
This compelling new musical is one way of fulfilling Dr. Sabina Nikolayevna Spielrein's dream: we see that she was once a very human being,
---
David Greenham is an adjunct lecturer of Drama at the University of Maine at Augusta, and is the executive director of the Maine Arts Commission. He has been a theater artist and arts administrator in Maine for more than 30 years.