By Drew Hart
You will have to be up for this short story collection ; you will learn a lot about a corner of the world that's rarely captured, and is done so here exceptionally well.
Nobody Gets Out Alive by Leigh Newman. Scribner, 278 pp.
Let's hitch up the dogsled and head for Alaska! Wait — this is no longer the land of Buck, and Jack London — Leigh Newman's mesmerizing debut collection of stories, Nobody Gets Out Alive, is here to show us how much so. Although many of these tales are set in the present day of the 49th State, several trace its past, so we are informed how its history, the culture of earlier days, informs life now. And Boy Howdy, life there now is a heck of a trip.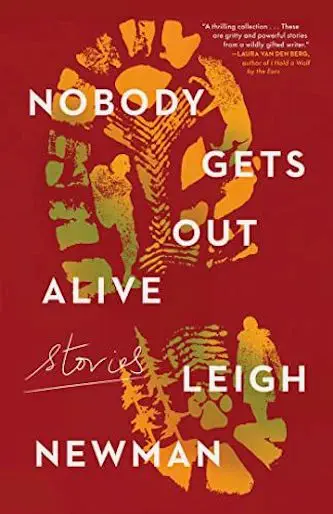 Stories here are in no particular chronological order. The final entry "An Extravaganza in Two Acts,  is set in 1915, in the days when Anchorage was a tent city planning to become a real one, and hadn't been named yet. Others depict life in the '60s and '70s, when it had but a single JC Penney's and many more 'Nude Model Studios, Arctic Fur Showrooms, and Lucky Girl Oriental Massage parlors for the "lonely, overpaid men working on the pipeline," And what about the present? Today's Anchorage offers a plethora of things: Costcos, "Matanuska Thunder Fuck, grown from choice heirloom seed," the Alaskan Reindeer Sausage Factory. It's connected by the People Mover – a bus line used as a "floating motel" by those hiding from the cold. And it's a town with a sexual assault problem: "clocks in as the second highest in the nation – and not in a roofied and raped kind of way, a bash-the-girl-and-drag-her into-the-woods-behind-the-strip-mall kind of way." Maybe life there is wilder than ever -.
Voices telling Newman's tales, while occasionally sounding somewhat too alike, are compelling. They're also reliably troubled. In "Howl Palace," we meet Dutch, a woman in her late fifties, veteran of five marriages, trying to sell a rundown house, which features a room sporting three hundred wolf pelts hanging on pegs. She's seeing off Carl, a former lover, on his way to Houston for last-ditch chemotherapy. She has moose ribs in her freezer. "Our Family Fortune Teller" is told by an unnamed clairvoyant, with a best client who is the wife of the owner of pain clinics that dispense opioids. She has a daughter who is — unknown to her mother — a clairvoyant herself. There's Neil, an entrepreneur and big game hunter; the title story visits his opulent house, envisioned as a "log palace" filled with mounted specimens, tusks, and antlers.
In some instances, characters appear in more than one yarn but, interestingly, things aren't so much interrelated as left to stand completely alone. You have Janice, a child traveling to Alaska with her mother and brother, escaping a desperate life in Idaho in "Alcan, an Oral History"; later she is married to Neil and comfortable. Or she would be, if it weren't for the fact that Neil is trying to get it on with Katrina, a wealthy and temperamental investment banker visiting her former home from New York. Katrina is seen earlier in "High Jinks" as a teenager; at that point she's on a float trip down a wild river with her father William, an expert fly fisherman, and best friend Jamie. Both are seen elsewhere later — William has been abandoned by his cocaine-addicted wife and has lost his pilot's license due to a stroke, while Jamie has grown into a successful inventor, in a marriage to another woman.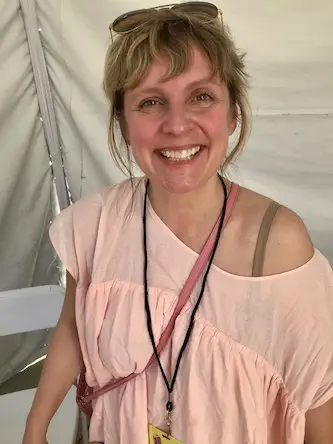 Atmospheric detail and texture here are outstanding: we get bush pilots, float planes, and helicopters; "there is no tower that you have to ask for permission… just take off, anytime you want, as long as you go fast enough to get above the trees." Although, "landing pads in the backyard always upset the neighbors.".We get climate change killing off caribou and puffins. "The glaciers… melting, bones and ivory surfacing… you didn't even need a pick ax. You didn't even need to dig." Yet the oil dependency of the state persists, as do the dividend checks. Most people "come from dirt and sorry circumstance," but there's "a segment of the population that hands down cashmere sweaters, as well as manages a lobotomy's worth of household employees."
Is anyone feeling sensory overload? Nobody is not long, but it's a big, brash book, crammed with authentic color. You will have to be up for it; you will learn a lot about a corner of the world that's rarely captured, and is done so here exceptionally well. Leigh Newman will be interesting to track in the future; your F.C. ('faithful correspondent', that is) expects you'll need a very fast dogsled to keep up.
---
Drew Hart writes from Santa Barbara, California.