By David D'Arcy 
David Thomson's meditation on our love of disasters is engagingly allusive, reflective, humane, wide-ranging, and often funny.
Disaster Mon Amour by David Thomson. Yale University Press. 224 pages. $35 hardcover.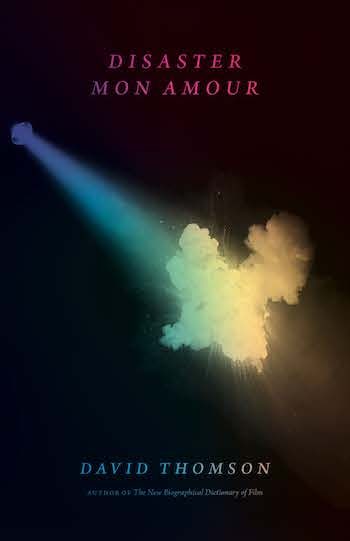 In Disaster Mon Amour, the veteran film critic David Thomson pleads guilty to being part of the vast film audience that watches scenes of spectacular destruction, and enjoys them.
The ethics of shock and awe? Mel Brooks put it in his own language: "Tragedy is when I cut my finger. Comedy is when you fall into an open sewer and die."
For Thomson, known for The Biographical Dictionary of Film and, most recently, for A Light in the Dark: A History of Movie Directors, the overblown disaster sequences in films, such as the earthquake marathon that was 2015's San Andreas are guilty pleasures. Among many other things, his new book is about the spectacle of cataclysms on the screen and the pleasure we find in seeing them. It's also about the ways in which we and those in power accommodate ourselves to disasters in the real world.
Thomson reflects on cinema (of course), violence, society, roguery (Donald Trump), and the future – not always in that order. Engagingly allusive, reflective, humane, wide-ranging, often funny, he takes us through some of his experiences dealing with the pandemic, moving via speculative jump cuts from people, books, and events.
A key tragedy is the bombing of Hiroshima, followed much later (in 1959) by Alain Resnais's film, Hiroshima Mon Amour, scripted by Marguerite Duras. The austere black and white film contains scenes of lovemaking in a city where the streets of the devastated site have been recreated so carefully (complete with a museum devoted to the disaster) that the disaster site looks as groomed as a Hollywood backlot. We see the catastrophe's aftermath, expressed through the amour between a Japanese man and a French woman, their bodies first coated in luminous sand (suggesting radioactivity?), then in raw flesh clutching each other as they sweat. "So lovely, so terrible," Thomson whispers on the page, suggesting a smirk about the coupling of destruction and erotic appeal.
He also takes on high disaster, as in high art – or should we call it art disaster? Sergei Eisenstein's The Battleship Potemkin (1925) contains one of cinema's most studied sequences: the attack where a troop of Cossacks ride down the Odessa steps and slash women with babies who have been keeping vigil for the mutinying crew of the ship in the harbor. The battleship responds by firing on the Cossacks, which is Eisenstein's assertion that justice (Bolshevik justice) will triumph. Today, with Odessa, Ukraine's principal port, now threatened on multiple flanks by the Russian army and navy (at the time of this review), no one is coming to the rescue.
"The Steps sequence was analyzed and taught for decades as a guide to montage or rapidly edited cinema," Thomson writes. "This was Soviet, of course, and theoretical, but you can see its dynamism reiterated in just about every American action film. It's part of the principle that damage can be awesome. And gratifying. We can take it for granted that on any witness stand Sergei Eisenstein would have deplored the behavior of the soldiers in Odessa. He was a decent man. But as an artist – and he edited that sequence personally – he was carried away by violence. He is one of the greats." And the American film industry noticed Potemkin. Does this mean that depicting disaster opened doors for him in Hollywood? Failing to agree on a project with a major studio, Eisenstein chose instead to make a film about death in Mexico.
Of course, devastation, like death, can be treated comically on screen. There is Francis Ford Coppola's Apocalypse Now (1979) and the car wrecks in Jean-Luc Godard's Weekend (1967). Sometimes disaster can be humorous and gentle, with hardly a splinter, as in Laurel and Hardy's 19-minute The Music Box of 1932. It's a comedy of errors about two hapless piano movers in Los Angeles and Thomson gives it a lengthy exegesis. Yet Laurel and Hardy movies could also be violently devastating, as when the pair were traveling salesmen (hawking Christmas trees) in Big Business (1929). An irascible man, summoned to his door by the pair, cuts their product into twigs. They, not to be outdone, do the same to his house, laughing as the shreds of walls and wood pile up. Sounds like a disaster to me. No one, including the studio marketing it, took it for anything but a comedy.
Plenty of disasters that we don't laugh at don't figure in Disaster Mon Amour (or not much) – HIV, climate change, species extinctions, the Vietnam War, the Iraq War, and lots of other wars.
Clearly, Disaster Mon Amour is not a tautly reasoned essay, but an exploration, a work in media res that takes up one line of reflection after another. Reading it, I thought of Italo Calvino, who said half-jokingly that he began a novel as if it were a book that would be impossible for him to write. Thomson has watched and written about film directors grappling with their creations for years. (Arts Fuse interview). Here he is content to follow strand after strand of interconnection. With COVID is on his mind and a homeless encampment across the street, he takes on Daniel Defoe's A Journal of the Plague Year and Cormac McCarthy's The Road, each book (and film, in the case of The Road) depicting survivors moving through a post-apocalyptic landscape.
We also get strands of memoir. Pivoting away from cinema, Thomson writes about his recent visit, with one of his sons (to whom the book is dedicated), to the small Welsh mining town of Aberfan, better known to citizens of the United Kingdom than to Americans. On October 21, 1966, rains led to the collapse of a massive coal tip (slag heap) that had been left to grow to a dangerous height. A landslide overran local schools, killing 116 children and 28 adults. Like many calamities, this one was avoidable. Thomson writes that "a report in 1964 had been entitled 'Danger from Coal Slurry being tipped at the rear of the Plantglass Schools.' There were plans for new drainage work but nothing had happened. The risk was known and buried …. coal slurry is a dead weight, filthy and unwholesome. Imagine being buried in it suddenly. Try conjuring the experience of your own children if they died that way."
Aberfan was also an institutional disaster, Thomson notes. "The Coal Board had paid each bereaved family 500 pounds. There was not one suit for damages. A disaster can be sustained by the meekness of its victims. Later, 5000 pounds each was paid out of the emergency fund to families with losses – if they could establish that they had been close to their children. Yes, that was required. There are polite obsequious disasters, too."
The Queen would visit Aberfan eight days later, expressing Royal regret but, according to the series The Queen, she privately said afterwards that she felt nothing. (Peter Morgan, director of The Queen, admits that the monarch's reticence was ambiguous and hard to decipher.) Sometimes disasters don't change much in human behavior. Quoting Defoe on the Plague, Thomson notes that the disease made very little difference, that "the morals of the people, hardened by the danger they had been in, like seamen after a storm was over, were more wicked and stupid, more bold and hardened, in their vices and immoralities than they were before."
This sense of futility brings Thomson to Donald Trump. "We had elected evil, his only talent," he observes about Trump and COVID, "he had tried on the persona of General in a war, and that had failed because he was too undisciplined for service, "so perhaps he would be the monster master of the universe, capricious, vicious and entertaining. Wasn't that his history and a tradition we had been picking up?"
That grand guignol brings Thomson back to his central paradox — how, in film, disaster can be pleasurable. In Disaster Mon Amour he has taken the opportunity to revisit the classics, from Goya's "Disasters of War" to Tolstoy and Alfred Hitchcock's The Birds. "It is a remarkable function of film and its media to open us up to all the things that are happening at the same time – and to stay wary of drawing conclusions," Thomson writes. Drawing on the format of a screenplay, he notes that "A CUT seems loaded with meaning, but a DISSOLVE introduces the possibility of doubt or magic." Wary of drawing conclusions, Thomson roams the landscape in this short book, offering anything but a roadmap. As Goethe said, "One does not travel in order to arrive."
---
David D'Arcy lives in New York. For years, he was a programmer for the Haifa International Film Festival in Israel. He writes about art for many publications, including the Art Newspaper. He produced and co-wrote the documentary Portrait of Wally (2012), about the fight over a Nazi-looted painting found at the Museum of Modern Art in Manhattan.