By Sarah Osman
Single All the Way is a Hallmark Christmas movie with two gay men inserted in, which means they have just as little chemistry as the straight couples in these films do.
 Single All the Way, directed by Michael Mayer. Streaming on Netflix.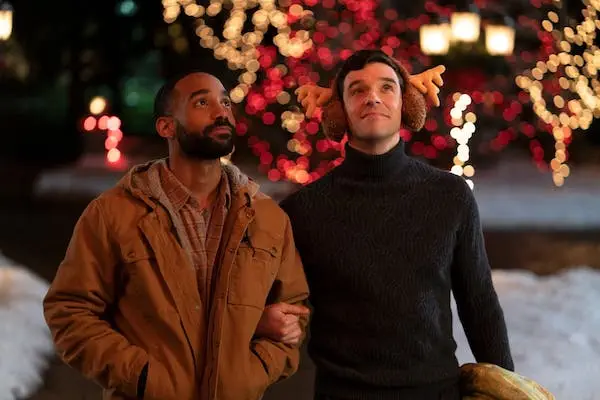 Over the years, the Hallmark Channel has dependably served up avalanches of Christmas movies during the holiday season. Please note: these are not holiday movies, they are Christmas movies. Each of these feel-good-to-the-max features follow an unchangeable sentimental blueprint. And this predictability can be pretty addictive, like all festive treats. You know that you should stop eating the gingerbread men, but you just can't help yourself. Up until very recently, these discovering-the-power-of-love movies have been incredibly straight. But, in the last few years, we've last been treated to a few gay rom-com versions.
Hallmark isn't the only channel that churns out these guilty pleasure treats. Netflix has also made a number of ooey-gooey Christmas films. One of their latest, Single All the Way, is a Christmas rom-com that is undeniably gay. We are reminded of this fact multiple times throughout the movie, from the Santa instagays in the opening scene to references the include Grindr as well as "guncles." Unlike last year's Happiest Season, where being gay was crucial to the plot, which made that film more substantial than most holiday films, there isn't a lot about Single All the Way that matters all that much. It's just another cookie-cutter exercise that (nearly) follows the cliché structure of any other holiday rom-com. For fans of the genre, Single All the Way will be a welcome treat. For those looking for a smart and clever variation on a tired theme, this will be about as welcome as a lumpy fruitcake.
Put simply: Single All the Way is a Hallmark Christmas movie with two gay men inserted, which means they have just as little chemistry as the straight couples in these films do. The film follows Peter (Michael Urie), who always picks "the wrong guys," and has become annoyed with the L.A. dating scene. Much to his chagrin, his seemingly perfect family are all coupled off and desperately want him to be in a love match as well. Christmas is quickly approaching, so Peter decides to bring his best friend Nick (Philemon Chambers) home with him. The scheme is to convince his family that they are in a relationship. Thankfully, this plot is quickly squashed. It turns out that Peter's mom has set him up with local hunk James (Luke MacFarlane, who has appeared in a number of Hallmark Christmas movies).
The film incorporates multiple Hallmark Xmas cliches, including (but not limited to):
*Peter being from a small town where it always snows
*The city folk remember what's so great about the countryside
*There's a date that involves picking up a Christmas tree and shenanigans ensue
*The two leads don't realize that they should be together but everyone around them does
*There is a Christmas pageant
*There is a quirky family
*There is no sex or even any mention of sex
As in many Hallmark films, Peter's family lives in New Hampshire. They all deeply love each other and deeply love Christmas (Peter's mom refers to herself as Christmas Carole). Despite the fact that Peter and Nick are platonic best friends, his entire family (with the exception of his mom, who has been learning about gay culture in her LGBTTT book) decides that they are secretly in love with each other. They just need to be together. Peter and Nick point out multiple times that they are just buddies, that two gay guys can just be friends. The family doubts this. In this sense, the film is smart about exploding a stereotype: the point is to remind straight people that just because two men are gay and care about each other does not mean that they will work as a couple. However, Peter and Nick do end up together (sorry to spoil that, but come on, you knew that was the ending) so it's debatable if the film really subverts this trope.
Part of the problem is that only Peter's family sees the pair's "undeniable" chemistry. The two don't really have any — they laugh at each other's jokes and can finish each other's sentences, but most best friends can do this without wanting to sleep with each other. There isn't even a moment where you can pinpoint "ah, there, they love each other." The closest is a scene where they take pictures of each other with shaving cream beards, but that doesn't exactly qualify as "sexy," even by Hallmark standards. No one believes that Peter will end up with James — there is no chemistry there either. There is not even a moment when Peter chases after Nick to confess his love. The saving grace in Single All the Way is Jennifer Coolidge, who plays Peter's outrageous aunt. She is the only one who doesn't seem to care about Peter's love life, and that is refreshing. If only every family had a version of Jennifer Coolidge, who talks about how the gays love her and creates inappropriate children's pageants.
It's sweet that Netflix made a gay holiday romance. It is reassuring to have it in the current political climate. But it would have been sweeter if Netflix tried to do something different, like last year's Happiest Season. Or maybe just satirize the entire wholesome-to-distraction genre. Still, hardcore fans will no doubt add Single All the Way to their Christmas rom-com watch-a-thon.
---
Sarah Mina Osman is a writer residing in Wilmington, North Carolina. In addition to writing for The Arts Fuse, she has written for Watercooler HQ, The Huffington Post, HelloGiggles, Young Hollywood, and Matador Network, among other sites. Her work was included in the anthology Fury: Women's Lived Experiences in the Trump Era. She is currently a first year fiction MFA candidate at the University of North Carolina Wilmington. When she's not writing, she's dancing, watching movies, traveling, or eating. She has a deep appreciation for sloths and tacos. You can keep up with her on Twitter and Instagram: @SarahMinaOsman