By Jonathan Blumhofer
A thoughtfully conceived, technically excellent, beautifully recorded, and expressively rich album that celebrates 20th-century piano music by (mostly) American composers.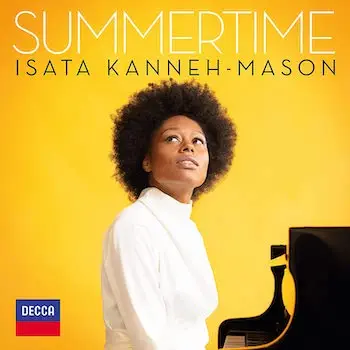 Almost any way you cut it, Summertime, Isata Kanneh-Mason's new album celebrating 20th-century piano music by (mostly) American composers, is a keeper.
Certainly, her program – which includes selections by Samuel Coleridge-Taylor and Amy Beach – fits an historic moment that's seeing a belated surge of interest in music written by women and minorities. But the larger album, which also features music by George Gershwin, Earl Wild, Percy Grainger, Aaron Copland, and Samuel Barber, holds together with remarkable, illuminative coherence.
That's perhaps most surprisingly true of the Wild and Barber selections. Wild's bravura settings of Gershwin's "Summertime" and "I Got Rhythm" certainly don't lack for Lisztian flamboyance: they're showpieces, through and through, and Kanneh-Mason dispatches them with a mix of ease and playfulness that keeps the melodic line and the larger shape of the piece in the forefront.
Barber's 1949 Sonata might seem like a strange partner to such fare but, in her performance, Kanneh-Mason gamely teases out both the spry, dancing character of its second movement and the jazzy, Gershwin-esque harmonic turns of the finale's central section.
She's likewise impressive in her strongly-shaped account of the mighty opening movement (the clarity of the repeated 16th-note figures is flawless), while the unsettling slow one builds to a devastatingly inward-focused coda.
Barber's Nocturne is similarly well-shaped and subtle – it comes over rather like touchingly disoriented Chopin, actually – but Kanneh-Mason's take on Gershwin's Three Preludes is rigid, lacking in spontaneity in the outer movements and too rhythmically literal in the middle one.
But the Preludes are an exception: otherwise, the pianist's feel for her repertoire is unerringly right.
Copland's whimsical The Cat and the Mouse receives a visceral, athletic performance, its contrasts of dynamics, textures, and melodic materials all boldly etched.
Beach's By the Still Waters sings sweetly, while Grainger's sumptuous adaptation of Gershwin's "The Man I Love" soars.
Some of the album's finest playing belongs to the Coleridge-Taylor selections. Born in London in 1875, Coleridge-Taylor's father was a descendant of American slaves and the composer's heritage informed much of his later musical work.
Perhaps his best-known collection is the 24 Negro Melodies, a series of arrangements of African and African American songs. Yes, Coleridge-Taylor's writing in them is solidly Romantic – Dvorak and Brahms were his models, after all – but the reworkings never lose sight of the essential soulful, spiritual qualities of the originals.
Kanneh-Mason clearly grasps this and her playing of three movements from the Melodies – "Deep River," "The Bamboula," and "Sometimes I Feel Like a Motherless Child" – is radiant (especially in the outer numbers).
The same goes for her account of Coleridge-Taylor's quiet, noble Impromptu no. 2.
These four pieces, then, make for a special conclusion to an album that is already thoughtfully conceived, technically excellent, beautifully recorded, and expressively rich. Check it out.
---
Jonathan Blumhofer is a composer and violist who has been active in the greater Boston area since 2004. His music has received numerous awards and been performed by various ensembles, including the American Composers Orchestra, Kiev Philharmonic, Camerata Chicago, Xanthos Ensemble, and Juventas New Music Group. Since receiving his doctorate from Boston University in 2010, Jon has taught at Clark University, Worcester Polytechnic Institute, and online for the University of Phoenix, in addition to writing music criticism for the Worcester Telegram & Gazette.