By Peg Aloi
Martyrs Lane doesn't unfold like a typical ghost story; it's more of a mystery seen through a child's eyes.
Martyrs Lane, directed by Ruth Platt. Streaming on Shudder.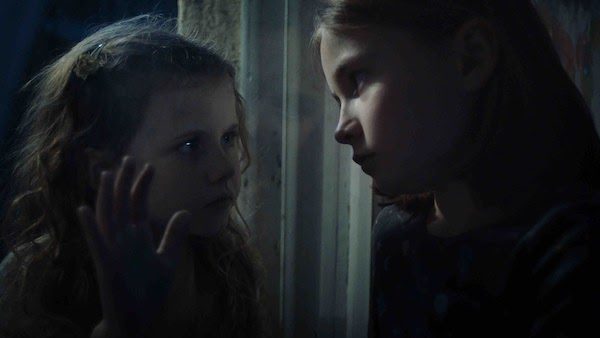 What is it that frightens us most? Everyone has their own individual fears and phobias, but some experiences seem to be universally frightening. There's horror (a highly visceral response), which is slightly different from terror. Some frights are triggered by the supernatural and inexplicable, others are all too real and plausible. Some people fear death in general, others fear a certain type of death (murder, drowning, dying alone). Some of us fear violence and gore ,while others have a very high tolerance for stories and images full of both. The horror genre is expanding, filled with subgenres that are expressly tailored  to cater to our many specific fears. But there can be no denying that our worst and deepest fears are primal in origin — and these are often rooted in childhood.
In the last few years, a number of women filmmakers have made astonishingly sure-handed debuts in the horror space. Interestingly, and perhaps unsurprisingly, some of these movies have explored themes often associated with the female experience: child rearing, caregiving, motherhood, family legacies, and childbirth. These subjects are not merely examined — they are often up-ended and re-defined. The horror genre, like all other other film genres, have long been dominated by male filmmakers. That is finally beginning to change, and female and non-binary voices are bringing exciting and original ideas to this popular storytelling mode. At this time of uncertainty, isolation, grief, and, dare we say it, fear of extinction from the climate crisis, artists are taking up the invitation to reflect not only on mortality but on the future of the human race. Exposing the failures and abuses of patriarchy is a necessary step in re-imagining the future.
Films like Relic (directed by Natalie Erika James), Amulet (directed by actress turned filmmaker Romola Garai), Saint Maud (directd by Rose Glass), and The Wind (directed by Emma Tammi) are but a small selection of the film debuts that have placed female experiences of motherhood and caregiving at the center of tales of horror, in both contemporary and historical settings. All of these films transform the home and hearth, those steadfast symbols of domestic womanhood, into places of terror and horror.
Now comes Martyrs Lane, an impressive third feature by writer and director Ruth Platt (her films include The Lesson (2015) and The Black Forest (2019), which screened at the Edinburgh International Film Festival. The story is set in an English village surrounded by woodland, an immediate signifier of folk horror, but this film is layered with other subgenres too. Leah (Kiera Thompson) is a ten year old with a vivid imagination. Her mother Sarah (The Other Lamb's Denise Gough) is distracted and seems on edge. Leah's teenage sister Bex (Hannah Rae of Broadchurch), who is getting ready to go off to university, treats her sibling like an annoyance much of the time. Leah's father (Outlander's Steven Cree) is the village vicar and keeps himself busy dealing with parishioners. Leah spends a lot of time alone and, naturally enough, she conjures up an imaginary playmate, a girl slightly younger than she is, with no name, who comes in through the child's bedroom window. Leah is somewhat frightened of this little girl at first. When the child asks if they are friends, Leah has trouble answering.
Leah has asthma and suffers from nightmares — she is an altogether perfect candidate for a story about a girl besieged by ghosts. But Martyrs Lane doesn't unfold like a typical ghost story; it's more of a mystery seen through a child's eyes. There are secrets and untold heartbreak in Leah's family.  The girl's new friend provides her physical clues that lead Leah to discover the painful truth behind her mother's distance and sadness. Bex discovers Leah's box of clues and advises her to forget about them. But Leah is transfixed by the revelation, to the point that her sleeping and waking visions begin to overlap. There are supernatural elements in Martyrs Lane, but it's grounded in psychological reality. Glimpses of ghostly presences could be seen as the fancies of a child with a creative mind: a somewhat gothic spin. Leah's sensitive nature enables her to solve a mystery that's been kept from her, a disclosure that offers a chance for her family to mend its wounds.
It may all seem a tall order for an indie horror film, but Platt masters this rather complex psychic landscape by hewing, almost effortlessly, to a naturalistic approach. There's hardly any music until the very end (be sure to listen to the haunting score by Anne Müller over the end credits), a choice that creates a plausible and realistic framework for the horror elements to reveal themselves gradually. The cast is first rate, and the flawless performance by young Kiera Thompson may be one of the year's best, matched by Sienna Sayer as her ethereal companion. The dreamy cinematography by Márk Györi beautifully captures Platt's amplified vision of childhood's psychic spaces, equal parts melancholy, fantasy, and brutal reality. Martyrs Lane is subtle in its scares, but imposing in its cinematic mastery.
---
Peg Aloi is a former film critic for the Boston Phoenix and member of the Boston Society of Film Critics. She taught film studies in Boston for over a decade. She writes on film, TV, and culture for web publications like Vice, Polygon, Bustle, Mic, Orlando Weekly, Crooked Marquee, and Bloody Disgusting. Her blog "The Witching Hour" can be found at themediawitch.com.