As the age of COVID-19 wanes (or waxes?), Arts Fuse critics supply a guide to film, dance, visual art, theater, and music. Please check with venues about whether the event is available by streaming or is in person. More offerings will be added as they come in.
Film
The 7th Annual Middlebury New Filmmakers Festival
Middlebury, VT, August 25-29
MNFF7 supports, promotes, and exhibits the work of an international community of first- and second-time filmmakers. The program features a lineup of over 120 films, mixing features, shorts, documentaries, narrative dramas, and animation. This year the festival honors visionary directory, producer, and editor Sam Pollard (Black Art: In the Absence of Light, MLK/FBI, Mr. Soul), acclaimed casting director Heidi Levitt, and actor Karen Allen. They will host special screenings and be part of Q&As that highlight their prolific work in film. Proof of  vaccination will be required to attend.
No Ordinary Man
Brattle Theater in Cambridge
August 22 at 4:30 & 7 p.m.
August  23 through Aug 26 at 2:30 p.m.
"Revered jazz musician Billy Tipton gained fame throughout the United States in the 1940s and '50s  — a time when trans representation in the music industry was virtually nonexistent. Since then, Tipton has become a foundational icon of transmasculinity.The film maps out Tipton's vital legacy, while examining the disgraceful media scrutiny and questions of legitimacy his family endured after his death in 1989. This thoughtful, timely documentary embraces the challenge of bringing Tipton's words to life, reimagining his narrative through a diverse group of contemporary trans performers and experts as they collectively paint a portrait of an unlikely hero. A unique tapestry of trans expression as we've never seen it before." (Toronto Film Festival) .
The Green Knight
Coolidge Corner Theater in Brookline
"Lowery plumbs the depths of this ancient tale, discovering the places where the human and the otherworldly intersect, where the earthbound meets the ethereal. The result is a spellbinding, and breathtakingly bold, cinematic experience. (Peg Aloi, Arts Fuse)
"Is this the Gawain who, not even a knight, we've come to root for? Is what we see real or in the spirit world? Whatever, I cheer on Lowery's luminous time-traveling. Pure cinema poetry." (Gerald Peary, Arts Fuse)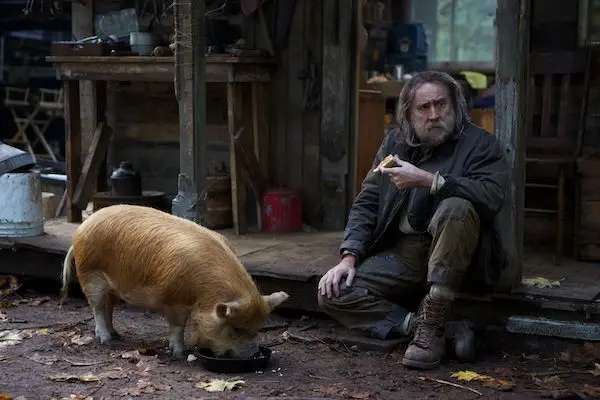 Pig
Coolidge Corner Theater in Brookline
A sense of peace and contentment pervades the opening moments of this odd, arty, and moving little film. There's Nic Cage — an enigma of a man — looking ragged and hermit-like as he and his pet pig happily make their way through the deep woods of Oregon. But it's revealed this isn't just a casual stroll; this is a man and his pig at work.… Cage's Robin is someone who has gone through a lot of turmoil and just wants to be left alone. But circumstances force him back into dealing with civilization when his helper is kidnapped. Robin's angry at the world, but he manages to keep his ire repressed. He mostly growls his words from behind a permanent scowl. The man listens intently to others and responds "They took my truffle pig," or "Who has my pig?"  (Ed Symkus, Arts Fuse)
The Night House
Kendall Square Cinema in Cambridge
Rebecca Hall dominates the screen as a woman whose husband has recently committed suicide. Living alone in their beautiful home in the Finger Lakes region of New York, things begin to go bump in the night. As she investigates her hubby's past and goes though the boxes of his possessions she discovers unsettling secrets. Visions and voices  — along with hints of murder and cultish goings-on — add to the mystery. I'm not sure it all adds up to anything more than a well-directed creep fest, stuffed with chills.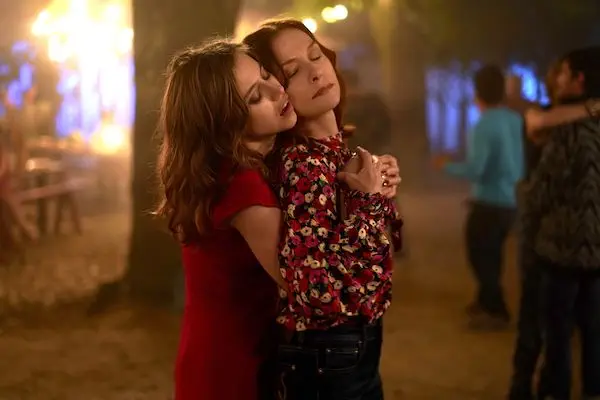 White as Snow
Opens August 27 at the Kendall Square Cinema in Cambridge
This tongue-in-cheek thriller is (very) loosely based on plot points from Snow White and the Seven Dwarfs. Here Snow White is Claire (the stunning Lou de Laâge), a free-spirited young woman who escapes a kidnapping and winds up in a small French village where she befriends and/or beds a series of seven men. None are of short stature. Her villainous stepmother (Isabelle Huppert, of course) is jealous of the girl. She discovers she is alive and goes on the hunt. A poison apple makes an appearance. It is a sexy and amusing romp, particularly for fans of French film. Capably directed by Anne Fontaine (The Innocents, Coco Before Chanel).
— Tim Jackson
---
Jazz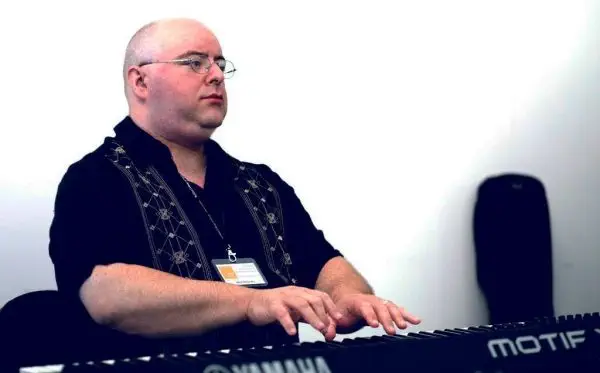 Mark Shilansky-Rich Greenblatt Quartet
September 5 at 9 p.m.
Lilypad, Cambridge, MA
Pianist and composer Mark Shilanksy's deep knowledge, broad experience, and great chops always make him worth hearing. Today he teams up with a regular collaborator, the four-mallet vibes man Rich Greenblatt (bass and drums TBA).
Jazz World Trio
September 9 at 6:30 p.m.
Eustis Estate, Milton, MA
Outdoor shows have been an appealing option for concertgoers — except when it rains. And this has certainly been a summer of rain, as an accompaniment to shifting parameters of the Covid pandemic. The good news is that you get a second crack at this promising show, originally scheduled for August 12. Veteran Boston-based musicians Guillermo Nojechowicz (drums) and Bruno Råberg (bass) have been teaming up with exciting young pianist Witness Matlou to combine their varied backgrounds (Argentina, Sweden, South Africa) for "exciting conversation with this art form deeply rooted in the African American experience." The concerts on the lawn of the Eustis Estate are free, but "tickets are recommended," at the venue's website.
John Kordalewski Trio
September 12 at 7 p.m.
First Parish Church, Milton, MA
Pianist John Kordalewski is best known in the Boston area for leading the Makanda Project, a large ensemble devoted to the music of the late Makanda Ken McIntyre. For this show he's working with distinguished veterans Wes Brown on bass and Royal Hartigan on drums.
— Jon Garelick
Trio da Paz
August 24-29, 7:30 & 9:30 p.m.; August 25 shows also streaming
Dizzy's Club, Jazz at Lincoln Center, New York
The ace Brazilian jazz band Trio da Paz is at Dizzy's, turning the New York club into an outpost of Rio for their annual week-long residency. Bassist Nilson Matta, guitarist Romero Lubambo, and drummer Duduka da Fonseca will be joined by the wonderful dusky-voiced singer Maucha Adnet, who performed and recorded with Antônio Carlos Jobim in his Nova Banda. Also joining them for this show featuring tunes by Jobim and other Brazilian classics are Joe Locke on vibraphone and Harry Allen on tenor sax. The club has reopened at full capacity (prepare to follow national, state, and NYC guidelines for Covid protocols), but the cautious among us, as well as those of us not in the area, will be happy to know that the club will be streaming the August 25 sets. Watch this space for news about other shows with streaming options from Dizzy's, and from Jazz at Lincoln Center, which just announced its new season, running from November 18 to June 11.
— Evelyn Rosenthal
---
Dance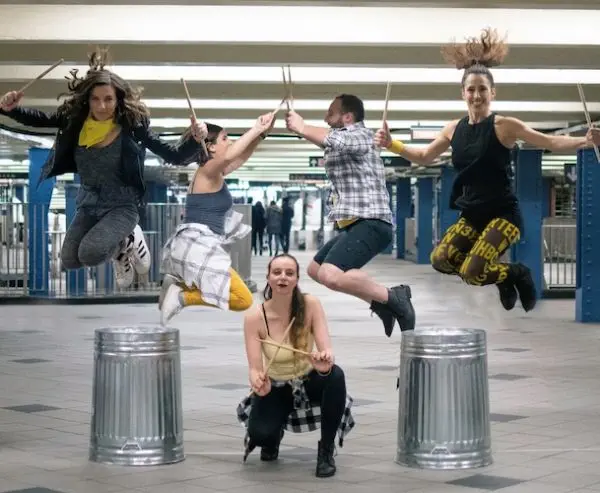 DrumatiX
August 22, 28, 29 at 2 p.m.
Charlotte Forten Park (In case of rain, the performance will be held indoors at Old Town Hall)
Salem, MA
Head up to Salem for an afternoon of percussive dance and music with DrumatiX! This humorous and family-friendly performance will keep all ages engaged while combining tap dance, body percussion, and creative drumming. Watch as cleaning supplies, plastic pipes, tin cans, buckets, large drums, and more are transformed into a rhythmic and kinetic landscape. A 15-minute workshop ends the performance, teaching audience members body percussion. Hot tip: Bring a blanket or chairs to set up on the lawn.
To Feel the Earth and Touch the Sky
August 23-29
Online viewing
Dance Currents Inc. debuts the world premiere of its film To Feel the Earth and Touch the Sky, Living the Legacy of American Modern Dance. View this 46-minute film for free in the privacy of your own home, while experiencing the history of 20th-century American modern dance. 12 years in the making, To Feel the Earth features some of Boston's most beloved modern dance teachers, including Marcus Schulkind, Margot Parsons, Lorry May, Shaumba Dibinga, Rebecca Rice, and Shawn Mahoney. Visit the website to register for free online viewing.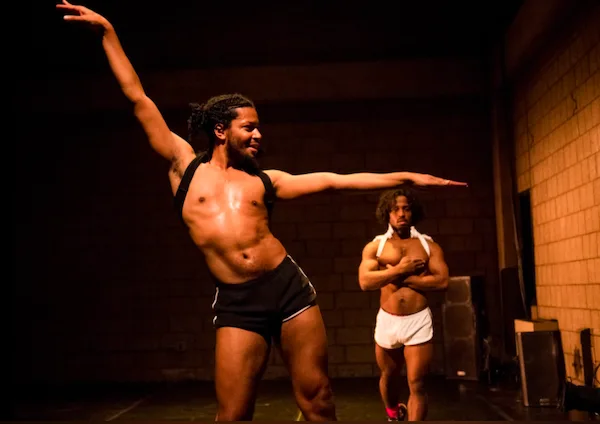 jumatatu m. poe
August 26-28
Jacob's Pillow
Becket, MA
Jacob's Pillow presents jumatatu m. poe and collaborator Jerome "Donte" Beachman for a site-specific performance across the grounds. poe and Beacham investigate rhythm and pattern in relation to J-Sette performance, a "high step" march popularized by women's majorette teams at historically Black American colleges. Their decade-long research stems from studios, gay bars, and clubs across Cologne, Germany. Note to viewers: This is a roving performance that requires audience members to walk over gravel terrain. The performance also contains brief nudity.
Legacy: Looking Forward and Glancing Backward
August 27 & 28 at 7:30 p.m.
Windhover Center for the Performing Arts
Rockport, MA
Head to Rockport, MA, for an evening brimming with modern dance. Hailed by the New York Times as "one of the world's most luminous dancers," Michael Trusnovec, known for being a former Paul Taylor Dance Company soloist, is featured in this production. The performance includes works by Paul Taylor, Margie and Chris Gillis, and Martha Graham, among others, with live classical guitar by Aaron Larget-Caplan.
Duos & Duets
September 3 at 7 p.m.
The Foundry
West Stockbridge, MA
Dancers of The Berkshires presents an evening of duet performances encompassing a range of movement styles, relationships, and emotional tones, and spanning different disciplines including dance, live music, and video. Enjoy an evening of choreography by Olivia Martin, Melissa Martinez, JoJo McDonald, and Fiona Scruggs, in collaboration with guest artists.
NOURISH Movement Sessions
September 18 at 10 a.m.
Lexington Community Farm
Lexington, MA
For those looking for a hands-on dance activity, make the Lexington Community Farm your destination! Artist-in-residence Jessica Roseman provides free, gentle movement sessions open to all ages — no dance experience necessary — that explore creative connections among dance, racial justice, and memory while also connecting to the land. Note to participants: Roseman suggests dressing comfortably (sunblock, hat, sunglasses) with secure shoes, and to bring water with you.
— Merli V Guerra
---
Theater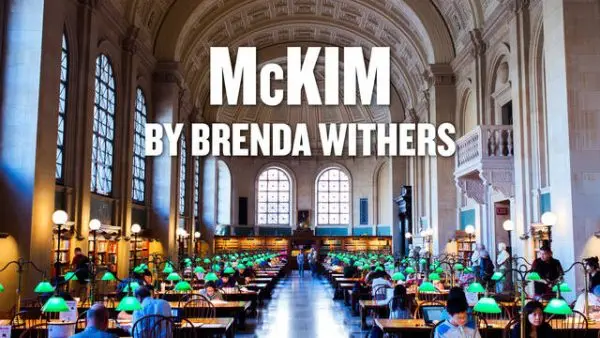 Dream Boston Plays, a new series of short audio plays (15 in number at the moment) produced by the Huntington Theatre Company. Each drama is set at a specific local landmark with one to three characters, and is about six minutes in length. All the productions are available on the Huntington's website, as well as on Apple, Spotify, Google Podcasts, and Stitcher.
The first four entries were By the Rude Bridge by Melinda Lopez; Overture by Kate Snodgrass; McKim by Brenda Withers; and The 54th in '22 by Kirsten Greenidge. "Conceived and commissioned by the Huntington artistic department, the company asked Huntington Playwriting Fellow alumni Greenidge, Snodgrass, Withers, and Lopez to imagine their favorite locations, landmarks, and friends in a future Boston, when people can once again meet and thrive in the city — a vision of a future Boston that is somewhere between dream and reality." Arts Fuse review of Episodes 1 through 5.
Seven additional titles were added to the lineup in July, which included works by local artists John Oluwole ADEkoje, Miranda ADEkoje, J. Sebastián Alberdi, Rosanna Yamagiwa Alfaro, Elle Borders, Patrick Gabridge, and John Kuntz. The local landmarks that serve as settings for this round of audio plays include Franklin Park, Harvard's Memorial Church, the Harvard Art Museums, the Old State House, the Fenway nightclub Machine, Harrison Avenue, and Malcolm X Boulevard.
The new quartet includes works by Pulitzer Prize winner David Lindsay-Abaire, Huntington Playwriting Fellows Masha Obolensky and Jacqui Parker, and writer and actor Kadahj Bennett. The settings for this round include Dorchester Heights in South Boston, Wally's Cafe Jazz Club on Massachusetts Avenue in the South End, Nantasket Beach, and the Minuteman Trail in Concord.
"These four plays think about the future from different vantage points than the previous Dream Boston plays," says Charles Haugland, the Huntington's Director of New Work, "amid the vaccine rollout, the return to in-person school, a rapid housing market, and the return to places in our city we haven't been in a long time."
The Arboretum Experience, a collaboratively created, free, outdoor experience written, choreographed, and performed by contributing artists. Presented by the American Repertory Theater (A.R.T.) and the Arnold Arboretum from August 21 through the fall.
The artists involved include playwright Kirsten Greenidge, musician Tim Hall, choreographer Jill Johnson, and director Summer L. Williams. Daniel Callahan is the creative director for user experience. Jerron Herman is the access advisor, and Riot Diaz is the accessibility assistant.
Visitors of all ages are invited to experience the natural beauty of the Arnold Arboretum's Jamaica Plain and Roslindale landscape in three ways that center around resilience, healing, wellness, and joy:
1) Four audio plays — inspired by the genres of fairy tale, proverb, ghost story, and myth — set in and to be experienced throughout the Arboretum
2) Narrated, interactive "movement maps" that activate visitors' bodies, breath, and imagination as they engage physically with nature
3) Live pop-up performances by local artists, beginning Saturdays in September (rain dates Sundays) — artists and schedule to be announced at a later date
Walking Plays: The Greenway Series. an audio play series presented by the Lyric Stage Company of Boston in collaboration with the Rose Kennedy Greenway Conservancy. The Greenway Series begins in July.
The new Greenway Series of Walking Plays will feature three 10-15 minute dramas. The first play, Rosanna Yamagiwa Alfaro's Walking It Off, will premiere in early July. It was directed by Michelle Aguillon. That will be joined mid-month by Hummingbird, written by Kirsten Greenidge and directed by Aguillon.
Much Ado About Nothing by William Shakespeare. Directed by Kyler Taustin. Staged by Brown Box Theatre throughout Massachusetts, through August 29. All performances of Much Ado About Nothing are free, outdoors, and open to all audiences; no tickets are needed. Lawn seating, blankets, and lawn chairs welcome. Check website for locations and times.
"Upon their return from war, a group of soldiers are reminded that life and love are not so black and white. Trickery, jealousy, deceit, and masquerade each play a role in challenging Benedict and Beatrice's scorn for love (and each other) as well as the seemingly unassailable love of Claudio and Hero. Through witty banter and dastardly deception, Shakespeare's beloved comedy, Much Ado About Nothing debates the preconceived notion of how to love and the value of trust."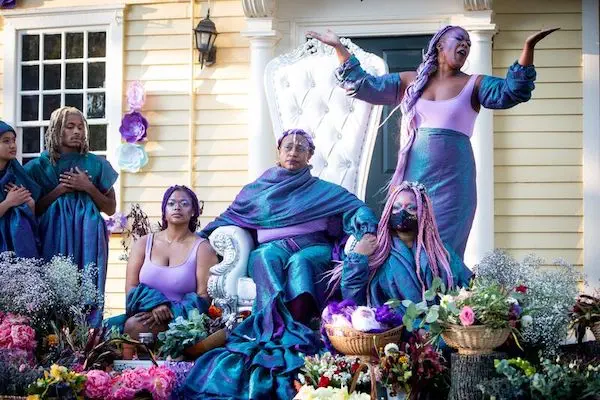 The Historical Fantasy of Esek Hopkins, created by Haus of Glitter Performance Lab and presented in collaboration with The Wilbury Theatre Group, PRONK! Fest, and PVD Fest. Presented by the Wilbury Theatre Group at the former home of Esek Hopkins 97 Admiral Street, Providence, September 9 through 17.
An activist dance opera that "shares the stories, cultures and choreography of the Haus of Glitter's Black, Indigenous, Latinx and Laotian ancestors. A fabulation created to imagine the missing stories from the legacy of Esek Hopkins's disastrous slaving voyage on "sally," this presentation imagines what life would be like today if colonization or slavery never happened by telling the story of a single Black person lost on the voyage, imagining her story, family, emotions, and legacy."
Hurricane Diane by Madeleine George. Directed by Jenny Koons. Staged by the Huntington Theatre Company at the Calderwood/BCA, 527 Tremont St., Boston, August 27 through September 26. Note: "All tickets come with digital insurance. If you ever feel as if you would rather not see Hurricane Diane in person — for any reason — you can easily exchange your tickets into a specially recorded version of this play. OR, you can purchase tickets to the digital version of Hurricane Diane now."
"In the suburbs of the Garden State, the Greek God Dionysus returns from the heavens in the guise of a butch gardener named Diane, who's hell bent on reversing climate change and restoring earthly order by seducing a band of mortal followers. Why not begin with four real housewives from New Jersey?" You would think that the anarchistic Dionysus would be rooting on climate change. But perhaps he has had a change of heart.
Reparations by James Sheldon. Directed by Myriam Cy. Staged by the Gloucester Stage, outdoors, at the Windhover Center for Performing Arts, Rockport, MA, September 3 through 19.
"Ginny, a successful book editor, invites a young, Black aspiring author, Reg, to her apartment after a boozy book party. She wakes up to find that a night of tenderness and passion is turning into a tumultuous morning-after when he threatens to reveal a dark secret from the past. As family friends join for an ill-timed paella feast, all four are soon embroiled in whether the young writer is due reparation. Personal revelations lead to laughs, tears, and coming to terms with racial injustice and personal betrayal."
Sister Sorry by Alec Wilkinson. Directed by Joe Calarco. Staged by the Barrington Stage Company, indoors at the Boyd-Quinson Stage, 30 Union Street, Pittsfield, MA, August 13 through 29.
A world premiere. "In the early 1990s in New York City, a conceptual artist invites the public to confess their crimes anonymously — via an answering machine. A wide variety of messages pour in, confessing a range of misdeeds, from running a traffic light to infidelity. One caller captures her attention with a stunning and unbelievable confession, which quickly unravels into a suspenseful and thrilling adventure. Based on a true story, "Sister Sorry" is inspired by Alec Wilkinson's "The Confession," originally published in the New Yorker.
Tiny Beautiful Things by Nia Vardalos. Directed by Daniel Elihu Kramer. Staged by the Chester Theatre Company, Chester, MA, through August 29.
A popular script these days, no doubt because it soothes pandemic-fatigued audiences. "A celebration of the simple beauty of being human based on the 'Dear Sugar' column written by Cheryl Strayed offers affirmation of love and loss, of pain and pleasure, of deep loneliness and shared humanity."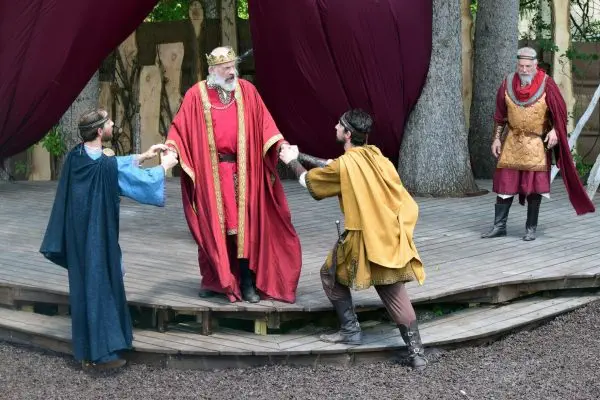 King Lear by William Shakespeare. Directed by Nicole Ricciardi. Staged by Shakespeare & Company at the (outdoor) New Spruce Theatre, Lenox, MA, through August 29.
Christopher Lloyd stars as the monarch who goes mad. W.H. Auden on the Bard's masterpiece: "King Lear, like Hamlet, is peculiarly modern because in both, nature is no longer a home. The sensuous visual world is realized in Aristotle as a universe of things in which man is only one more thing. Augustine's new insight was that man was despairing as just one more thing. The next seven centuries depicted man and nature in the familiar Augustinian Christian tradition. Copernicus set the walls of the house crumbling with a new realization of man's limitations. Pascal's thought is opposed to the early enthusiasm of scientific figures like Bruno and Kepler. There is no new house for man. Infinity must enter the image. In the nineteenth century, man's last home is music." It should be added that, now, via the climate crisis, we are poisoning what is "no longer a home."
Breath of Life by David Hare. Directed by Mark Farrell. Staged and filmed by Shakespeare & Company, streaming on September 4 and 5 and 11 and 12. On September 5, Shakespeare & Company will host an in-person screening of the production, followed by a talk back with cast members Tina Packer and  Annette Miller. The screening will take place at 1 p.m. at the Elayne Bernstein Theatre, with tickets available via www.shakespeare.org.
This filmed version of the David Hare play features Tina Packer and Annette Miller. It is the "compelling tale of two women whose lives are interwoven in ways neither of them yet understand. Madeleine Palmer is a retired curator, living alone on the Isle of Wight. One day to her door comes Angela Beale, a popular novelist whom she has met only once before. The progress of a single night comes fascinatingly to echo the hidden course of their lives."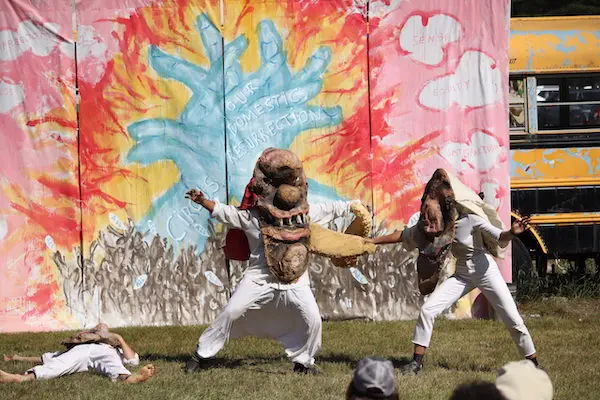 Our Domestic Resurrection Circus, staged by the Bread and Puppet Theater on the Cambridge Common, Cambridge, MA,  September 4 at 4 p.m.
"A one-of-a-kind spectacle of protest and celebration." Director Peter Schumann says the circus was put together "in response to our totally unresurrected capitalist situation, not only the hundreds of thousands of unnecessarily sacrificed pandemic victims but our culture's unwillingness to recognize Mother Earth's revolt against our civilization. Since we earthlings do not live up to our earthling obligations, we need resurrection circuses to yell against our own stupidity." Expect stilt dancers, a raucous brass band, and paper maché beasts of all kinds.
— Bill Marx
---
Visual Arts
Mexican-born, New York City–based artist Paul de Nieves draws on what you might call the "adornment traditions," that is, the long practice of covering costumes, religious objects, and sacred places with layers and layers of offerings and ornaments, sometimes over generations, and creating a visual map of religious themes, biography, folk traditions, and mythology. Adornment traditions make up a strong and popular style in Mexican street art and in modes of "alternate" dressing, including drag costumes. De Nieves's opulent sculptures draw on many of these sources, relishing their ability to transform sexuality and identity.
For his show at Boston's Institute of Contemporary Art, The Treasure House of Memory, opening August 25, de Nieves has created interconnected works drawing on memory and his personal approach to transformation and performance.
The ICA's 2021 James and Audrey Foster Prize exhibition opens September 1. Established in 1999, the prize is one of the ICA's efforts to support and present artists living and working in the Boston area. This year's award show features Marlon Forrester (born 1976 in Georgetown, Guyana), Eben Hayes (born 1990 in Boston), and Dell Marie Hamilton (born 1971, New York). Working with the background of a global pandemic, the three artists focused on themes of community and exchange, using their backgrounds in many media, including collage, painting, sculpture, photography, and installation.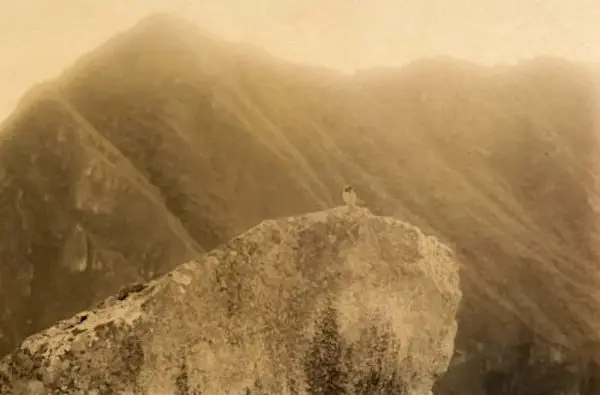 Over in suburban Winchester, the Griffin Museum of Photography opens a brace of new exhibitions on September 2. They include Distressed Memories, Lou Jones; Life Narrated by Nature, Rhonda Lashley Lopez; Dylan Everett; and Watching the Ice Melt, Zachary P. Stephens.
— Peter Walsh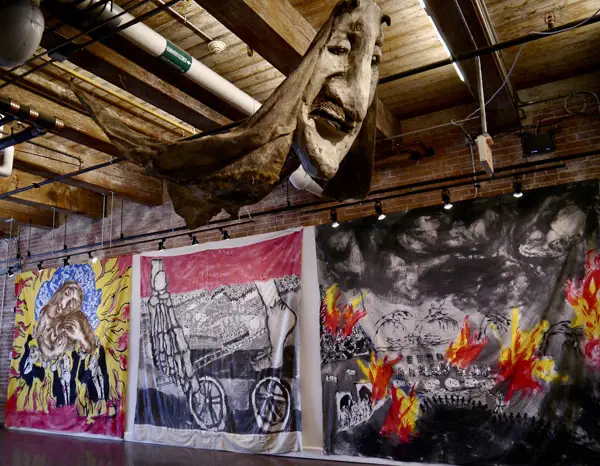 Peter Schumann's Bedsheet Mitigations: paintings on discarded bedsheets, created by the founder of Bread & Puppet Theater. Co-hosted by Midway Gallery and ARTSPEECH. Held at Midway Gallery, Fort Point, Boston, MA, through August 31.
"Dumpster-retrieved bedsheets contain quantities of secret life, sweet dreams and nightmares of anonymous sleepers' lives in relation to their history and planet." (Peter Schumann, 2021)
During this Covid-era "pause," the Vermont-based Bread & Puppet Theater was gifted a large pile of king-sized bedsheets, discarded by a hotel. Renowned visual and performing artist Peter Schumann, the political puppet theater's founder and artistic director, immediately seized upon this as an opportunity. Not only to paint a scene per day, on a dumped clean slate canvas, but also to take this on as a daily exercise, of freely slapping paint around while grappling with all the issues that have made the world a sh*tty mess.
The selections from Schumann's "Bedsheet Mitigations" series, specifically chosen for this exhibit at Midway, were first revealed at Bread & Puppet's "Insurrection — Lamentation — Resurrection Service" performances, held up in Vermont during their socially distant contact-traced 2020-21 season. Combined with these "mitigation" images will be several other bedsheet pieces on display at Midway, gleaned from Schumann's new "Crucifixion" series, which he started generating in earnest this past February-March.
— Bill Marx
---
Roots and World Music

Dub Apocalypse, Sundays in August
The White Owls, Mondays in August
Sally O'Brien's, Somerville, MA
As we mentioned about a month ago, Sally O'Brien's in Union Square is the new home for reggae heavyweights Dub Apocalypse on Sundays. It's also, at least for August, the new home for the White Owls, the glorious, cliché-free Dennis Brennan–led blues band that spent its Mondays at Toad for years. While all the players are great, special props go to lap steel man Steve Sadler.
Boston Caribbean Carnival
August 28, Franklin Park, Boston
Boston's Caribbean Carnival will live on in 2021, albeit with a somewhat reduced format. There will be no daytime parade, but the early morning J'ouvert parade will still kick off around 6 a.m. Especially exciting: the debut of Roots Alley Collective's One Jam truck, which aims to bring live musicianship back to the Carnival road. At 1 p.m., in place of the usual parade, a festival in Franklin Park will highlight the food and sounds of the Caribbean. The performance lineup includes calypso legend Lord Nelson, who just turned 90, along with Blaxx and Nadia Batson. But the performers will most likely be singing to tracks rather than a live band. The same goes for soca star Patrice Roberts, who delivers a pre-Carnival show on August 26 at the William E. Reed Auditorium.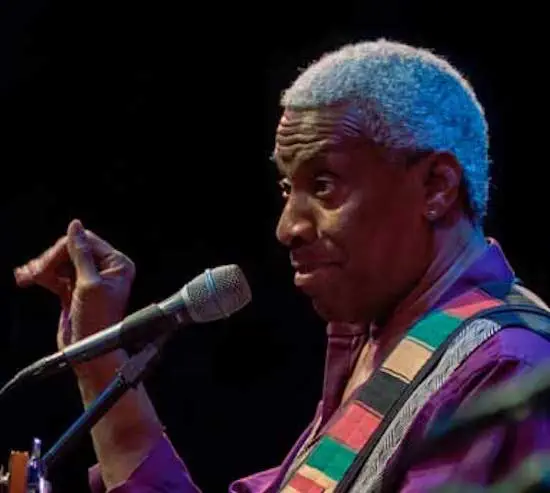 Reggie Harris
August 26
CranFest in the Courtyard, Harwich, Cape Cod
The annual Cranberry Arts and Music Festival is coming up in early September, but those finishing off the summer on the Cape might want to take advantage of the finale of the festival's Thursday night concert series. Real-deal folkie Reggie Harris has been singing for social justice for decades, and he continues to press for change.
North River Blues Festival at the Marshfield Fair
August 28 & 29
While most local fairs offer little for entertainment beyond cover bands, the Marshfield Fair has long partnered with Rhythm Room Entertainment to present daylong blues fests with some of the best local and national acts. This year's festivities are headlined on Saturday by harmonica ace Rick Estrin and the Nightcats, while Sunday belongs to the reigning king of the chitlin' circuit, Bobby Rush, one of the music world's greatest entertainers.
The Faux Paux
Club Passim, Cambridge, MA
August 30
This unusual and interesting Vermont trio mixes classic country, old-time contra dance tunes, and a swamp pop influence supplied by Revelers saxophonist Chris Miller. They've been kicking around for a decade but their debut eponymous LP comes out a few days before this show, which will include the talents of Jenna Moynihan and Owen Marshall.
Rhythm and Roots
September 3-5
Ninigret Park, Charlestown, RI
The Delta variant has scuttled the fall New Orleans Jazz & Heritage Festival, but for a heaping taste of Louisiana you just have to go to Rhode Island. This long-running favorite includes the Cajun and zydeco of the Pine Leaf Boys, Steve Riley and the Mamou Playboys, and Terry and the Zydeco Bad Boys. Roots stars like Richard Thompson, Rhiannon Giddens with Francesco Turrisi, and John Hiatt also make appearances.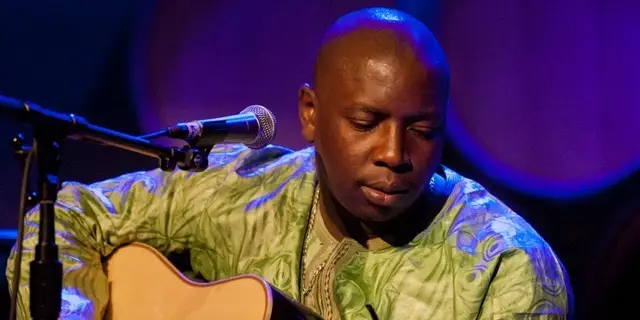 Afrika Nyaga
September 5
Burnside Park, Providence, RI
A free celebration of pan-African music and culture is headlined by guitar great Vieux Farka Touré, along with organizer Sidy Maiga & Afrimanding and the Cape Verdean grooves of Chachi Carvalho & the International Players.
— Noah Schaffer
---
Classical Music
Amazing Grace & Sousa Marches
Presented by Boston Landmarks Orchestra
August 25, 7 p.m.
DCR Hatch Shell, Boston
BLO presents a program of band music for the first time: selections range from Gustav Holst and Ralph Vaughan Williams to Steven Stucky, Omar Thomas, William Grant Still, Frank Ticheli, and, of course, John Philip Sousa.
Rhapsody in Blue & American Portraits
Presented by Boston Landmarks Orchestra
September 1, 7 p.m.
Hatch Shell, Boston
BLO wraps its summer season with a celebration of American music centered around George Gershwin's iconic Rhapsody in Blue. Also on the docket is the "Jubilee" from George Whitefield Chadwick's Symphonic Sketches, William Grant Still's Symphony no. 2, Aaron Copland's Lincoln Portrait, Priscilla Alden Beach's City Trees, and the world premiere of Francine Trester's A Walk in Her Shoes.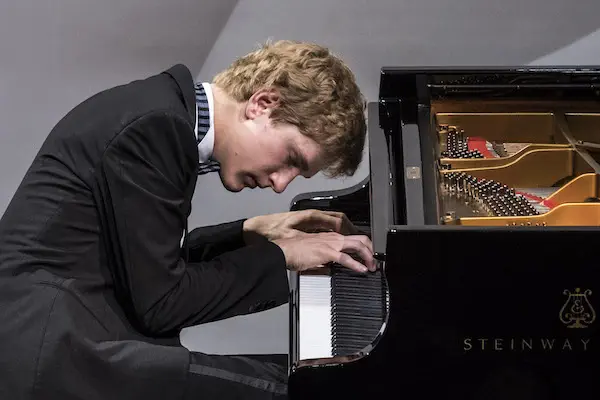 Jan Lisiecki in Recital
Presented by Rockport Music
September 3, 5 & 8 p.m.
Shalin Liu Performance Center, Rockport, MA, and online
The exceptional Canadian pianist makes his Rockport debut in a program of pieces by Beethoven, Mendelssohn, and Chopin.
— Jonathan Blumhofer
---
Author Events
Virtual Event: Mike Duncan – Harvard Book Store
Hero of Two Worlds: The Marquis de Lafayette in the Age of Revolution
August 31 at 7 p.m.
Harvard Book Store
Tickets are $35.25, including copy of book
"Few in history can match the breadth and depth of the revolutionary career of the Marquis de Lafayette. Over fifty incredible years at the heart of the Age of Revolution, he fought as one with righteous revolutionaries on both sides of the Atlantic.
"As an idealistic and courageous teenager serving in the American Revolution, he used his considerable wealth and savvy to help the Americans defeat the British. Then he returned home, and was a principal player in the French Revolution. And in his final act, at seventy years old, he was instrumental in the dramatic overthrow of the Bourbon Dynasty during the Revolution of 1830.
"All the while, he never wavered from the principles he had written into the Declaration of the Rights of Man in 1789: That men are born and remain free and equal, deserving of liberty, property, safety, freedom of speech, and the ability to resist oppression."
Virtual Event: Tina M. Campt – Harvard Book Store
A Black Gaze: Artists Changing How We See
September 1 at 7 p.m.
Harvard Book Store
Tickets are free with $5 suggested contribution
"In A Black Gaze, Tina Campt examines Black contemporary artists who are shifting the very nature of our interactions with the visual through their creation and curation of a distinctively Black gaze. Their work — from Deana Lawson's disarmingly intimate portraits to Arthur Jafa's videos of the everyday beauty and grit of the Black experience, from Khalil Joseph's films and Dawoud Bey's photographs to the embodied and multimedia artistic practice of Okwui Okpakwasili, Simone Leigh, and Luke Willis Thompson — requires viewers to do more than simply look; it solicits visceral responses to the visualization of Black precarity."
Virtual Event: Kate Clifford Larson: Walk with Me – brookline booksmith
Walk With Me: A Biography of Fannie Lou Hamer
September 2 at 7 p.m.
Brookline Booksmith
Tickets are $36.95 with book, free without
"She was born the twentieth child in a family that had lived in the Mississippi Delta for generations, first as enslaved people and then as sharecroppers. She left school at twelve to pick cotton, as those before her had done, in a world in which white supremacy was an unassailable citadel. She was subjected without her consent to an operation that deprived her of children. And she was denied the most basic of all rights in America–the right to cast a ballot–in a state in which Blacks constituted nearly half the population.
"Starting in the early 1960s and until her death in 1977, she was an irresistible force, not merely joining the swelling wave of change brought by civil rights but keeping it in motion. For those whose lives she touched and transformed, for those who heard and followed her voice, she was the embodiment of protest, perseverance, and, most of all, the potential for revolutionary change.
"Kate Clifford Larson's biography of Fannie Lou Hamer is the most complete ever written, drawing on recently declassified sources on both Hamer and the civil rights movement, including unredacted FBI and Department of Justice files, interviews with Civil Rights activists conducted by the Smithsonian and the Library of Congress, and Democratic National Committee archives, in addition to extensive conversations with Hamer's family and with those with whom she worked most closely."
Renewal: From Crisis to Transformation in Our Lives, Work, and Politics 
September 7 at 7 p.m.
Harvard Book Store
Free with $5 suggested donation
"Like much of the world, America is deeply divided over identity, equality, and history. Renewal is Anne-Marie Slaughter's candid and deeply personal account of how her own odyssey opened the door to an important new understanding of how we as individuals, organizations, and nations can move backward and forward at the same time, facing the past and embracing a new future.
"Weaving together personal stories and reflections with insights from the latest research in the social sciences, Slaughter recounts a difficult time of self‐examination and growth in the wake of a crisis that changed the way she lives, leads, and learns. She connects her experience to our national crisis of identity and values as the country looks into a 400-year-old mirror and tries to confront and accept its full reflection. The promise of the Declaration of Independence has been hollow for so many for so long. That reckoning is the necessary first step toward renewal."
Who's On First?: New and Selected Poems
September 8 at 7 p.m.
Harvard Book Store
Free with $5 suggested contribution
"For more than four decades, readers and critics have found Lloyd Schwartz's poems unlike anyone else's — a rare combination of the heartbreaking and the hilarious. With his ear for the poetry of the vernacular, Schwartz offers us a memorable cast of characters — both real and imagined, foolish and oracular. Readers experience his mother's piercing flashes of memory, the perverse comic wisdom of Gracie Allen, the uninhibited yet loving exhibitionists of antique pornography, and eager travelers crossing America in a club-car or waiting in a Brazilian airport. Schwartz listens to these people without judging—understanding that they are all trying to live their lives, whenever possible, with tenderness, humor, and grace."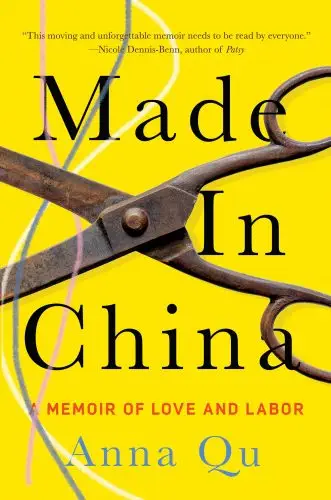 Virtual Event: Anna Qu with Nicole Chung – Porter Square Books
Made in China: A Memoir of Love and Labor
September 2 at 7 p.m.
Porter Square Books
Free
"As a teen, Anna Qu is sent by her mother to work in her family's garment factory in Queens. At home, she is treated as a maid and suffers punishment for doing her homework at night. Her mother wants to teach her a lesson: she is Chinese, not American, and such is their tough path in their new country. But instead of acquiescing, Qu alerts the Office of Children and Family Services, an act with consequences that impact the rest of her life.
Nearly 20 years later, estranged from her mother and working at a Manhattan start-up, Qu requests her OCFS report. When it arrives, key details are wrong. Faced with this false narrative, and on the brink of losing her job as the once-shiny start-up collapses, Qu looks once more at her life's truths, from abandonment to an abusive family to seeking dignity and meaning in work."
Virtual Event: Grubbie Debuts: Judy Bolton-Fasman with Tova Mirvis — Porter Square Books
Asylum, a Memoir of Family Secrets
September 9 at 7 p.m.
Porter Square Books
Free
"How much do we really know about the lives of our parents and the secrets lodged in their past? Judy Bolton-Fasman's fascinating saga, Asylum: A Memoir of Family Secrets, recounts the search for answers to the mysteries embedded in the lives of her Cuban-born mother, Matilde Alboukrek Bolton and her elusive, Yale-educated father, K. Harold Bolton."
— Matt Hanson