By Elizabeth Howard
Simplecast
Facebook
Patreon
Email: theshortfusepodcast@gmail.com
Episode Summary
Okwui Enwezor, one of the most important curators of our time, conceived the exhibition Grief and Grievance: Art and Mourning in America. He died on March 15, 2019, before final planning was completed. A group of curatorial advisors, including Naomi Beckwith, Massimiliano Gioni, Glenn Ligon, and Mark Nash collaborated to finalize the exhibition, currently at New York's New Museum. Arts Fuse review of Grief and Grievance: Art and Mourning in America.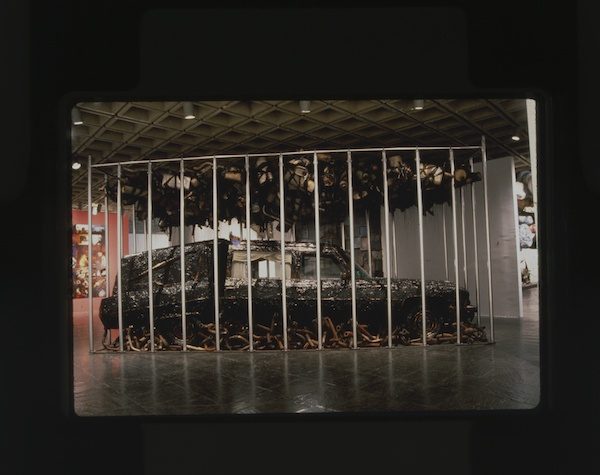 Episode Notes
Massimiliano Gioni is the Edlis Neeson Artistic Director of the New Museum and the director of the Trussardi Foundation, a nomadic museum in Milan that organizes exhibitions by contemporary artists in forgotten buildings, public monuments, and abandoned palazzos across the city.
He has curated numerous international exhibitions and biennials including the 55th Venice Biennale (2013), the 8th Gwangju Biennale (2010), the first New Museum Triennial (co-curated with Lauren Cornell and Laura Hoptman in 2009), the 4th Berlin Biennale (co-curated with Maurizio Cattelan and Ali Subotnick in 2006) and Manifesta 5 (co-curated with Marta Kuzma in 2004).
At the New Museum, Gioni has curated both solo and group exhibitions. In 2018 in London at The Store X he organized Strange Days – Memories of the Future, an anthology of video works that had originally been presented at the New Museum. In 2019 he curated The Warmth of Other Suns, a collaboration between the New Museum and the Phillips Collection in Washington, DC. At Museo Jumex in Mexico City he curated Appearance Stripped Bare: Desire and the Object in the Work of Marcel Duchamp and Jeff Koons, Even, the first exhibition to bring into dialogue the works of Marcel Duchamp and Jeff Koons. Drawing nearly 500,000 viewers, the exhibition was the most visited in the museum's history. Since 2015 he has organized the presentations of the Tony and Elham Salame Collection at the Aishti Foundation in Beirut.
Gioni has contributed to many publications and magazines including Artforum, Flash Art (for which he served as US editor from 1999 to 2003), Frieze, Parkett, Tate Etc., among others. He co-founded the Wrong Gallery with Maurizio Cattelan and Ali Subotnick, with whom he has also helped set up independent art magazines The Wrong Times and Charley. He is the commissioning editor of 2000 Words, a series of monographic books published by the Dakis Joannou Collection/Deste Foundation, with which he has frequently collaborated, co-curating numerous exhibitions in Athens.
---
Elizabeth Howard has never had boundaries between her life, work, art, and writing. Experience, sense of place, and exploration define the choices she makes, seeking collaboration, flexibility, and spontaneity. She is an author, journalist, and creative director. Elizabeth has organized programming around the arts and social issues for organizations in the United States and internationally.