By David D'Arcy 
Museums, now reopened in New York, are trying to coax visitors into their galleries. With two exhibitions, it's working.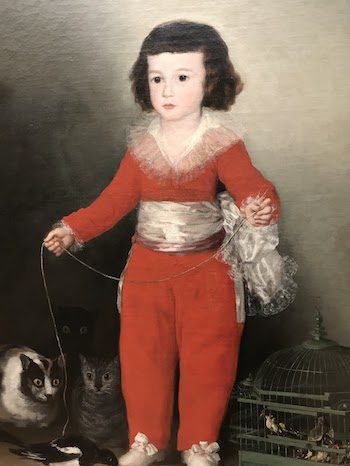 The Metropolitan Museum of Art's Goya's Graphic Imagination, which runs through May 2, contains more than 100 works on paper, and it is a revelation. The show has had visitors lined up since it opened: the images may range from charming to anguished to apocalyptic, but they are still a relief from cabin fever.
Francisco de Goya y Lucientes (1746-1828), as the court painter to four kings of Spain, made portraits of aristocrats and their children. He also drew scenes of horror inspired by events happening around him. Goya knew better than anyone that his drawings of what was going on inside his head could be far more horrifying.
Like Rembrandt, Goya is an artist whose etchings have had a life of their own, although it took decades for anyone to buy them.
The starting point at the Met is Goya's self-portrait from 1796, impossible to miss before entering the show. Made after the artist had lost his hearing (from the effects of lead paint), it is the picture of a man who was far from being isolated from the outside world. It looks as if his head is ready to explode, buzzing with views about everything from war to women to the questionable behavior of his fellow human beings.
Goya was around 50 when he produced that likeness. He would live and work for another 30 years.
With some exceptions (such as depictions of executions), Goya practiced a courtly restraint in his painting, a nuance that was deft, perceptive, and clever. His drawings and etchings were sometimes wittier even as they probed a grim darkness in the 1790s and after. (A local note: At the MFA Boston in 2014 and 2015, the exhibition Goya: Order & Disorder explored the artist's duality, identifying him as the last Old Master and the first modern artist. The Met show dives more deeply into Goya's works on paper.)
Goya produced so much work that just detailing its range can sound like a catalogue — collections of etchings were called Caprichos, Disasters of War, Tauromaquia (bullfighting) and Disparates (nonsense). Whether he was drawing a bull-ring or a battlefield, Goya infused emotion, delicacy, ambiguity, and even humor into scenes of hardship and defeat. He also tapped into the suppressed (but popular) irreverence for Catholicism in Spain. Priests are depicted while eating and defecating — one etching is captioned "comen mucho" (or "they eat a lot"). Clerics were as corruptible for him as ordinary soldiers who killed ordinary people. Goya depicted troops shooting protesting prisoners; the same armies are seen carrying women away with impunity.
The Inquisition was in full force, but superstition was also powerful. Goya drew bulls levitated in a circle. He also imagined men in bird helmets operating mechanical flying machines.
Son of a master gilder father and a minor aristocrat mother, Goya learned to paint by making full-sized preparatory drawings (cartoons) for tapestries. Part of that work (and part of making images for engravings) involved copying works by famous predecessors like Diego Velázquez, the 17th-century master. At the Met, we see Goya's preparatory drawing (1776-78) and his engraving (1778) of the Velázquez scene A False Bacchus Crowning Drunkards (1628-29). Goya adds his own sardonic touches, pumping up the drunken mood, putting a leer on the face of his impostor of a god. His willingness to alter (and thus question) official views of everything from cherished subjects to religious figures was at the core of his graphic work.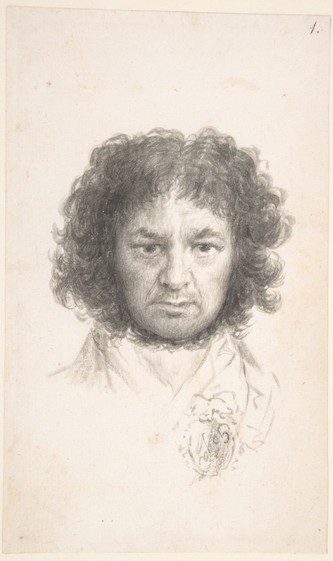 There's enough work on view at the Met to take us beyond what have become known as Goya's greatest hits. One of the most famous of the artist's etched images is in the show — The Sleep of Reason Produces Monsters (1797-99). Here flying owl-demons descend on a sleeping man who looks a lot like Goya. Was he cautioning the few who would have seen the picture to be vigilant? Was he acknowledging the power of the subconscious? This image couldn't have been farther from the court pictures that had made Goya so prominent.
Goya would create haunting scenes like this one — the preparatory drawing for it is also on view at the Met — but his etchings that don't venture beyond stark realism can be harder to look at. There's no humor or stylistic flash to diminish their troubling power. In Garroted Man (1775-78), a seated prisoner in a white gown has just been put to death — he faces forward, eyes open. The same unblinking exposure of human weakness is highlighted in Out Hunting for Teeth (1799), in which a woman turns away slightly as she tugs on a tooth in the mouth of a dead man hanging from a rope. Many in Spain believed that the corpses of criminals had healing properties; body parts were boiled for homemade potions. Goya was as wary of the barbarism of the uneducated poor as he was of the selfishness of the Catholic clergy.
The artist loved bullfights, yet the crowds in his etchings are inevitably drunken mobs, some of whom are standing on the field itself to get a better look at the action. The spectators look like wide-eyed tadpoles, but Goya also discerns fear and blood-lust on their faces. His etchings had a special place for the drunken folly of sword-wielding amateurs trying the sport out for themselves.
Goya was a liberal in Spain, which would lurch back into conservatism once the French (who invaded in 1808) were defeated in 1814. He was acutely aware of the credulous nationalism of his narrow-minded compatriots and fled into exile in France in 1824, where he died in 1828.
Two etchings on view will be hard to get out of your head. One is Seated Giant (c. 1818), a huge figure who seems to be ruminating on the state of the world (long before Rodin sculpted his Thinker). The new element in portraiture here might be its note of bewilderment, a sense of radical uncertainty that resonates with the 20th century.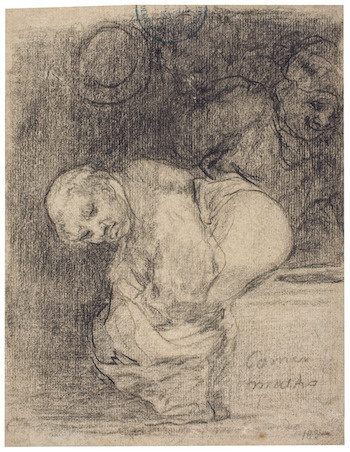 The other image is Bullfight in a Divided Ring (1825). Goya, in Bordeaux after leaving Spain, is dramatizing two simultaneous bullfights — but he seems less concerned with the sport than with the unruly crowds swarming toward the violence. This is the turbulent Spain that Goya fled.
If you visit Goya's Graphic Imagination, try to register online on metmuseum.org and arrive early, so you can be waiting on line by 10 a.m. The pictures are relatively small and getting close to them pays off. A tour on the Met web site by curator Mark McDonald is an excellent introduction.
On my visits, the galleries became uncomfortably crowded by 10:45. Avoid weekends if you can. You've been warned.
If the line is too long, there is an alternative. The Met also has half a dozen paintings by Goya on view, a few minutes' walk from the current exhibition. Any guard can direct you to the northeast corner of the European paintings galleries. There you'll see Goya's admiring 1792 portrait of Don Sebastian Martinez, a merchant and collector from Cadiz and the poster image of the urbane cultivated illustrado of the prosperous enlightened French-leaning elite.
Also on view: his portrait from 1804 of Don Ignacio Garcia, Brigadier of Engineers, portly in a uniform that suggests, gently, that his position still might be bigger than he is, and a painting of Don Manuel Osorio Manrique de Zuniga, a button-eyed child in finery that probably cost enough to feed a few villages for years. To the left of the boy's silver slippers is a bird with a string around its ankle holding an engraved card in its beak that reads "Goya." Behind the bird are three cats, their wide eyes set on the winged creature. Is there any doubt that they will pounce in the next second? Goya has already prepared us to expect the worst.
---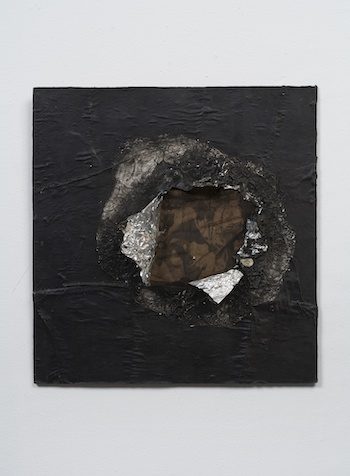 On the Bowery downtown, exhibited on the fourth floor of the New Museum of Contemporary Art, is Jack Whitten's Birmingham (1964), an object that marks a tragic and pivotal event in black history. At the center of the painting (really a multimedia work) is a newspaper clipping that shows a policeman with a dog attacking a black demonstrator. It is framed in aluminum foil daubed with black paint; the newsprint picture is veiled with a transparent woman's stocking.
In Birmingham, near Bessemer, the steel town where Whitten was born, four girls died when the 16th Street Baptist Church was bombed in 1963. Martin Luther King wrote his "Letter from a Birmingham Jail" after his arrest for protesting in the city that year.
Whitten's work feels like a coded memento left at a grave — the faded image of an injustice from years ago — that connects with a long and violent past. That scarred history underlies Grief and Grievance: Art and Mourning in America, a show featuring the work of 37 African American artists that opened at the New Museum during February, Black History Month. It runs through June 6.
After a year of racial tension and violence — the murder of George Floyd by a policeman in Minneapolis, the killing of Breonna Taylor in her home in Louisville by police entering on a warrant, and the disproportionate deaths of African-Americans from COVID 19 — there's a lot to mourn, and the works here do so in a range of media.
Grief and Grievance had its origins as a project initiated several years ago by Okwui Enwezor, a Nigerian curator who entered the art world of museums and international exhibitions in the '90s. Black artists received scant attention then and black curators were barely present, certainly not at major institutions — or at the New Museum.
Enwezor helped shift institutions like the Venice Biennial toward showing work from the developing world, which it had been neglecting. He was the director of the Haus der Kunst museum in Munich when he began organizing the current show. He died of cancer in March 2019.
In 2005, Enwezor spoke to the Guardian about an art world that he initially became part of and tried to transform. "The way I see it, it is like night and day. The '80s and before was the colonial, Jim Crow, and apartheid days put together," he recalled. "It was completely acceptable to the curators of the period that contemporary art did not happen in places like Africa, Asia, South America, or the Middle East … globalisation transformed the myopia that previously ruled."
In Grief and Grievance, Black artists bear witness to decades of their own challenging experiences, and it wouldn't be happening at this scale if the United States hadn't undergone its own globalization, a commitment to diversity that is still a work in progress.
Enwezor was not averse to manifestos. At the 2015 Venice Biennial, part of the main exhibition was a marathon reading of Karl Marx's Capital. Not here. In Grief and Grievance, however, we are given the work of 37 artists over seven decades and there is no stylistic uniformity.
Hard to believe, but Jean-Michel Basquiat, who died at 28 in 1988, is one of the elder voices here. Honoring the dead is the focus of his portrait Procession (1986), which suggests a funeral in the Caribbean, the birthplace of both of his parents. Basquiat's well-known painting The Death of Michael Stewart (1983) mourned the police killing of a subway graffiti writer. The artist's work is filled with a forceful recognition of ancestors, often musicians, the gifted souls that went before him.
Melvin Edwards, born in 1937, is represented with "busts" (my word) of welded steel that embrace abstraction. Hard-edged and contorted, sometimes bound with a chain, these works come off as sculpted expressions of pain.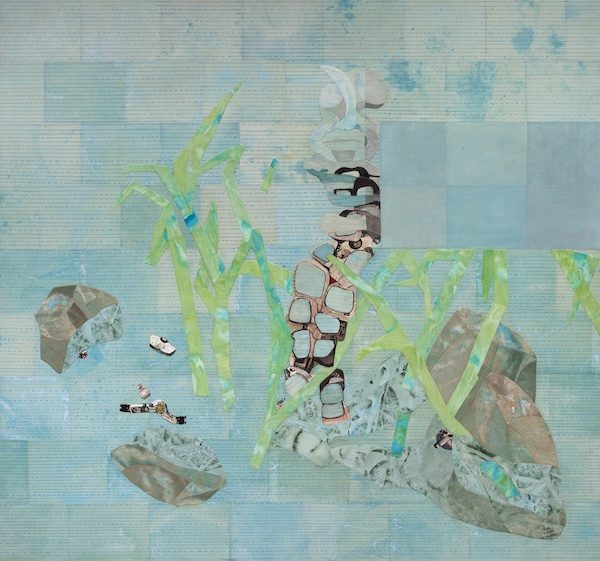 Artists reaching into abstraction remind us that we are not expected to extract single meanings from the works on display. So it seems with Julie Mehretu's Black Monolith, for Okwui Enwezor (Charlottesville), 2017–20. If this aggressive interplay of lines, echoing (for me) Vassily Kandinsky, is an homage to Enwezor (and the African origins that he shared with Mehretu, who was born in Ethiopia), it also suggests that his legacy is far from finished, even though this sprawling show of artists, who wouldn't have been placed in museums when Enwezor started his career, is a posthumous triumph.
In Aquajujidsu (2017) and in her Dew Breaker series (2015-6), Ellen Gallagher creates floating fragments that hover somewhere between abstraction and figurative painting. Dew Breaker is inspired by an Afro-Futurist myth, promoted by the music duo Drexciya, of an underwater world populated by the unborn babies of enslaved women who had been thrown overboard during the Middle Passage (by ship across the Atlantic). A turquoise background lightens her grim vision.
Gallagher's paintings share that sea palette with Howardena Pindell (b. 1939), who filled her Autobiography: Water (Ancestors/Middle Passage/Family Ghosts) (1988) with images of slavery and oppression.
Literalism can still be powerful. It works with Nari Ward's Peace Keeper (1995, reconstituted for the exhibition), a picture of a black hearse in a cage, though a sprinkling of peacock feathers on the vehicle hints at a better life in the Beyond.
Entryways (2016-19), a series of three installations by Diamond Stingily, is composed of baseball bats propped alongside doors with multiple locks, a clear reference to the threats and dangers many African Americans continue to endure. It's the kind of work that, as they say, hits you over the head.
Reaching beyond conventional media, Theaster Gates offers Gone are the Days of Shelter and Martyr (2014), a black-and-white video in which Black men, accompanied by a cello, sing in an empty Chicago church as they lift and drop doors that crash to the ground. Sisyphus lives. The performance is a ballet of futility.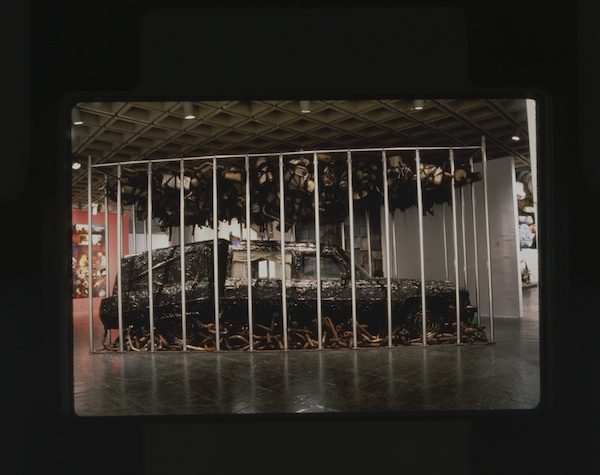 If this exhibition has a crescendo, it is Untitled (2020) by Mark Bradford, a massive incendiary painting that you'd call a mural if the gallery's space weren't so huge. The picture is a no-man's-land between abstraction and what feels like a landscape in black, orange, and reddish brown. My first look reminded me of oil fields burning in Iraq. Yet Bradford adapted Untitled from a 1965 color-coded map of areas categorized in an official inquiry as "crime hot spots" in Los Angeles, where he grew up. He transformed it into a topography of what could be fires or volcanoes. The image alludes back to South Central L.A. in crisis, as observed for television by helicopters overhead. The painting is a spectacle of grievance — a burning world.
Grief and Grievance takes up most of the New Museum, where weekday crowds were manageable. Other artists in the show include such familiar names as Kerry James Marshall, Carrie Mae Weems, Kara Walker, and Glenn Ligon. The museum's website has interviews with many of those whose works are on display.
There are young artists in the exhibition, like Diamond Stingily (born in 1990) and the filmmaker Garrett Bradley (born in 1986), but the presence of older experienced painters and sculptors deepens the timeline of the lived experience the show chronicles. Howardena Pindell and Melvin Edwards, both in their 80s, are unquestionably "contemporary" in this lineup. No doubt Okwui Enwezor knew that including the work (and memories) of mature artists to Grief and Grievance would make it such a memorably probing exhibition.
Ligon, a co-organizer, contributed the phrase "blues, blood bruise," which shines above the entrance to the show. (The neon sign premiered above the doors to Enwezor's 2015 Venice Biennial exhibition. The words were originally spoken by a young Black man before he was arrested with a friend and beaten by NYPD cops in 1964 for a crime they did not commit.) This greeting will be up for a year, more than eight months longer than "Grief and Grievance" is due to run. If statistics tell us anything, there could be more to mourn before the show comes down.
---
David D'Arcy, who lives in New York, is a programmer for the Haifa International Film Festival in Israel. He writes about art for many publications, including the Art Newspaper. He produced and co-wrote the documentary Portrait of Wally (2012), about the fight over a Nazi-looted painting found at the Museum of Modern Art in Manhattan.