By Steve Provizer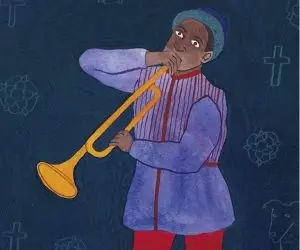 My daughter has been hijacked, at least for the moment, by pop music, so she is currently forsaking the Seven Ages of Jazz-Kind list. But for other parents trying to evaluate their offspring's development, or for adults unsure of their own stage of development, I hope this proves useful.
[With apologies to the Swan of Avon]
I. The Infant:
Parents play music at home and, too young to put up a struggle, sweet babe mewling and puking hears Ellington or Basie, maybe Miles; Nancy Wilson, Sammy Davis Jr. Belts the Best of  Broadway.
II. Whining Schoolboy:
Creeps unwillingly to his trumpet lesson. Is drafted into stage band at school and learns how to "swing" eighth-notes playing Sal Nistico arrangements.
III. The Lover:
Simultaneously experiences the first pangs of love gone sour and the aching balladry of Billie Holiday, Stan Getz, and Ben Webster. Rejects all other musics as unworthy of devotion.
IV. The Soldier
Full of strange oaths; i.e., II-V-I, arco, flat 13. Looks for respect in the jazz-session trenches and is willing even to face the Medusa Donna Lee in D-flat. Draws weapon against any who would denigrate his jazz gods. Soul-patched, like the pard Gillespie.
V. The Justice:
In fair round belly, with wise lèse-majesté, he accepts the endless cycles of "Kind Of Blue" on jazz radio. He learns to shrug off the hype surrounding the latest wunderkind and begins to find truth in the terse phrasing of the elders.
VI. Spectacled and Slippered:
The search for the right mouthpiece or reed fades, as does the once robust tone. Practice pleasure is found in rendering transpositions of Bach cello suites.
VII. Second Childhood:
Silence becomes more meaningful than notes. Smiling, toes tap to Louis's joie de vivre and then is heard no more.
---
Steve Provizer writes on a range of subjects, most often the arts. He is a musician and blogs about jazz here.