By Allen Michie
We need more recordings like this. This is a diverse and imaginative album that draws on a wide range of influences: rap, old-school funk, Afropop, traditional West African music, and R&B jam sessions.
Michael Wimberly, Afrofuturism (Temple Mountain Records)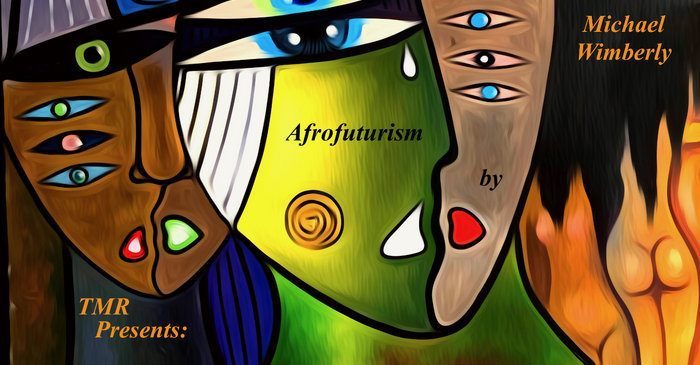 No set of CDs, let alone a single CD, could ever capture the exhilarating scope of music from the global African diaspora. In Afrofuturism, Michael Wimberly dives deep into his experience as a percussionist, keyboardist, composer, and musicologist to explore how the life force of this music has resonated through him and his sensibilities. The result is a diverse and imaginative album that draws on a wide range of influences: rap, old-school funk, Afropop, traditional West African music, and R&B jam sessions. For Wimberly, the way to the future is charted through the past, but maestros in the here-and-now guide the journey's direction forward.
Wimberly is currently at Bennington College, where he has succeeded the great jazz drummer Milford Graves on the Music Department faculty. There are two distinct sides to Wimberly's career. One side revolves is an uninhibited free jazz drummer who has recorded and played with Charles Gayle, Steve Coleman, William Parker, David Murray, Vernon Reid, and John Zorn. The other is an adaptable studio pro who has played with Funkadelic, Blondie, Mickey Hart, D'Angelo, and even the Paul Winter Consort. Anyone who has played drums with both John Zorn and the Paul Winter Consort is alright with me.
Afrofuturism is not particularly in either of those camps. There is no free jazz here — in fact, there is almost no jazz at all, excepting a handful of horn solos. There are echoes of Funkadelic and Mickey Hart's Planet Drum world music ensembles, but neither of those would be a fair comparison. The album was originally released online in three parts, and that may be the best way to approach it. Each track is its own uniquely shaped piece in the overall puzzle, each vibrant with guest stars, a skilled band, and Wimberly's wide-angle view of the tradition of Black music.
The first track, "Alive," is perhaps a misleading opener. The guitar/drum/Fender Rhodes-on-overdrive briefly pushes the tune into aggressive Mahavishnu Orchestra territory, but it is a sound the band leaves behind in the next track, "Mack Daddy's Woman." There's a slinky bounce to the rhythm here that parallels its lyrics about an expensive prostitute and the sad story behind her supposed glamor. The loose snare gives the track a down-home feel (this is no Quincy Jones production; most everything is recorded live), and Wimberly plays some subtle vibraphone.
We hear more of Wimberly's vibes on "Revolution," a jam session that sounds a bit like how Sly and the Family Stone would play jazz. The lyrics are hackneyed ("Make love, not war," "Take a look around/It's time for love and peace") but forgivable: moving forward and backward through time a central Afrofuturism tenet, so it's not hard to let that go. Afrofuturism is celebrated in the track of the same name, which is presented in two versions, a radio edit and an extended mix (the latter is three minutes longer and jams on various riffs and vocal asides — it could use a substantial solo or two). The lyrics to "Afrofuturism" name-check Sun Ra (about whom Wimberly teaches a course at Bennington), but the music is nothing like his — it has more of a Roy Ayers feel.
A brief a cappella interlude kicks the album into a higher gear with some stellar guest stars. "Dance With You" begins with the bright cascading sounds of kora master Foday Musa Suso, followed by the delightfully surprising sound of British soul vocalist Joss Stone singing in a traditional African dialect (Mandinka? Whichever it is, good for her!). Stone alternates languages throughout, and she sounds like a natural with Suso over Wimberly's layered percussion. "Madiba" features Famoro Dioubate on balafon, a kind of small wooden marimba. The triplets and syncopations of the balafon pull against Trevor Allen's bass lines and Theresa Thompson's vocal riffs, making for a rewarding fusion of the ancient and the modern.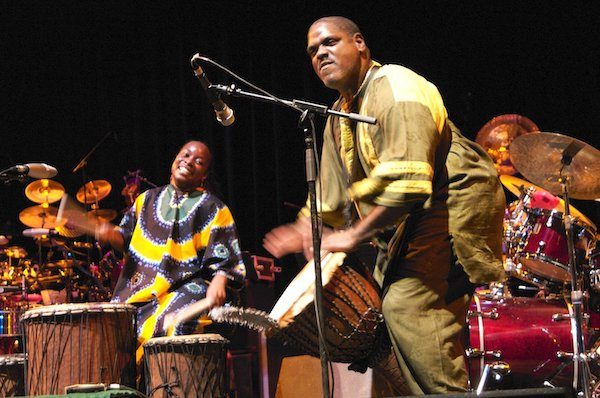 The next two tracks are more-or-less straight African with electric bass. "Djeli Song" features Suso on kora and vocals, modal fragments skittering by (via short kora phrases) under Suso's longer vocal phrases. Jose Armando Gola responds beautifully with complex improvised lines on bass, reminding us by contrast of the repetitiveness of so much Western R&B. Drummer Joseph (who has gigged with Weather Report) responds with impressive versatility; it is as if he has always been playing traditional African music. "DDK Groove" is dominated by Suso's kora again, this time in more of a jam session session, and Hobley adds some crisp Afropop electric guitar. Joseph keeps the groove more in the pocket; that suits the track, but after "Djeli Song" I missed hearing more of what he can with this style.
The final two tracks are "Solei (Traditional)" and "Solei (Contemporary)," an opportunity to hear two versions of the same composition. They serve as fitting bookends to close the album. The traditional version is an acoustic (save Sekou Dioubate's electric bass) all-star jam with Missia Saran Dioubate on vocals, Famoro Dioubate on balafon, Kofi Osei Williams on djembe (a goblet-shaped hand drum), and Wimberly on percussion. The performance is a wonderful reminder of just how naturally the balafon and kora blend together — it's like earth and water. The contemporary version is not all that different, adding a Western drum kit with Joseph's busy snare.
We need more recordings like this. The genre of Afrofuturism is listed as "Pop/R&B/Afrobeat/Neo-Soul/Rock/Contemporary Jazz," and so it is. And, in a way, so it is not. Wimberly argues in an interview with PostGenre that "genre labels are a necessary evil, at least until we are able to transcend it. Can we transcend that within this century?" Musicians from different styles but shared traditions are mixing it up live in the studio, singers are expanding into new languages and harmonic modes, musicians are stretching with new styles alongside established masters, and the jazz drummer leader puts down his sticks to play keyboards and percussion. The diversity of the parts nourishes the integrity of the whole, as has always been — and will continue to be — true of music from across the African diaspora.
---
Allen Michie works in higher education administration in Austin, Texas. He has graduate degrees in English Literature from Oxford and Emory Universities, and he has written on jazz and R&B music for the Arts Fuse and other publications.