By Susan Miron
Two brilliant Israeli pianists have released exceptional musical offerings.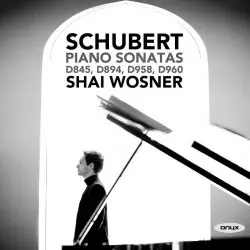 During the pandemic, I got lucky. Facebook, of all places, introduced me to a pair of brilliant Israeli pianists, both of whom were offering exceptional musical escapes. The performers, Shai Wosner and Matan Porat, played (in their homes) tantalizing snippets of Beethoven and Bach, balms for bad times. Ironically, I was introduced to these two powerful musicians through the lens of composers (Bach, Beethoven) different then the ones (Schubert, Schumann) that are at the center of their most recent recordings.
Wosner's often amusing Facebook moments included "When They Go Low, We Go Haydn" and a Daily Diabelli (one Beethoven variation per day for 30 days). One of the pianist's best Diabelli bits: one of the most manic variations served as the score for a film featuring a hilarious day in the life of Wosner's family. One notable pianist commented, "Now I understand this piece." Wosner also co-starred in the best "live" concert I heard over the past 11 months, playing with his longtime duo partner, pianist Orion Weiss, on the NYC series, Music Mondays (on You Tube).
Wosner, who recently took over Peter Serkin's post teaching at Bard College, has long devoted himself to the piano music of Franz Schubert. He is now recognized as a top-notch Schubertian. His recent Grammy-nominated CD (and many pre-Covid concerts) were dedicated to playing Schubert's so-called "late sonatas." (The composer died at age 31.) Wosner comments:
When Schubert gets to writing his last six sonatas, something happens in his writing for piano. The last six sonatas are really the ones that he himself championed, as if all the ones before … just didn't count. All of a sudden you have these pieces for piano that are really like symphonies for the piano. They're not just piano sonatas. The artistic ambition behind them is immense. You have these pieces that are 35 minutes long, sometimes 40 minutes long. In [their] scope [they are] like symphonies and yet they have the intimacy of a solo piano piece … intended for the salon.
The two-CD set (on Onyx Classics) includes Piano Sonatas No. 16 in A minor, D845; No. 18 in G D 894, No. 19 in C minor D 958, and No. 21 in B flat D960.  Those who adore Schubert probably own multiple recordings of these pieces, especially of the much-loved sonata in B Flat, D. 960. Before hearing Wosner, I wondered — do we really need yet another rendition?  Well, we did, and Wosner's performance provides a multiplicity of reasons why.  In a series of short online snippets, called "Shai on Schubert," and in his CD's liner notes, the pianist expounds on his favorite composer's final sonatas, pointing out their "unbelievable beauty" and "their unique blend of some of the most gentle, tender moments" [as well as] "at the same time some of the most tragic." Wosner has lived with these sonatas, and thought them through from every angle, musically and intellectually. The result is revelatory, from the craftily executed quicksilver changes of mood, the sprawling range of dynamic, and the many stunning ways he executes the staccatos.  We have, in Wosner's Schubert, despair intermingled with euphoria, resignation interlaced with fleeting moments of rapture. A heartrending integration of light and dark.
---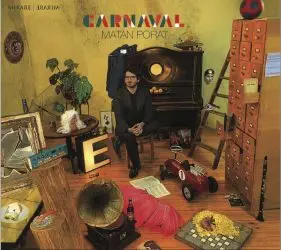 Composer and pianist Matan Porat, currently living in Berlin, has distinguished himself of late by taking up an idiosyncratic art form, "narrative based" recitals (on the label Marare). His first CD, Variations on a Theme by Scarlatti, opens with Scarlatti's K. 32 sonata (the composition is close to my heart because I chose it to open one of my CDs). He then includes a wide range of compositions that reminded him of the Scarlatti sonata. His second CD, Lux, drew from music over 12 centuries, its pieces arranged to dramatize a progression from day to nighttime.
I became familiar with Porat's exquisite Bach playing during 2020, when, each week on Facebook, he performed a short piece or movement by J.S. Bach. His playing was gorgeous.  At that point I hadn't known he was also a distinguished composer, so it came as a surprise when I  heard his new disc, which features a revolutionary re-vamping of Schumann's well-known "Carnaval," op. 9. Porat punctuates Schumann's romantic classic with miniatures  (24 short pieces in all) by 18 different composers — including Stockhausen, Villa Lobos, Bach, Clara Schumann, and Kurtág. The result is a refreshingly disorienting take on "Carnaval." The pianist writes:
Schumann's "Carnaval" is a quintessential document of Romanticism—colourful, evocative, virtuosic, innovative. It is the first piece of music in which Schumann's full genius blossomed and the work which offers the most rounded view of him as creator, musician, and person. It is a complete masterpiece, one which does not need to be amended or changed in any way.

With all that being said, I took the liberty to examine more closely Schumann's musical mind in connection to the music of the past and future, and I expanded the list of characters Schumann draws on. This new Carnaval is a carefully curated recital, made with love for Schumann's timeless piece, allowing the listener not only the joy of discovering new music, but also a deeper understanding and appreciation of the original work.
This CD, with its hilarious cover, offers a piquant musical midrash on the many aspects of Schumann's piano masterpiece. I've listened to the disc four times and I am not entirely sure it has given me a deeper understanding or appreciation of "Carnaval," which I have loved for five decades. I enjoyed each piece, but I must admit that I was relieved when Schumann's original re-appeared. But the CD unquestionably deepened my appreciation of Porat's piano playing, which is virtuosic to the point of astonishment.
---
Susan Miron, a harpist, has been a book reviewer for over 30 years for a large variety of literary publications and newspapers. Her fields of expertise were East and Central European, Irish, and Israeli literature. Susan covers classical music for the Arts Fuse and the Boston Musical Intelligencer.