By Jason M. Rubin
Even though they are a cover band, Foxes and Fossils' performances are fresh and delightful. While faithful to the originals, they are not slavish imitations.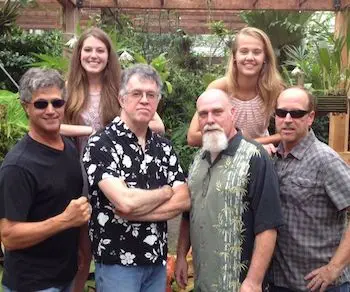 YouTube is the universal stage, the ever-open venue where Justin Bieber was discovered and that launched him into the stratosphere of fame. That ignominious fact aside, it is also the nurturing soil in which videos of a certain quality are easily shared throughout the social media universe, creating a digital word-of-mouth campaign that — especially during the pandemic, with so many people having so much time on their hands — has star-making potential.
One such act that has benefited from the YouTube gaze is Foxes & Fossils, an Atlanta-based cover band comprising a group of older men on instruments (the Fossils) and younger women on vocals (the Foxes). If it sounds a little creepy, it's not, although the 10-year-old group formed when the Foxes were just in their mid-teens. But the Chief Fossil, Tim Purcell, started the band with his daughter, Sammie, the inaugural Fox, who sang in church choirs with the second Fox, Maggie Adams (a third Fox, Chase Truran, joined later). Over the last decade, their videos have received an aggregate of 50 million views, most coming over the last two years.
The pandemic can explain part of their growing reputation among music fans denied live music events and hungry for something new (in fact, a typical comment on their YouTube videos is, "The only positive thing that came out of this lockdown was discovering Foxes & Fossils."). But the real reason for their success, in this writer's opinion, is that they are crazy good. Even though they are a cover band, their performances are fresh and delightful. While faithful to the originals, they are not slavish imitations. The group's latest CD, Songs from the Basement, collects 13 of these covers with an original composition by Tim, who also sings lead on that and a couple of other tracks.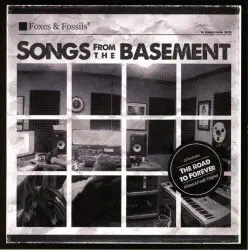 While most F&F fans will have seen videos of these songs already, it's nice having them on a CD; these are the kind of songs that make long car rides bearable. Culling from artists spanning the '60s to the present — from the Beatles and Beach Boys, to Billy Joel and Todd Rundgren, to Lake Street Dive and Brooks & Dunn — they hit every one out of the park. Some of my favorites include Sammie's touching rendition of John Prine's "Angel from Montgomery," Maggie's perfectly languid "Harvest Moon" (by Neil Young), and Chase's powerful performance on Todd Rundgren's "Love Is the Answer."
But there's more. Aside from being talented musicians, most of the Fossils also do background vocals and, combined with the Foxes, they recreate amazing harmony vocal stacks on the Beach Boys' "Don't Worry Baby" and the Eagles' "Seven Bridges Road." All three Foxes pay homage to the trio of Linda Ronstadt, Dolly Parton, and Emmylou Harris on the beautiful "Telling Me Lies." And Tim absolutely nails Billy Joel's "Piano Man" and gets his Denny Doherty on in the Mamas and the Papas' "California Dreaming." Lead guitarist Darwin Conort helps himself to a fine rendition of Gordon Lightfoot's "Early Morning Rain" as well.
I had the pleasure of speaking with Tim and Sammie via Zoom — but before getting to their insights, let's introduce the rest of the band, all of whom were members of Tim's prior group, the Mustangs: Tim plays acoustic guitar and piano; Toby Ruckert plays guitar; Scott King, who came up with the name of the band literally as they were taking the stage for their first gig, plays bass, ukulele, and mandolin; and Johnny Pike is on drums and bass. In addition to lead guitar, Darwin plays harmonica on "Piano Man."
(Disclosure: Sammie has just wrapped up a master's degree in Journalism from Boston University, where one of her professors was Arts Fuse editor Bill Marx. Sadly, she's already moved back home, so no chance of her showing up at an open mike around town — if there were any.)
---
AF: Tim, how did this all begin?
Tim: I was the only sibling that my mother didn't force to take piano lessons, and yet I'm the one who went into music. I got interested in the guitar at six. Lessons weren't for me but I learned to strum and I could always sing. When I got out of college, I joined Darwin in a band. We had original material but to get gigs and make money, you need to play covers. Eventually, I formed the Mustangs to further my career as a singer-songwriter. We were an event-type band but when the market went south we lost a lot of corporate gigs. At the same time, I knew Sammie and Maggie could sing so we started doing that and the two bands ran parallel for a while. The girls' mothers wouldn't let them play during the school year so that was a summer thing. Darwin was playing in several bands at the same time, so Foxes & Fossils was basically the Mustangs rhythm section with Maggie and Sammie out front.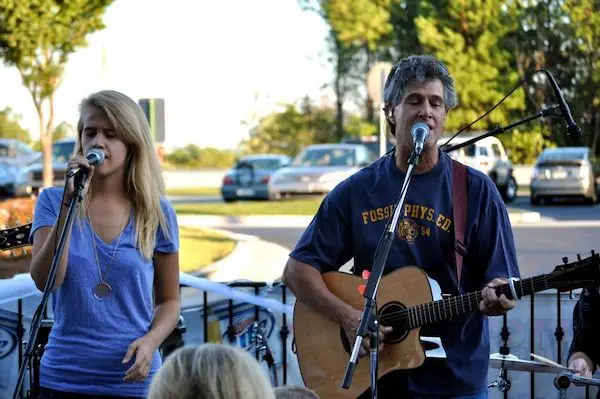 AF: Sammie, what is it like being in a band with your father?
Sammie: It's funny because when I was 15, I thought OK, this will be a fun thing to do over the summer. Play three or four shows, make a little extra money. And then we did more recording and had to keep churning out content. It's definitely more time-consuming now but it has never felt like a chore to me. It still feels like a fun project and I really like singing, although my big love is musical theater. I find it's easier to pretend to be someone else than to stand there with a microphone and just sing. When I do "Angel from Montgomery" it's more acting because the woman in the song is so different from me.
AF: Tim, I think your composition on the album, "The Road to Forever," is very beautiful. Are you hoping to do more original songs with the group?
Tim: Yes and no. We have a Patreon service, and subscribers get "Tim's Song of the Month." I have lots of songs from over the years. Problem is I'm beyond the age of wanting to tour and really trying to sell my songs. I would love it if the interest we're generating inspires someone else to approach me and want to record some of them. But people want to hear songs they're familiar with and that's fine. Fame doesn't appeal to me. My philosophy has always been to be the least among the group. I would never, ever tell Scott what to play, and the girls bring the songs they'd like to do. There's a whole lot of mutual respect within the group.
AF: Finally, is there a chance for you guys to do some live shows later in the year?
Sammie: We're in a few different states now, and I'm starting a new job so we're doing different things, but if we play live again we'd try to bring everyone back.
Tim: We talked last year about doing a reunion concert, maybe film it and offer it as a pay-per-view event, but then everything screeched to a halt in March. I'm meeting with a promoter this spring to discuss it. Maybe do something in September, but it would be a one-time thing. Chase is the one with the talent and the interest to go to the next level and I want to do everything I can to help her.
To learn more about Foxes & Fossils, view their videos, and purchase CDs and downloads, check out their website.
---
Jason M. Rubin has been a professional writer for 35 years, the last 20 as senior creative associate at Libretto Inc., a Boston-based strategic communications agency where he has won awards for his copywriting. He has written for Arts Fuse since 2012. Jason's first novel, The Grave & The Gay, based on a 17th-century English folk ballad, was published in September 2012. His current book, Ancient Tales Newly Told, released in March 2019, includes an updated version of his first novel along with a new work of historical fiction, King of Kings, about King Solomon and the Queen of Sheba. Jason is a member of the New England Indie Authors Collective (neiac.org) and holds a BA in Journalism from the University of Massachusetts Amherst.