By Jonathan Blumhofer
Daniil Trifonov's "Silver Age" pays bracing tribute to fin-de-siècle and post-Revolutionary Russian music; Jonathan Leshnoff's Third is smartly written and affecting, the present performance played and sung with sweep and power. What happens when tenors Lawrence Brownlee and Michael Spyres team up for an album of duets and ensembles from various Rossini operas? Fireworks.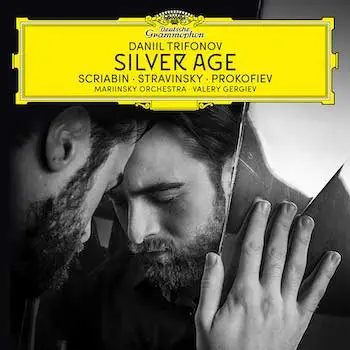 Daniil Trifonov's Silver Age pays tribute to fin-de-siècle and post-Revolutionary Russian music, particularly works by Alexander Scriabin, Igor Stravinsky, and Sergei Prokofiev. In typical Trifonov fashion, his homage takes singular form. The two-disc set is built around three big pieces: Scriabin's 1896 Piano Concerto and Prokofiev's 1913 Piano Concerto no. 2 and 1944 Piano Sonata no. 8. Stravinsky – that giant of 20th-century music – is relegated to smaller (though not necessarily lesser) contributions.
The results are bracing.
Those Stravinsky selections – Guido Agosti's transcription of the Firebird Suite, the composer's own Trois mouvements de Petrouchka, and the Serenade in A – are performed with astounding technical and expressive command.
Much the same can be said for the Prokofiev works, which also include the early Sarcasms and the "Gavotte" from Cinderella.
The sprawling Sonata no. 8 balances muscularity and elegance in almost equal measure. As in everything else on this album, Trifonov's playing is impeccably balanced – the line gets pride of place and his reading unfolds with utter naturalness as a result. At the same time, the pianist's sense of characterization is flawless, from the thunderous climaxes of the opening movement to the beguiling central one and the cheeky Allegro ben marcato section in the finale.
In the monstrously difficult Second Concerto, Trifonov again teases out the music's lyricism while never once losing sight of its melodic line or of Prokofiev's embrace of the grotesque within its pages. Accordingly, his is a reading that's both dazzlingly played and extremely well structured. There's a soulfulness to much of Trifonov's account of the outer movements (especially the finale's haunting second subject), as well as a swaggering sense of play in the central ones.
The accompaniments (if they can be called such – they're often far more substantial than not) from the Mariinsky Orchestra and conductor Valery Gergiev are judiciously balanced and colorfully done: there's a chamber-like quality to the piano-and-orchestra exchanges over the Concerto's last two movements, particularly.
In the Scriabin Concerto, Trifonov's performance joins a bevy of fine recent accounts of this obscure score. Cut from similar stylistic cloth as the concerti of Tchaikovsky and Rachmaninoff, it's a charming piece (if not Scriabin's most visionary) and played with winning fervency here. The clarity of Trifonov's approach to the keyboard part is fully matched by the radiant playing of the Mariinsky forces (especially in the second movement variations).
Taken together, then, this is a splendid program and played to the hilt. Don't miss it.
---
What happens when tenors Lawrence Brownlee and Michael Spyres team up for an album of duets and ensembles from various Rossini operas? In the case of Amici e Rivali, the duo's new disc on Erato, about 80 minutes of fireworks ensue.
Actually, that statement doesn't do full justice to what Brownlee, Spyres, and friends accomplish here.
Yes, there's stellar vocal technique to be had – and in spades: to hear the agility with which the pair toss of their respective runs in Ricciardo e Zoriade's "Teco or sara" and Armida's "In quale aspetto imbelle" (in which they're joined by the excellent tenor Xabier Anduaga) is to experience spectacular, seemingly effortless bravura singing at the highest level. Indeed, during the disc's most athletic moments – like La donna del lago's "Qual pena in me già" or Otello's "Ah! vieni, nel tuo sangue vendicherò le offese" – there's the feel of a brilliant singers' duel being waged between the pair.
Yet there's much subtler, deeper musicianship on display, as well. The blend of Brownlee's and Spyres's voices in "All' idea di quell metallo" from Il barbiere di Seviglia (which features Spyres as Figaro) is flawless. So, too, in Elisabette Regina d'Inghilterra's "Deh! Scusa I trasporti" and Le Siège de Corinthe's "Céleste providence." Throughout, the singers' tonal palette, their rhythmic precision and articulation, as well as their feel for the dramatic scene at hand demonstrate a compelling chemistry.
And that's shared not just between Brownlee and Spyres, but with their superb supporting cast of tenor Anduaga and mezzo-soprano Tara Erraught, as well. The latter's part in Otello's "Che fiero punto e questo," with its blazing conclusion, is a conspicuous highlight.
Corrado Rovaris draws spirited, rhythmically vigorous accompaniments from I Virtuosi Italiani.
---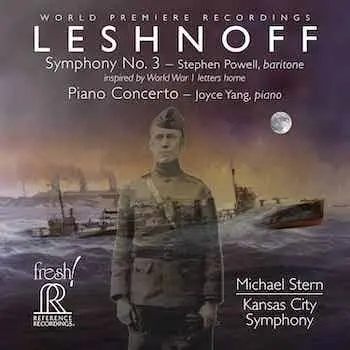 Jonathan Leshnoff's 2019 Piano Concerto, out now in its debut recording with pianist Joyce Yang and the Kansas City Symphony (KSC), has a lot going for it. The piece follows, essentially, a Classical concerto model (but with four movements instead of three): the expressive weight falls in the first two; the latter pair are lighter in tone. Leshnoff's scoring is bright and idiomatic. Structurally, the piece is clear and coherent, all of its thematic loose ends tied up by the time the finale's double-bar rolls around. Also, at about 25 minutes in length, it doesn't overstay its welcome.
True, one might wish for more purely soloistic moments here and there: the keyboard is doubled (or accompanied) by the orchestra for much of that duration. Still, given how ingratiating the larger piece is, there isn't much for one to complain about.
The Concerto's first movement alternates motoric and lyrical subjects, its constant shifts of phrases and harmonies keeping the ear from ever getting too comfortable. "Neshema," the slow second movement, offers a beautiful, falling tune that's gradually embellished. The Scherzo, with its frolicsome keyboard writing and nifty transformations of orchestral textures, charms throughout. Meanwhile, the finale is marked by lots of scalar activity and a culmination of materials introduced earlier.
Yang dispatches the glittering Prokofiev-like solo line with dexterity and color. Just as striking is the KSC's account of Leshnoff's orchestral writing. It's clear the ensemble and conductor Michael Stern have lived with the composer's music for a while, given the rhythmic confidence, uniform attacks, and ear for balances they bring to their performance.
Their stylistic familiarity is also evident in the ensemble's reading of Leshnoff's Symphony no. 3 that fills out the disc. Written in 2015 and drawing on letters housed in Kansas City's National World War I Museum and Memorial, it's, fittingly, more elegiac in tone.
The first of the Symphony's three movements is brooding, though Leshnoff's writing grows in intensity and urgency as the musical argument proceeds. Driven figures and spare textures alternate in the sprawling central one. A baritone joins the orchestra for the finale, which sets excerpts of letters by Dr. Charles Irons and Lt. James Hockaday.
Stephen Powell imbues those texts with plenty of warmth, as well as excellent diction and intonation. Stern and the KSC make the most of Leshnoff's dreamlike, atmospheric instrumentation in the finale. In the earlier movements, Stern and his forces ably capture the Symphony's metric and rhythmic intricacies.
A "war symphony" along the lines of, say, Prokofiev Six or Shostakovich Eight this isn't quite – it lacks that firsthand perspective. Even so, Leshnoff's Third is smartly written and affecting, the present performance played and sung with sweep and power. Reference Recording's engineering is second-to-none. What more could one want?
---
Jonathan Blumhofer is a composer and violist who has been active in the greater Boston area since 2004. His music has received numerous awards and been performed by various ensembles, including the American Composers Orchestra, Kiev Philharmonic, Camerata Chicago, Xanthos Ensemble, and Juventas New Music Group. Since receiving his doctorate from Boston University in 2010, Jon has taught at Clark University, Worcester Polytechnic Institute, and online for the University of Phoenix, in addition to writing music criticism for the Worcester Telegram & Gazette.