By Sarah Osman
The new Animaniacs provides no good reason for reviving Yakko, Wakko, and Dot in the 21st century.
Animaniacs reboot, Hulu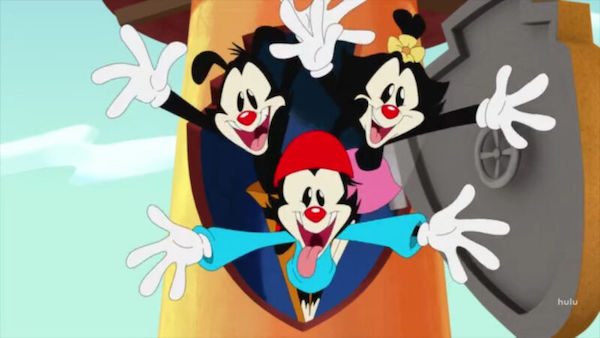 The animated Animaniacs holds a special place in the hearts of many millennials, along with other habitually watched '90s afternoon cartoons. Yakko, Wakko, and Dot were three Warner Brothers kids who lived in the studio's water tower until they escaped. The three wreaked havoc on Ralph the Security Guard, Dr. Otto Scratchandsniff, and his nurse (Hello Nurse!). While the trio of mischief makers were protagonists, there was also Pinky and the Brain (a pair who tried to take over the world), the Goodfeathers, Buttons and Mindy, and various other wild critters. The series excelled at an outrageous zaniness, similar to the surreal spirit of its venerable predecessor, Looney Tunes. The concept was that the Animaniacs mocked modern and old Hollywood. They also sang songs — most millennials would probably agree that they know the countries of the world thanks to this.
Animaniacs ended in 1998. Does anyone miss them? Frankly, only the millennials feel a tinge of nostalgia for the show — other generations couldn't care less. Other '90s shows are now available for streaming, but Gen Z didn't have an opportunity to get to know Animaniacs (at least based on the reactions of my students) and older generations never tuned in. So it was rather surprising that Hulu decided to revive the series. And I am still puzzled: the new Animaniacs provides no good reason for reviving Yakko, Wakko, and Dot in the 21st century.
The new Animaniacs first break out into song (a good sign) about everything they have missed in the last 27 years (not such a good sign). This "tongue-in-cheek" song references Hollywood's army of reboots, refers to how Animaniacs was always meta, and that the trio are now "ethnically diverse and gender neutral." The song is downright aggressive — it crowbars jokes down the viewer's throat. The original series was gentler and quirkier. The later episodes don't fare much better  — there are mentions of "Leroy Jenkins!" (we retired that one right? As a society we agreed that was for the best?) and a caricature of Trump. Even worse is that all of the side characters have been cut and only Pinky and the Brain are left. Sadly, the Brain seems to have become as slow as Pinky. Their plots to take over the world are about becoming internet sensations and taming dragons.
Why did Gabe Swarr (who has worked on Dexter's Laboratory and Kung Fu Panda: Legends of Awesomeness) and longtime Family Guy producer Wellesley Wild yank the Animaniacs out of retirement? Perhaps Wild thought he could compound his success with Family Guy via its references to pop culture and political commentary. But this satiric business feels out of place in the world of Yakko, Wakko, and Dot. First time around the Animaniacs never commented much on social issues. They were just three wild kids who were out to have some anarchistic fun. It is uncomfortable to hear the once innocent zanies commenting on voting rights.
The original run of Animaniacs was just that – original. It was absurd yet clever, populated by frenzied characters who were amusing rather than "relevant." The new version comes off as yet another show that feels it must comment on the political mess we are in. Aren't there enough programs already doing that? Who exactly is this reboot for?  Why was this made, unless its makers, like Yakko, Wakko, and Dot, were handed a big fat check by Hulu?
'90s nostalgia can be fun, but sometimes it's best to let the past stay past. Yakko, Wakka, and Dot need to return to their water tower — and this time it should be padlocked.
---
Sarah Mina Osman is a writer living in Los Angeles. She has written for Young Hollywood and High Voltage Magazine. She will be featured in the upcoming anthology Fury: Women's Lived Experiences under the Trump Era.