By Robert Israel
I've hated enough people," Penny Arcade confessed, "I can't hate anyone new until 2022."
Longing Lasts Longer, A Rock 'n' Roll Manifesto, performed by Penny Arcade with her longtime collaborator Steve Zehentner. At the 14th Annual Tennessee Williams Theater Festival, Provincetown, MA, Sept. 24 through 27. Closed.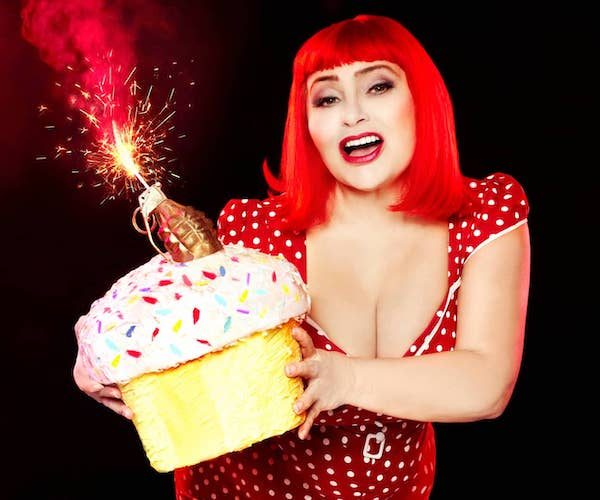 Leave it to those irreverent aficionados of live theater in Outer Cape Cod to blow enough air through their face masks to fire up some of the dying embers of this year's moribund theater season. Initially envisioned to feature shows that revolved round the theme of censorship – from the Puritans' arrival to Massachusetts to our current buttoned-up age – this year's Tennessee Williams Theater Festival morphed into a scaled-down cluster of productions that were dedicated to flipping the bird to the pandemic via the rallying cry: "If we can, we will."
With their trademark derring-do, the Festival's staff,  assisted by the generosity of the townsfolk of Provincetown, who keep them buoyant year after year, did its best to make sure the shows would go on. Volunteers were on hand to ensure that audiences respected pandemic restrictions.
"We could have streamed live national and international performances via video, but we did not. We postponed a couple of scheduled shows until next season, and moved forward with outdoor performances," explained TWT Festival curator David Kaplan. The performance sites included a parking lot near the Pilgrim Monument and an al fresco venue in nearby Truro.
Kaplan and I chatted, socially distant of course, at another of the Festival's venues, Bas Relief Park, a grassy outdoor amphitheater right by Provincetown Center. It was moments before Penny Arcade, a New York City performance artist/comedienne, began Longing Lasts Longer, her irreverent and rambling one-woman show, which she developed several years ago with her longtime collaborator Steve Zehentner.
Bounding onto the granite perch of a makeshift stage with a microphone in hand, the 70-year old Arcade launched into a stream of profanity-laden impressions about her rollicking life. The visual juxtaposition was … telling: a bronzed bas relief that depicts the Pilgrims allegedly making peace with the Native Americans was right behind her. Arcade made her way to New York City as a runaway teen. She ended up joining the Theater of the Ridiculous, where she discovered her true métier as an underground performer.
"I never wanted to be Snow White," Arcade declared. "Snow White was a control freak. What's with the image of the goody-goody Snow White anyway? And the poison apple? C'mon! I wanted to be the Evil Queen."
With the audience sufficiently warmed up, she shared her colorful disapproval, via impressions and reflections, of living in a society obsessed with greed, its culture keener on hunting down acquisitions and satisfying appetites than paying attention to the beauty that was being ignored — or destroyed — around them.
To make her point, Arcade quoted Edward Bernays, celebrated as a pioneer of mass marketing, who said, "If we understand the motives of the group mind, is it not possible to control the masses according to our will without their knowing it?" Satirizing a generation of video-idiots, techno zombies who live for "eating and shopping," she concluded "our culture has been taken away from us and we are filled with longing. We are left searching for sanctuary and solitude."
Her adopted home of New York City, once known as "a city that never sleeps," has now become "a city that never wakes up, a city where one can find cupcake shops on every corner." Arcade has little affection for millennials; for her they have become numb to anything resembling human warmth. She contrasted herself  with these relative youngsters by proudly noting that she never owned a Barbie doll and had never visited Disneyland.
"I didn't watch television for 40 years, I was too busy fucking and getting high," she proclaimed.
Surprisingly, she doesn't harbor a shred of nostalgia for the '60s, an era filled with too much drug abuse and violence, particularly against women. As proof, she went into painful detail about being repeatedly raped when she lived in New York's Lower East Side.
Despite her meandering rants, Arcade exudes a passion for life that seeks affirmation, not rancor. "I've hated enough people," she confessed, "I can't hate anyone new until 2022."
It did not escape me that the Puritans, sealed in bronze for all time in the mural behind her, would have found her talk abhorrent. They were preoccupied with keeping on God's good side, which included executing conquest. Indeed, had Arcade strutted her stuff in the years after their arrival in 1620, they no doubt would have burned her at the stake, branding her a witch.
On the debit side, I found many instances in Arcade's performance when she could have been more … disciplined – in the vein of the late Spalding Gray, who mastered the art of the onstage monologue. But so what? Her scrappy irreverence comes at a time when rebellion is under attack from conservatives, when the imagination must be defended against gross materialism. The elemental value of stepping out of line must be celebrated. We need performers like Arcade who make theater that rouses our spirits, ignites our anger, and helps us band together, hopefully in rallies against encroaching authoritarianism And, along those same lines, we need a rebound season from the Tennessee Williams Festival in the spirit of its eponymous playwright, filled with shows that will keep the art and sass coming.
---
Robert Israel, an Arts Fuse contributor since 2013, can be reached at risrael_97@yahoo.com.