By Gerald Peary
Five more feature films of great interest and their links, lovingly chosen to get you through the continuing travails of the coronavirus.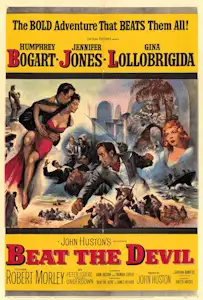 Beat the Devil (1954) — Filmmaker John Huston never was averse to making frivolous pictures if he got to film in interesting locations with actor friends and was paid enough to support his gambling habits. So here it was off to a shoot in Southern Italy, a reunion with Humphrey Bogart, several times before his leading man, and a fun opportunity to collaborate on a screenplay with the then wunderkind, Truman Capote. The story is quintessential Huston — from The Maltese Falcon to The Man Who Would Be King — but in a nonserious, minor key: thieves on a quest that's thrilling in planning and execution, but fails in the end. Here the bad boys (Robert Morley, Peter Lorre, et al.) are after the secret plan of an African uranium deposit. Does anyone care in this flippant, tongue-in-cheek charmer, which was intentionally campy before camp was conceived? Watch here.
Black to the Promised Land (1993) — Can we take hope from a 1993 documentary about what happened in 1989 when 11 African-American teenagers from Bedford-Stuyvesant in Brooklyn spent two months living and working on an Israeli kibbutz? Despite gripes about rugged, rigid kibbutznik life, and Israelis staring at them for being Black, the valiant kids stuck it out. Most went home with tears in their eyes, sad to leave their Israeli pals. The Israelis sobbed too, fearing that the kibbutz would be a dead zone without their partying, wild-and-crazy American friends. It's possible to accuse director Madeleine Ali, who is French-Haitian-East Indian-African-American, of soft-pedaling serious politics, including the Palestinian-Israeli conflicts. But perhaps it's far more important to see Jews and African-Americans dancing together at a kibbutz Purim party. Watch here.
Go Fish (1994) — There's a typically raunchy scene in Rose Troche's feature film where the all-lesbian, mostly amateur cast lie about casually discussing their vaginas. What should they be called? How do they taste? My, how lesbian cinema changed in the '90s with this wildly indiscreet romp through 20-something dykeland. The women of Go Fish exist in a self-sufficient lesbian community in downtown Chicago and life couldn't be more joyful and Amazonian. Being a woman-loving female is cool cool cool and definitely something to celebrate. At times, one delicious sex party. What was the scene before this film? Narratives showing tortured, timid female protagonists battling their demons to admit — or repress — their attraction for other women. From the vantage of the Go Fish generation, damaged, neurotic turnoffs. $3.99 on Amazon Prime.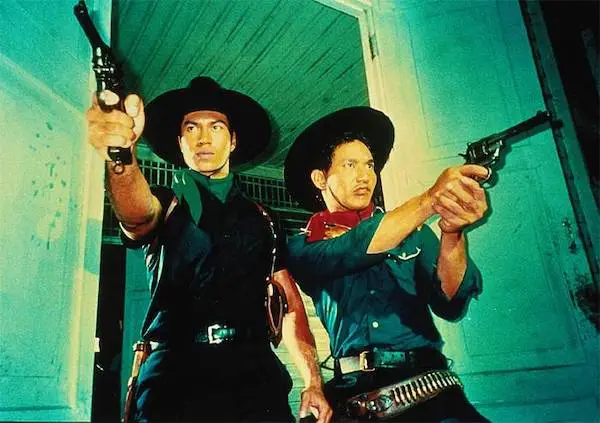 Tears of the Black Tiger (2001) —  Wisit Sasantieng's film is a Thai melodrama/action picture. The filmmaker has explained to befuddled non-Asians that it's an affectionate homage to cheapo Thai westerns of the '50s, and to weepies of all eras everywhere. A peasant boy is smitten with a rich girl from Bangkok and they pledge eternal love. But the unfortunate lad is kicked out of university, his dad is slain by brigands, so he seeks revenge, becoming the baddest dude gunslinger of them all, known as the Black Tiger. Curiously, he's a softie with a sensual, effete mouth, and this odd, daffy movie can be read as a campy, gay-sensibility cowboy flick, with its candy-colored cinematography, its suffering-woman subplot, and its epicene cowboys. Harvey Weinstein bought the film at Cannes 2001 for Miramax and cruelly buried it. Another company released it finally in the US in 2007. Watch here.
Elephant (2003) — Gus Van Sant won the Palme D'Or at Cannes for his fictional take on the massacre at Columbine, but nobody wanted to see it back in the US. It's a worthy film, gorgeously shot in long, long takes, following various kids through a maze of high school hallways. Van Sant transferred the murderous events to an unnamed liberal school in his then hometown of Portland, OR, and the nonprofessional student ensemble are just fine. The movie's title? It's the big-eared animal in the living room: repression. It's why, insinuates the filmmaker, nice boys from a fine neighborhood suddenly shoot to kill. The rampage is seen from the POV vantage of various students, where they happen to be about the school. For some, it's the perplexing sight of fellow students in shock running past them; for unfortunate others, it's a rifle pointing in their faces.
Rental $3.99 HD, $2.99 SD.  Watch here.
---
Gerald Peary is a Professor Emeritus at Suffolk University, Boston, curator of the Boston University Cinematheque, and the general editor of the "Conversations with Filmmakers" series from the University Press of Mississippi. A critic for the late Boston Phoenix, he is the author of nine books on cinema, writer-director of the documentaries For the Love of Movies: the Story of American Film Criticism and Archie's Betty, and a featured actor in the 2013 independent narrative Computer Chess. His new feature documentary, The Rabbi Goes West, co-directed by Amy Geller, is playing at film festivals around the world.