By Isaac Feldberg
Sharp, simple, and well-attuned to the hopelessly grim tenor of these past few years, The Beach House knows how doomed we all are, says we deserve it, and prays that, after the tide comes in to wash us out, the rest will be left to flourish.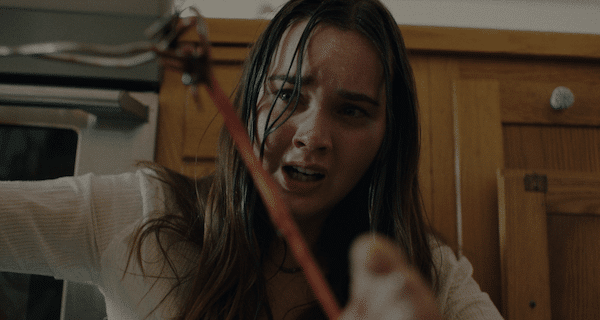 Out of an already impressive year for visions of cosmic horror (Richard Stanley's fitfully psychedelic Color Out of Space) and aquatic terror (William Eubank's sub-Cthulian creature feature Underwater, Neasa Hardiman's more modestly scaled Sea Fever) emerges Jeffrey A. Brown's The Beach House, which has one mutilated foot in each subgenre and is set – where else? – along the tranquil Cape Cod shoreline.
A lean, skillful, and effectively grisly debut by Brown, who both wrote and directed, the film (now streaming on Shudder) instills some confidence based on setting alone. From H.P. Lovecraft's The Shadow Over Innsmouth to John Carpenter's The Fog and Steven Spielberg's Jaws, our best genre storytellers are constantly recasting coastal outposts as the first line of defense against whatever danger is lurking out there: unseen, unknowable, and most certainly coming.
Brown's opening shot gets right to it with a dive beneath the ocean surface, rippling and serene, that reveals something raging in its depths: a formation of hydrothermal vents, protruding from the seafloor and spewing thick, bilious plumes that surge swiftly upward. Subaquatic smokestacks of natural origin, they immediately suggest a kind of inverted industrialization: the world is sick with our ceaseless pollution, and it's finally returning fire.
Could she see them, college-aged Emily (Liana Liberato) would probably regard those plumes with a mixture of awe and intelligent interest, a combination that Randall (Noah Le Gros), her dimmer-bulb boyfriend, makes no effort to match. When Emily and Randall first arrive at his father's place on the Cape, hoping to reset their on-the-rocks romance – and especially after they discover older couple Mitch (Jake Weber) and Jane (Maryann Nagel) also staying there – Emily's first instinct is engage, either with their unexpected guests or the surrounding beachfront, while his is to whip out the edibles. If she's the motor keeping their relationship afloat, he's the dead weight bound to sink it.
Emily's finishing up her third year studying organic chemistry, though her interests lie more in the field of astrobiology, which at one point she explains covers not only extraterrestrial organisms but also the microbial life forms buried in sediments below the ocean floor. Deep down, living structures thrive in sites so pressurized and inhospitable they're scientifically analogous to biospheres on other planets. It's by studying these environments, she believes, that we can understand better how life might find a way, once climate change has removed us from the equation. Liberato, a wonderfully expressive actress who's never showy in a role others would have played broader, portrays Emily as an impossible idealist: about science, nature, and probably love as well. Speaking to Mitch, she says that learning more about the universe will simply "make it more beautiful." Mitch, who's lived in it longer, isn't so sure.
That night, as all four get stoned, the seashore begins to glow phosphorescent, its sand and flotsam hued a pale blue that evokes, among other things, 2001: A Space Odyssey's wonderingly apocalyptic Starchild, there symbolizing the doom of one world and the dawn of another. This is genre territory, so there's similarly no escaping the long shadow of Lovecraft's original short story "The Colour Out of Space," in which a meteorite crash-landed on Earth, emitting a purple-pink haze that transformed all it enveloped. Lovecraft's dark fable was of an unearthly metastasis, enchanting and monstrous. In Brown's telling, Jane staggers through a nearby spread of trees that appears to be mutating before her, sprouting odd growths and letting off spores that cloud the air. Emily says that what's come ashore is remaking the surrounding flora in its own image, reclaiming it. Out of earshot in this bioluminescent garden of Eden — and baked out of her senses — Jane touches the brave new world. Her hand comes away glowing.
From there, The Beach House mutates as well, puncturing its eerily subdued atmosphere with sequences of eldritch tension and slimy, gross-out body horror (especially one involving an emergency foot surgery that in pre-pandemic times would have sent squeamish audience members scurrying out of the theater).
Shot in North Truro, at a residence owned by his producer's father, Brown's film is intimately scaled and economical by design, suggesting more than it shows. But the lower-budget practical effects supply a satisfyingly squelchy nastiness. And some of Brown's smarter choices behind the camera – "microshots" that capture the tumult of bubbles in a glass of wine, long fixed-angles that force the audience to watch for tiny movements – summon the sense of reality spilling over into something stranger. There's a very good scene around the 50-minute mark where Emily is sunbathing and Brown's camera suddenly adopts a sideways angle; as she lies out on the beach, squinting, still trying to soak in a moment of peace, something has shifted, maybe permanently, that she can't quite put into words
Not that it matters; when the end does come, it won't wait on anyone's understanding. Strange jellyfish-like organisms either washed or crawled ashore while we weren't watching. There are vague warnings on the TV, static on the radio, and that fog rolling in doesn't seem quite like fog. Who's to say that, when our world ends, it won't look something like this?
Brown has carefully considered The Beach House's fast-moving eco-horror. Still, what registers most strongly is Emily's ordeal, and that of the modern scientist: to instinctively recognize catastrophe as it forms on the horizon, with precious little hope of averting it. Early on, Emily declares her intention to earn a diving certificate; later she clings to a tank of oxygen, an act of desperate resistance against a surrounding atmosphere that's no longer breathable, and the irony is barely muscled out by our admiration for this young woman and her drive to keep going, to keep fighting. But the film proceeds with pitiless logic, even a sense of cosmic justice. Sharp, simple, and well-attuned to the despairing tenor of these past few years, The Beach House knows how doomed we all are, says we deserve it, and prays that, after the tide comes in to wash us out, the blameless rest of our world will be left behind to flourish.
---
Isaac Feldberg is an entertainment journalist currently based in Boston. Though often preoccupied by his on-going quest to prove that Baby Driver is a Drive prequel, he always finds time to appreciate the finer things in life, like Michael Shannon.