By Alex Szeptycki
Arca's first solo foray into pop music is as infectious as it is strange.
During the 2010s, Venezuelan record producer, songwriter, singer, mixing engineer, performance artist, and DJ Arca had been behind some of the boldest voices in music, from Kanye to Björk. Simultaneously, she made minor waves as a solo artist taking electronic
music to its edges, crafting abrasive and eclectic soundscapes built out of fragmented club music. On her new record, KiCk i, Arca successfully meshes pop sensibility with electronic experimentation. The result is an exhilarating batch of catchy, forward-looking (and -thinking) songs.
KiCk i announces its intentions from the start. Opener "Nonbinary" draws on bare instrumentation, its stuttering drums and percussive synths presenting a pared-down and focused take on her signature sound. But once the producer starts singing, we hear the biggest change in her approach. Arca's vocals on earlier projects were soft and melodic — here she's confrontational and brash. "You don't know me/You might owe me/But bitch you'll never know me," she spits with a sneer, issuing a formidable challenge. In 2018, Arca came out as nonbinary — and in this track she confidently affirms that identity. The song lurches forward, periodically punctuated by bursts of noise and drums. It's an exercise in chaos, but one where Arca is in complete control.
"Time," the following track, gives us Arca going in the opposite direction, embracing a much poppier sound. It feels gentle, at least in comparison with "Nonbinary." Ethereal synths cascade around a muted melody. Arca's voice is distorted and detached as she sings "Take this time/It's all yours" — it is an ode to self-care.  The song is a soft reminder that we need to take time out for ourselves — it's gesture of sympathy is buoyed by a gossamer instrumental. Though the track feels elemental, at least by Arca's standards, it provides a striking change of pace.
Arca embraces this softer side throughout KiCk i. Though they tend to come off as static, these interludes are welcome contrasts to the energy in the other tracks. "Calor" is a tender love song; Arca sings about her partner over an expansive tune, filled with low key, subtle sounds. Here, she breaks into Spanish (the singer alternates between Spanish and English throughout the album). Arca's vulnerability adds considerable weight to the song as she sings "I will let you in/Because what you have shown me/Is nothing less than warmth." On the noisier side, "Machote" is a gender-bending version of "Quiero una Chica," a chart topper from Arca's youth. This recreation is driven by R&B influences, crammed with glitzy synths and booming drums. It's the most polished tune on the track list, the most straightforward pop song on the album.
KiCk i's closer, "No Queda Nada," represents Arca at her muted best. Like "Calor," it's a love song, but this ballad generates a much grander, more epic vibe. Arca's voice is front and center and, once again, she displays compelling vulnerability. The vocals open in Spanish with "There's nothing left but me in you/There's nothing left in me but you." It's a proclamation of trust and comfort, buoyed by a heavenly instrumental. Soft, slow-moving synths give the song its heft; they gradually crescendo once drums and honeyed synths augment the base melody. It's an epic slow burn — one that is tailor-made for a stadium performance.
Still, KiCk i is at its best when Arca injects bolder, more experimental sounds into her music. "Watch" festers with rebellious energy; hits of abrasive, brittle synth clatter against techno drums. It feels like a deconstructed club banger, one that is complimented by an excellent guest appearance from London singer Shygirl. Her confident delivery of the verse swaggers over Arca's powerful production. "I'm too hot for the night," she repeats, perfectly complimenting the synths. A later track, "KLK," embodies a similar approach. Arca takes a traditional reggaeton beat and kicks it into cacophony. She and Spanish singer Rosalia furnish celebratory sounds over the brittle and angular noise, looking back on how far they've come. It's another twisted party song, and it goes over spectacularly.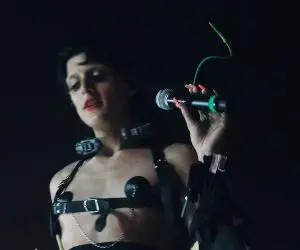 There are times when  Arca pushes the electronic noise to its limit, and that results in the project's strangest tracks. "Rip the Slit," is as playful as it is confrontational; a whirlwind of bass and drums accompany Arca as she repeats and twists the phrase "I rip the slit." The phrase accrues a multitude of half meanings through repetition. The bold and risqué strategy is intriguing. "La Chíqui," a collaboration with producer SOPHIE, is similarly adventurous. A frenetic pace and metallic sounds make for a jarring combination — and then there are Arca's obtuse vocals. "The crowds amass the smell of blood/The spray, it's mist" she sings through layers of filters, sounding almost like an alien being. The otherworldly music is begging to be the soundtrack for a provocative piece of performance art.
Ultimately, KiCk i's willingness to embrace the off-kilter, to dive headfirst into ambiguity, is what makes the album work so well. Nowhere is this strength more evident than on "Mequetrefe." The song directly addresses Arca's sexual identity: it's celebratory, but tinged with anxiety. The fast-paced drums and bright synths are upbeat and carefree as Arca (in Spanish) sings "She doesn't get a taxi/May they see her, may they see her on the street." It's a defiantly self-affirming song on the need to protect the trans body in public space, where it is so often denied recognition and safety. The tune revels in its internal conflict — acknowledging the rewards of coming out but also its dangers.
KiCk i is an important step in the growth of Arca's artistry. Her first solo foray into pop music is as infectious as it is strange, full of sharp left turns and arresting tonal contrasts. Accessibility is balanced with innovation. She has stated that this is the first in a series of albums —  it will be exciting to see how far this transgressive artist will enjoyably push boundaries.
---
Alex Szeptycki is a student from Charlottesville, Virginia, currently studying at Stanford University. He is majoring in American Studies, with a focus in Contemporary Art and Media. He is currently finishing up his senior year, before looking to pursue a career in writing or the arts.