By Jonathan Blumhofer
Pianist Thomas Adès proves himself a sympathetic champion of Czech composer Leoš Janáček; it's not often that a Schumann-Mendelssohn album focuses on the music of Clara and Fanny (rather than Robert and Felix); Jenny Lin's performances of piano pieces by Philip Glass don't lack for style or technical command.
Thomas Adès is turning out to be one of the most ubiquitous figures in classical music, particularly (during these pandemic days) on disc. Whether as composer, conductor, or – like here – pianist, he's got a presence that is both unique and compelling.
The present album features Adès playing solo piano music by Leoš Janáček, a composer whose singular compositional voice shares more than a little with Adès's own. And Adès certainly proves himself a sympathetic champion of the Czech composer, turning in kinetic readings of On an Overgrown Path, From the Street, and In the Mists.
Adès' account of the two volumes of On an Overgrown Path revel as much in the latent lyricism of Janáček's writing as it does in the music's formidable technical demands. Throughout, his is a reading of intense clarity, be that of the melodic line ("Our Evenings") or of the score's striking rhythmic gestures ("The Madonna of Frydek").
But it's also a wholly characterful account. "Come with Us!" charms. "They Chattered like Swallows" bristles with color, as well as a wonderful command of dynamic balances between the hands. "Good Night!" floats gauzily while "In Tears" is gentle, fresh, and perfectly voiced.
In the more abstracted second volume, Adès's playing never loses sight of the dancing, songful impetus behind Janáček's writing.
The piano sonata From the Street offers similar qualities, though here married to a rather tauter (and darker) dramatic structure. Its first movement, "Foreboding," is intense and stormy, Adès's reading breathtakingly clear but never lacking for dramatic heft or a strong sense of direction. The concluding "Death" is aptly desolate, but shaped with the utmost care and intelligence.
Rounding out the program are the four short movements of In the Mists, which Adès dispatches with a bracing mix of command and sensitivity, the spastic, passionate outbursts of the penultimate Andantino coming across with conspicuous fervency.
---
It's not often that a Schumann-Mendelssohn release packs many surprises. Then again, it's really not often that a Schumann-Mendelssohn release focuses on the music of Clara and Fanny (rather than Robert and Felix). To judge from the Nash Ensemble's recent entry in Hyperion's catalogue, maybe there should be more of these?
To be sure, Clara Schumann's 1845-46 Piano Trio in G minor is a masterpiece. Lyrical, turbulent, subtle, bracingly contrapuntal, this is a piece that's both put together by a master (or mistress?) of the craft and has something to say.
The first of its four movements is songful and, at least until the development, fairly restrained: only then do its underlying tensions fully release. A winsome, asymmetrically phrased minuet follows (replete with a mournful, sigh-filled Trio), and the third movement soars like a (Felix) Mendelssohn Song without Words. The finale recalls the tempestuous nature of the opening movement, until the coda brings a measure of triumph.
Fanny Mendelssohn's 1847 D-minor Piano Trio is, likewise, a stirring essay. Completed just before her sudden death that spring, its first movement brims with fire and energy, while the central pair are lovely and graceful. In the finale, a fantasia-like piano solo gives way to a brilliant main body, full of neat harmonic turns and reprises of motives heard earlier in the piece as the music makes its way to the double bar.
Fanny's 1834 String Quartet in E-flat major is similarly captivating. The first movement features a passionate conversations between the four members of the ensemble. In the middle come, respectively, a lithe, tripping scherzo and a flowing, lyrical "Romanze." An exuberant, elfin finale wraps the whole piece up.
Throughout, the Nash Ensemble turns in just the sort of vibrant, brilliant readings these pieces demand – and deserve. Their take on the exceptional Schumann is warm and characterful; if the first half of the finale drags a bit, well, the remainder picks up just in time. And both Mendelssohn scores are played to the hilt. The Trio's striking ideas (like the first movement's tremolando figures) all come off invigoratingly. As for the Quartet, this is an invigoratingly expressive and stylish account.
Indeed, for all three of these works, the Nash's are, arguably, definitive performances.
---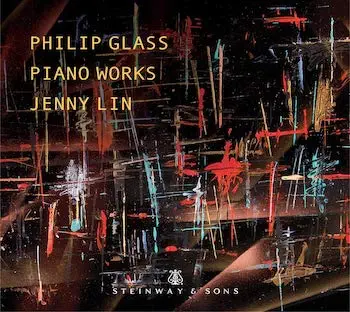 Is there anything Jenny Lin can't play exceptionally well? If there is, I haven't heard it.
Granted, her new compilation of piano pieces by Philip Glass doesn't exactly corner the market: you can find nearly all of this music played by others (including the composer). That said, her execution of Metamorphosis, Passacaglia, Mad Rush, Modern Love Waltz, and the opening movement of Glassworks here are, by and large, impressive and satisfying.
Finest are the five Metamorphosis movements, the outer pair are cleanly done; the 16th-note triplet patterns of the second shimmering; the tension between duple and triple rhythms in the third ably balanced; and the fourth pulsing ominously. True, everything feels fairly straight – the third movement might have benefited from a wider range of attack – but Lin's approach is compelling, all the same.
The other large-scale pieces complement Metamorphosis. Lin's reading of the Passacaglia is grand and sweeping (not to mention very well-voiced). It's also smartly shaped, with the concluding bars providing a strong sense of catharsis. Likewise, Mad Rush comes over in flowing, elemental paragraphs.
It's in the smaller pieces where some literalness creeps into Lin's playing. Vikingur Ólafsson found more warmth and nuance in his approach to Glasswork's "Opening" than does Lin, and the droll Modern Love Waltz doesn't have much meat on its lean bones (though that perhaps owes more to Glass than anyone else).
At any rate, Lin's performances here don't lack for style or technical command and her recorded sound is admirable, as well. For Glass fans, this is a worthy addition to the catalogue.
---
Jonathan Blumhofer is a composer and violist who has been active in the greater Boston area since 2004. His music has received numerous awards and been performed by various ensembles, including the American Composers Orchestra, Kiev Philharmonic, Camerata Chicago, Xanthos Ensemble, and Juventas New Music Group. Since receiving his doctorate from Boston University in 2010, Jon has taught at Clark University, Worcester Polytechnic Institute, and online for the University of Phoenix, in addition to writing music criticism for the Worcester Telegram & Gazette.