By David Gullette
The two books reviewed here represent the launch of the reborn Black Sparrow Press under the auspices of David R. Godine, Publisher. Very exciting. Let's give them a big warm Boston welcome!
geode by Susan Barba. Black Sparrow Press, 96 pages, $17.95.
Wicked Enchantment: Selected Poems by Wanda Coleman. Edited & Introduced by Terrance Hayes. Black Sparrow Press, 224 pages, $24.95.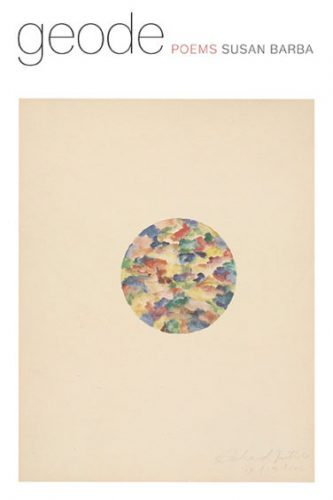 When John Martin, who had founded Black Sparrow Press in L.A. in 1966 hung up his hat in 2002, rather than let the imprint fade away, he sold it to Boston's David Godine for $1. Black Sparrow had published writers such as Charles Bukowski, Paul Bowles, Andrei Codrescu, Robert Creeley, Robert Duncan, William Everson ("Brother Antoninus"), D. H. Lawrence, George and Mary Oppen, Sam Shepard, Joyce Carol Oates, and Diane Wakoski. Recently two new Black Sparrow titles came over the Arts Fuse transom: Susan Barba's geode, and Wanda Coleman's Wicked Enchantment. According to editorial director Joshua Bodwell, this event signals the relaunch of Black Sparrow Press. As such, it is a propitious moment for American poetry.
It's a cliché that American poets inevitably trace their lineage either from Emily Dickinson or Walt Whitman. It's a lazy concept, but let's try on that permeable mask for a spell and see what more complex truths penetrate it.
As I began to read geode, I wondered, "Where's the poet?" Susan Barba's opening interest is in the earth, the physical landscape, its elemental elements, including rocks in a range representing "two hundred and fifty million years of mountain." Up in the mountains themselves "In a side canyon water winds through petrified waves. / Time eats its walls." We seem to be hearing echoes of Robinson Jeffers's misanthropic imagining of a world without human beings. People are referenced only indirectly, in passing, a source of useful similes: "the early earth was silent / like a mind spinning / to recall a word a word / it lacks frequencies to hear // for every articulation, renunciation / for every erection, burial / stones cast / into the crucible of compression / then the slow uplift // of syllables / jasper, quartz, obsidian / speaking of earth."  So in this cool view, the natural (geological) world has its own nonhuman language, "but the mineral / alphabet does not begin / with / anthropos."  Still, this austere impersonality has its rewards: there is a Dickinsonian compression of thought going on here; the lean and mean exclusion of superfluity means there is focus and precision. With Barba, there's no flab: every word counts.
geode (think Geo-Ode) is tightly organized in four parts: after a short two-poem intro, the first three units ("x," "y" and "z") are composed of nine poems each. Evoking clinical impersonality, "x" has eight poems named (in order) "Exhibit 1," and so on, capped with the solitary "Ore."
The impatience with human activity becomes a leitmotif:
Darwin compared our knowledge
of the structure of the earth
with chickens scratching in the corner
of a hundred-acre field
Levi-Strauss proposed the study of
entropology, our hurry
to disintegrate, blithely
breaking down all structure
Humanity in this view promotes the propensity of things in the human sphere of reference to stumble into disorder. In "y" an unnamed woman appears:
She was not speaking
To her neighbors
Who'd raz'd the forest
Next door for sport…
she planted protests
but they were unnumbered
and the mayhem
was unnumerable
Finally, in "Recoil" the first-person appears. The poet sees a woman in the parking lot wheeling "by fits and starts / four purple suitcases." Poet walks past her to her own car, turns toward the woman, and out of the blue the other snaps: "Lady,  / I don't need / your rotten help," words that, the poet tells us, "destroy / my thin idea of us, my tissue- / paper rose / … As if we were / at war, as if my hand extended / held a gun."
"y" next offers a bit of ventriloquism, a "Letter from Gaia," the earth herself, who wonders "How can I turn my back / on my children? They want nothing / less than my absolute // subjugation." Gaia enumerates what she has made—"rain wind dirt light grasses sedges clouds rivers oceans glaciers…"—a substantial list, because "What I have made is what I am." But her children (that's us) destroy every natural thing, because "They are addicted to / ephemera."
Barba has a surprise ending for the "y" section, a 12-page poem entitled "River," whose subject is the multiyear attempt to establish legal standing (and the ability to sue) for the condition of the Colorado River Ecosystem — an entire "14 million-acre-feet river flowing from the Rocky Mountains to the Pacific." The poet regales us with wonderful lists of every species of snail, minnow, grass, bird, tree, or mammal in the Ecosystem, tells us what the river means to her personally, and then gets to the nub of her project:
What the river in court claims for itself is this:
     The dominance of a culture that defines Nature as property enables its destruction.
She catalogues the entropological destruction of the river's complex essence, and then quotes Justice Douglas's crystalline 1972 remarks on the issue of the river's "legal standing":
Contemporary public concern for protecting nature's ecological  equilibrium should lead to the conferral of standing upon environmental objects to sue for their own preservation.
The poem then moves to a series of catalogs — the positive legislation to protect natural environments, the collusion between universities, private industry, and government to pollute the environment…. So the poem reveals its unapologetically polemical stance, what you might call polemical lyricism, or lyrical polemics (although the actual standing of the Colorado River as late as 2017 seems, at the poem's ending, to be stuck in some judicial limbo). But it's a glorious tirade.
The "z" section of the book is looser and more personal, including an extremely skinny "Wide Margin Love Poem," and a meditation on the Interstate Highway System: "Was it the Eisenhower Act that brought / the throughway running past the once great house?"
The final section, called "I," consists of three poems, the last entitled "Final Letter of Stone" — and goes back to the geological focus that began the book. As though reversing her earlier insistence on a Colorado catalog, she invites us to
forget ferns, moss
forget british soldiers, greenshield
lichens of the hoarstone
red rock has millions of years on them
not the redwall of the north rim
surface red
milkstone
but the epic redbed
Mixing clear-eyed minimalism with a passion for the physical world, Susan Barba's blesséd rage for natural order is the perfect music for our coming battles to understand and protect our world and heal the wounds inflicted by previous (and current) generations.
---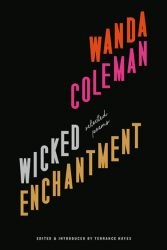 Wanda Coleman's Wicked Enchantment is quite different. Here is a wild, extravagant, sexy, agonized, rhythmic, physical, inventive, shameless Song of Herself, a rich bluesy Californian outpouring of confession, memory, and lament. Wanda Coleman was the Bard of L.A.  She died in 2013, after a multidecade flood of books (I count 17 in 30-plus years — most of them published by Black Sparrow Press).
This collection of her poems from 1979 to 2001 has been selected and introduced by Terrance Hayes, and for those who don't know about the range and richness of Coleman's work, this book needs to be on the shelf of everyone who cares about American poetry.
Wanda Coleman came out of Watts (her mother cleaned houses in L.A., including that of Jane Wyman and Ronald Reagan — she quit when Reagan refused to raise her compensation). As a schoolgirl Wanda found relief from daily racism by burying herself in books. By the '70s, "divorced and on my own," she was drawn to Disco, Black Sabbath, David Bowie, Alice Cooper, Bob Markey, Taj Mahal, Otis Redding, but also to jazz, in particular Herbie Hancock (much of her poetry is driven by powerful musical undercurrents). As a reporter for The Los Angeles Free Press she covered a fundraiser for "then-incarcerated Black Power Movement heroine Angela Davis.… As a result of my report I would be secretly boycotted from Journalism for the next ten years."
As for her poetry, the influences are multiple:
Eager to make my mark on the literary landscape, I got busy finding the mentors who would teach me in lieu of the college education I could not afford. As a result, I have developed a style composed of styles sometimes waxing traditional, harking to the neoformalists, but most of my poems are written in a sometimes frenetic, sometimes lyrical free verse, dotted with literary, musical, and cinematic allusions, accented with smatterings of German, Latin, Spanish, and Yiddish, and neologisms, and rife with various cants and jargons, as they capture my interest, from the corporate roundtables to the streets.
Readers of Wicked Enchantment are lucky that Hayes has included as part of his introduction of Coleman some passages from The Riot Inside Me (2005), in which she maps out her development as a poet. When she sent her first "painfully retyped manuscript" to Black Sparrow Press in 1972, it was quickly returned. But soon after that, publisher John Martin "steered me first to [Diane] Wakoski and months later to Clayton Eshleman. In the meantime I had become a Bukowski fan, trying to imitate his style… [but] my approach to language was, at root, radically different from Bukowski's.… Bukowski was tone deaf. And I loved the musical lyricism of writers like Neruda, Robert Louis Stevenson, and Brother Antoninus (a/k/a William Everson, who would eventually displace Bukowski as my favorite). I was also enthralled by the plays and poetry of Amiri Baraka (LeRoi Jones)."
The first of Hayes's selections are from that debut book, Mad Dog Black Lady (1979) and it is high-volume and in-your-face from the get-go. In "Wanda in Worryland" we learn:
i have gone after people
with guns
once I tried to hang myself and got terribly ashamed
afterwards because I was really faking it
i have gone after people
with rocks
i have cursed out old white lady cart pushers in
in supermarkets who block the aisles in slow motion
i have gone after people
with my fists
i have walked out on pavlovian trainers who mistook me
for a dog
i go to sleep and have dreams about falling
and can't stand the suspense so I sweat it out
and land on my feet
i have gone after people
with poems
In "They Came Knocking on my Door at 7 a.m." she is in bed with a lover when the police bang on the door, with a warrant for her arrest: "coitus interruptus LAPD is a drag."
i showed 'em alias #3
they said "oh, well where is she?"
i said, "man, she was staying here, but she
hooked up with some niggah and split"
Police leave, she returns to bed:
i laughed, took off the rag i was wearing
eased into the sheets next to you
we started fucking again
but things had changed
That wry final line is like a primer in what it means to be a black woman in America.
Coleman is, to borrow a line from Whitman, "an American, one of the roughs, a kosmos." How many other poets can you think of who can say: "My anger knows no bounds — it's unlimited. I'm a big lady, I can stand up in front of almost any man and cuss him out and have no fear — you know what I'm sayin'? Because I will go to blows."
This rich collection drawn from over 20 years of Coleman's work makes it hard for a reviewer to pick out the high points.  But here's a sampling.
From "My Love Brings Flowers" (1983):
he comes in with a bouquet of smiles
i love him for the first time again
down to dirty sheets and stinky socks
down to unpaid bills and beans 4 times a week
to the bone
to the blood rose
From "The Saturday Afternoon Blues" (1983):
Can kill you
Can fade your life away
Friends are all out shopping
Ain't nobody home
Suicide hotline is busy
And here I am on my own
With a pill and a bottle for company
And a heart full of been done wrong
From "Male Order Catalog" (1987):
gold & rust brown double-breasted floral print broadcloth tailored
jacket with inset pockets, a gangbanged girl drunk off reds left it behind
size 10. A1. Steak sandwiches. Silver Satin Bitter Lemon
reds and tuinal. Jazz. A gift, classy, me strutting my stuff down
the court walk
fake gold lamé-look knit sleeveless pantsuit, size 14. Doubled as
mini-dress with peek-a-boo button down front. Bo. Pork chops.
Colt 45 and hashish. Rock & roll. $22.50. my hips ground into his crotch
love at first bite
From "Essay on Language" (1987):
blacks think in circles she said. No they don't
i said it too readily, too much on the defense. Of course
blacks think in circles. i think in circles
why did I feel it necessary to jump on the defensive. defensiveness
is sure sign of being gored by unpleasant truth
From "Heavy Daughter Blues" (1987):
the voice of our millennium is a niggah junky
gagging on stage
to heart-felt bass & trombone
pissing rhythmically in his jock
snot running into his forbidden funky os
now that machines have finally taken over
we can get into something serious
like art
I could go on and on, quoting great Wanda lines through the decades, but you get the idea. This is a big, bold no-holds-barred American voice, and you'll need to buy this book and read your favorite Wanda poems aloud — about Emmett Till, about her raggedy-ass old car, about giving birth, about South Africa, about her body and her dreams, about this country we all live in, as she did, seeing herself "thrown heart first into this ruin." Aloud, because she is a poet for the voice more than for the page. Is she in the lineage of Whitman? The question is absurd. She is large, she contains a multitude of influences and inventions that Uncle Walt couldn't have dreamed of.
And I note in passing that Coleman has a poem entitled "Pseudo Dickinsonian Cento Blues."
As mentioned above, the two books reviewed here represent the launch of the reborn Black Sparrow Press under the auspices of David R. Godine, Publisher. Very exciting. Let's give them a big warm Boston welcome!
---
David Gullette is Literary Director of The Poets' Theatre, and is Professor Emeritus of English at Simmons University, where he and Brother Antoninus (previously invited to give a reading) wept in each other's arms at a Simmons event to grieve over the assassination of Martin Luther King, Jr. in April 1968.