By Peg Aloi
A fun and original slasher/romp that lovingly embraces a number of '80s horror tropes.
We Summon the Darkness, directed by Marc Meyer. Now streaming on Amazon Prime and Google Play.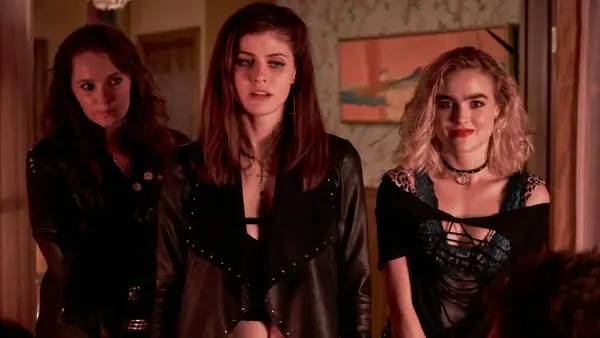 Remember 1988? That was the year Michael Dukakis ran against George Bush. It was also for all intents and purposes a time that saw a real ramping up of the Satanic Panic. That was a conspiracy-driven cultural phenomenon with roots in the late 1960s and '70s; its spread was driven by horror films of the era that portrayed modern witchcraft, occultism, and yes, satanism, as ingredients in a paranoid fantasy. The idea was that people dabbling in the above belief systems were committing mayhem in the form of kidnapping, rape, torture, and murder. The origin of this fear partly lies in the Manson murders of 1968. Manson was no satanist, not even an occultist. But he did lead a cult of young, easily manipulated outcasts who gladly did his bidding — to the point of committing violent murders in California. Somehow the pop culture trappings of the occult, seen in movies and magazines of the day, were mixed in with the language of religious cults. This confusion led to rumors that satanic cults were responsible for any number of brutal crimes. Of course, it didn't help that Rosemary's Baby, Roman Polanski's popular 1968 film (based on Ira Levin's best-selling novel), featured devil-worshiping, baby-stealing witches in the form of some dotty old eccentrics who might well be living next door.
The Satanic Panic was so widespread that many aspects of American culture were affected. For example, a number of heavy metal rock bands used satanism and the occult as theatrical gimmicks. Album producers were required to paste warning labels on album covers. The idea was to alert buyers that the disc's explicit lyrics, through they often glorified Satan and the occult — even if only in a tongue-in-cheek manner — might harm impressionable young people. Of course, adolescents loved the rebellious nature of this music. Some of these disaffected kids dressed in black, and wore pentagrams and anarchy symbols on their jewelry and T-shirts. Some self-styled themselves as satanists. Even Dungeons & Dragons players were thought to be dabbling in something potentially dangerous. (If you're interested in reading more I wrote about it here)
Now comes a black comedy/horror thriller that recreates that time and reimagines the roots of Satanic Panic in a clever way. Directed by Marc Meyer (My Friend Dahmer) from a script by Alan Trezza (Burying the Ex), We Summon the Darkness beautifully recreates this halcyon era of decadence, a time when rock concerts, possibly inspired by the short-lived but volatile punk era, had morphed into bacchanalian festivals of thrashing and alcohol, far removed from the mellow, marijuana-laden Dionysian love fests of the previous decade (well, okay, yeah, there was Altamont). I came of age during this period, and when the scene in the film came along in which a few kids, just barely out of high school, reminisced about their first concerts, I had to nod my head at the guy who fondly humble-brags that his was "Ozzy…Diary of a Madman" —  because that was MY first concert!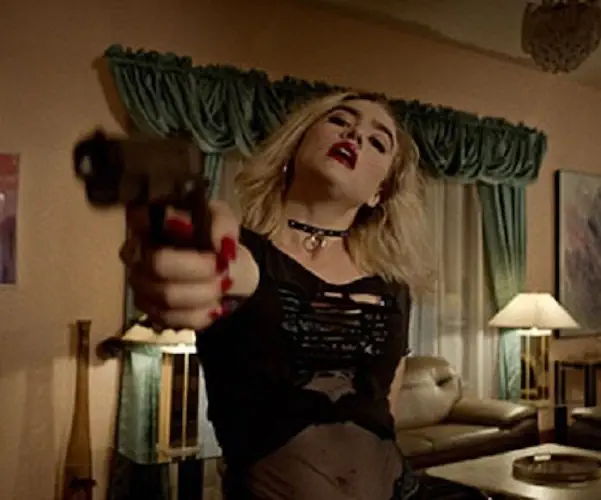 As the film opens, Alexis (True Detective's Alexandra Daddario), Val (Twisted's Maddie Hasson), and Beverly (Amy Forsyth, of Defiance and The Path), are on their way to a heavy metal concert somewhere in the Midwest. Clad in picture-perfect heavy metal fashions, the women hear on the car radio a news story about a satanic cult murder, the latest in a series occurring around the country. Alexis wants to listen; Val asks to change the station; Bev is quiet. Someone in a passing van throws a chocolate milkshake on their windshield. They are annoyed, clean the mess off, and head to the gig, which is at a rural location in a nondescript building. Once there they recognize the van that passed them and confront the three young guys in the parking lot. Turns out that the trio are in a band of their own: hottie/nice guy/guitarist Mark (Keeann Johnson, Guidance), tough but lovable bear and drummer Ivan (Austin Swift), and class clown/lead singer Kovacs (The Walking Dead's Logan Miller). At first the girls are mad, but the guys are smitten, naturally. Mark's apology endears him to shy Bev, while Alexis and Val take turns mocking and flirting with the other two guys. After the show, and a few beers, Alexis invites the rockers to her father's house, where they're staying. The guys follow them to a luxurious compound in the woods.
But the weed-fueled make-out sessions the guys expect do not, alas, comport with what the girls have in mind. We're now in horror territory, but the proceedings still manage to be pretty funny. Turns out the girls have some special plans for their victims, starting with a memorable game of "Never Have I Ever" around the fire pit. Note: that wasn't really a game in 1988; we were still playing "Truth or Dare" in those days. This is one of a small number of minor anachronisms that keeps the film from ringing completely true to the era. Apart from that, and a lack of convincing motivation for the girls' actions, We Summon the Darkness is a very entertaining send-up of a memorable cultural era, particularly the strange rumors of evil that permeated it. I don't want to give away the main plot twist here, but it offers an intriguing variation on the usual heavy metal satanic cult murder narrative. The young actors are more than up to the task here, especially Daddario, whose 1970s-era Ivory Girl looks and pitch-perfect timing and facial expressions make her character a compelling ringleader for this fun and original slasher/romp that lovingly embraces a number of '80s horror tropes.
---
Peg Aloi is a former film critic for the Boston Phoenix and member of the Boston Society of Film Critics. She taught film studies in Boston for over a decade. She writes on film, TV, and culture for web publications like Vice, Polygon, Bustle, Mic, Orlando Weekly, Crooked Marquee, and Bloody Disgusting. Her blog "The Witching Hour" can be found at themediawitch.com.