The tragicomic idea is that the existential futility of Franz Kafka's world reflects life in the theater. The characters gloriously quixotic love for the stage battles against commercial greed, egomania, and psychological mess-ups.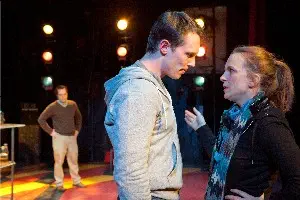 The Understudy by Theresa Rebeck. Directed by Larry Coen. Staged by the Lyric Stage Company of Boston at the 140 Clarendon Street (2nd floor), in Copley Square, Boston, MA, through January 29.
By Bill Marx
For the past few months, the Lyric Stage has gone literary, proffering back-to-back productions inspired by classic authors, from David Edgar's lauded 1980 RSC adaptation of Charles Dickens' novel The Life and Adventure of Nicholas Nickleby to the Boston premiere of The Understudy, Theresa Rebeck's comic take on life in the theater via an apocryphal play by Franz Kafka. The former is an exhilarating celebration of its muse; the latter offers a more confusing view of its cryptic source.
The two-part production was an act of artistic hubris that paid off impressively. At times broad and/or ragged around the edges, the epic production contained a number of strong performances (standouts included Jack Cutmore-Scott, Nigel Gore, Leigh Barrett, Jason Powers, and Will Lyman), culminating in a powerhouse vision of social isolation leading to self-destruction.
Filled with gumption, guts, and talent, the whirlwind staging, directed by Spiro Veloudos with an assist from Courtney O'Connor, caught Edgar's affectionate homage to the imaginative sweep and innocent social conscience of Dickens's early novel. I wish Edgar had brought in a touch of satire from time to time, especially given that the book's do-gooders, the Cheerybles, pray for more poverty and despair for them to alleviate (they are disappointed there is not enough suffering). Early in his career, Dickens's obsession with magically righting wrongs ran into absurdity.
Edgar loves Dickens, but what does Rebeck feel for Kafka in her pleasant if thin comedy? The premise is that a newly discovered Kafka play, cast with two Hollywood film stars—one successful, the other a mega-celebrity—arrives on Broadway and becomes a hit. Harry, a neurotic understudy, comes to rehearse scenes with one of the leads, Jake, who has just earned millions for snarling while holding a gun in an action film. The jealousy and competition between the two performers becomes complicated with the arrival of the stage manager, Roxanne, who not only was formerly an actress but shares a traumatic romantic past with Harry and perhaps has a yen for Jake, who for all his Tinsel Town airs wants to be taken seriously as an actor.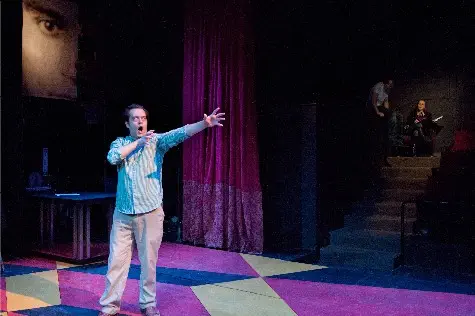 The rehearsal does not go well—it is interrupted by temper tantrums, bursts of insecurity, missing props, ironic kisses, and heartfelt confessions. The tragicomic idea is that the existential futility of Kafka's world reflects life in the theater: God never explains Himself in Kafka; the all-powerful mega-star, Bruce, never appears in The Understudy. The characters' quixotic love for the stage battles against commercial greed, egomania, and psychological mess-ups. Harry and company are willing to sacrifice a lot, personally and professionally, for the sake of accomplishing something of value.
Yet is what they are doing of value? The scenes from the Kafka play, shreds of material lifted from The Castle and The Trial, come off as mediocre parody at best. (Would Kafka really write a play that simply drew from his unfinished novels?) And the "inspired" performance choices of the understudy, which elicit admiring gasps from Jake, are not all that compelling either. At one point, Roxanna launches into a rant about how Kafka needs more women and sex. Is this just a comic riff? Is the Kafka play part of the joke? We have to take it in earnest because Rebeck could have made the play-within-the-play a kitschy adaptation of Kafka's writings — but she wants the script to be the "real" literary find. The uncertainty highlights The Understudy's stereotypical view of Kafka's vision: instead of a fresher, more contemporary approach (Kafka as haunted Jewish author), here he stands for lives victimized by gloom and guilt, his art elevating accidie into a status symbol.
The real existential inspiration for The Understudy isn't Kafka but Jean-Paul Sartre. Rebeck has penned a backstage dramedy version of No Exit: "Hell is other theater people." As in the Sartre drama, a trio of people are bound together for inscrutable reasons, their encounters generating memories, envy, sex, fears, frustration, humor, and blasted hopes. And that sense of desperate entrapment drives the characters into sharing their pain with each other. But the angst never seriously sticks because Rebeck's bumpy script jumps from farce to sit-com to melodrama to satire back to farce, culminating in a dollop of sentimentality at the end.
Rebeck's backstage comic gimmicks generate some laughs. Even when performers leave the stage, they can't exit the interminably frustrating situation: they overhear what the others say on stage via loudspeakers placed throughout the theater. Rebeck uses that device, as well as the hapless behavior of a stoned techie who continually misses lighting cues and drops down scenery at the wrong time, to create a sense of the stage as a series of booby traps.
Still, the yokey stage machinations wear out their welcome, even in a 90 minute play. (Wouldn't  these stage vets realize at some point that he or she can be overheard on stage and tell a lie or two?) The japes about the superficiality and indifference of Hollywood stars are aimed at familiar and easy targets. And since we don't know how to take the Kafka play, notions of 'the sacrifice we make for art' become increasingly tenuous.
The Lyric Stage production provides solid support with a trio of performers who invest their characters' weaknesses with passionate energy. Director Larry Coen searches for, and sometimes finds, an approach that smooths over the script's uneven mix of  gags and pathos. Laura Latreille's slow burn bursts into incandescent anger, while Christopher James Webb's Harry is an amusing nebbish, though he never convinces that there is a first-rate actor buried underneath the bedeviled character's fussing and noodling. Kelby T. Akin manages to make the surprisingly innocent Jake a plausible image of a Hollywood performer dreaming of becoming more than a pretty face. The Understudy yearns to be more than a mild backstage comedy, but it falls short.