By Steve Provizer
Listeners familiar with Lennie Tristano's earlier work will find there are a few surprises on this disc.
Lennie Tristano: The Duo Sessions, Dot Time Records.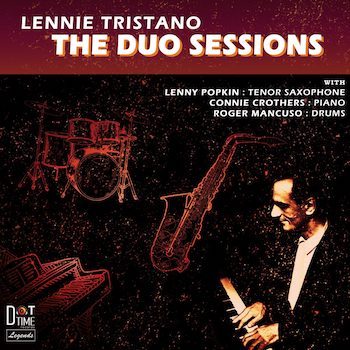 Jazz doesn't have many éminences grises. Either a musician's influence is widely acknowledged, as in, for example, Louis Armstrong and Charlie Parker, or a reputation is maintained by way of a subtler stylistic bleed-through, which is common. There are differences of opinion about the importance of pianist Lennie Tristano. His adherents hail the school Tristano developed as an important alternative to the bebop modality. His denigrators find his approach somewhat cold and hyper-intellectualized, its reverberations limited. Most jazz musicians and critics — myself included — fall somewhere in between.
As a teacher, Tristano was indisputably prolific and admired. While pianists Teddy Wilson and Mary Lou Williams took traditional jazz mentoring to a higher level in the late '30s and '40s, Tristano evolved a systematic pedagogy, which put him in the first wave of those who codified the kind of jazz instruction that became available in places like the Schillinger House (later the Berklee School, then College, of Music), Texas State University (now the University of North Texas), and the Lenox School of Jazz. Between the '40s and the '70s Tristano taught over a thousand students. His most famous pair  — with whom he would play for many years — were saxophonists Warne Marsh and Lee Konitz.
Tristano arrived in New York City in the mid-'40s and his recordings from that time prove that he was already a virtuoso. He'd thoroughly imbibed the lessons of Art Tatum. However, he made use of chromatic harmony in a way that Tatum never did; and he was much more interested in engaging in conversations with his sidemen than Tatum was. Tristano was also adept in the use of double time and had mastered the block-chord style. As the '40s moved on, the pianist continued to build on his ideas about harmony, rhythm, and the interactivity of group improvisation. He asserted a singular voice on piano and, as a leader, extended that distinctive voice to his ensembles which, along with the "Birth of the Cool" vision of Miles Davis and co., constituted the main alternatives to Bird/Diz/Monk's bebop.
On the plus side of Tristano's column is the fact that he was an early adopter of new recording technology. "Sidney Bechet's One Man Band," which the saxophonist recorded in 1941 and on which he plays every instrument, is acknowledged as the earliest (pre-tape) overdubbing effort in jazz. (The American Federation of Musicians, fearing lost revenue for musicians, banned overdubbing for years). Guitarist Les Paul, a pioneer in audiotape manipulation, had a hit in 1950 with How High the Moon. Tristano made a trio recording in 1951 and, after the session, overdubbed himself on piano. We have to wait until Bill Evans's "Conversation With Myself" in 1963 before we hear a similar effort. Tristano's multitracked 1953 recording "Descent into the Maelstrom" was notable for more than technical reasons, but I'll get to that later.
Those who question the elevation of Tristano into an eminence grise point to the somewhat truncated emotional sensibility of his music. From a technical standpoint, he often plays in the middle and lower-upper registers of the keyboard, especially when performing with a drummer at fast tempos. His repertoire is, for the most part, based on jazz standards, often done as contrafacts. That is, new melodies are constructed on top of the harmonies of standards — a time-tested way to avoid paying royalties for the right to record a song. The listener, familiar with the tunes as written, knows where a melody should either rise to a climax or rest, and how the harmony should support the melody. But the new lines that Tristano creates usually have nothing to do with these familiar harmonic-melodic contours. Of course, he may not have deliberately chosen to deny the listener a satisfactory emotional release. Or he may have been indifferent to traditional emotional payoff. Tristano worked to free himself from the musical constraints of bebop, and in the process he built a rich musical vocabulary. But, because he accepted the fixed boundaries of the shared language of the day, his music often occupies a somewhat neutral no-man's-land.
This release — Lennie Tristano: The Duo Sessions  — consists of 16 previously unreleased recordings made after Tristano's last public appearance in 1968. The pianist has a history of performing in ensembles of various sizes: this recording features duets, with tenor saxophonist Lenny Popkin, pianist Connie Crothers (the only piano duo ever recorded by Tristano), and drummer Roger Mancuso.
The first set features Tristano with Lenny Popkin and the first tune is "Out of a Dream," based on "You Stepped Out of A Dream." Popkin is a light-toned tenor saxophonist, solidly in the Lester Young-Warne Marsh lineage. In this song — as in all the tunes in this set — Tristano's accompaniment is very active. Popkin follows the pianist down many winding harmonic byways and there is some back and forth in the line playing. Tristano's solo exudes a nice free quality. He seems more willing at this point to suspend time and follow riffs into new permutations. It was also a surprise to hear a Thelonius Monk influence, which isn't noticeable in Tristano's earlier recordings. Note that on several tunes in this set, including this one, the song fades out during a solo.
"Ballad": It's a strange sensation to be listening to a tune that is a ballad in terms of tempo, but which, for several choruses, doesn't have the other qualities of the genre; it's more an exploration of the idea of a ballad. The harmony is seriously stretched. Finally, in the last chorus, the duo settles into more familiar points of tension and relaxation. Again, I hear Monk in Tristano's touch — in eighth-note playing, not in his chording. Tristano does have a contrafact based on the chords to "I Should Care" called "Ballad," but here the tune has been so deconstructed that I didn't recognize it as such.
"Chez Lennie Is All the Things You Are": Tristano plays imaginative and forceful accompaniment and Popkin is clearly old friends with these chord changes. As in most of the tunes in this set, there are moments when the two of them take off on abbreviated flights together. In the pianist's solo there are on occasion a few bars that sound like they might be played by any competent jazz pianist. But then some unique Tristano fillip emerges to take the listener back into his distinctive language.
"Inflight" is "Back Home in Indiana." It has no piano solo, and "Ensemble" features a chase sequence of a kind. "Melancholy Stomp" is "Melancholy Baby" taken up-tempo. It provides the best example of interplay between the two musicians. Tristano really dissects the chords. They make use of a few guideposts; sometimes they finish phrases and go right to the next without a "turnaround" — they are altering chords all the time, stopping time. There are some stretches of out-and-out bi-tonality. As mentioned, most of the tracks from this set end precipitously or fade out, but this tune proffers a satisfying ending.
Next are two tracks featuring Tristano and pianist Connie Crothers titled "Concerto, Parts 1 and 2." The audio is muddy. I assume that this was originally recorded in mono and it's mixed so that we hear the two pianos in both tracks, which makes it difficult to tell which pianist is playing. There's a free opening with one piano, then both enter, one in melodic fragments, the other playing insistent chords. A brief transition brings in a slower section. One has the feeling that tunes or "motifs" have been used as the through-line for this concerto, but it's hard to tell what they are, refracted as they are through the recording's dense lens. Some of the motifs seem to have been timed to be played together, although it's possible that the pianists simply found their way into lock step. The touch of both pianists is similar and the sound quality and nature of the mix makes differentiating them difficult.
"Concerto Part 2" follows a similar pattern as Part 1, although there seem to be fewer landmarks and more impromptu stops along the way. The tune closes in a similarly free way. There are sections of this track that are truly free; in fact, they recall a home recording the pianist made in 1953 which I alluded to earlier entitled "Descent into the Maelstrom," based on an E.A. Poe theme. In this liberated outing, Tristano pulls out all the stops; this is a passionate, forward-looking dive into free playing of the sort that Cecil Taylor later acknowledged: "I was playing my pieces with an eye to changing things, using what I learned from Tristano and others…"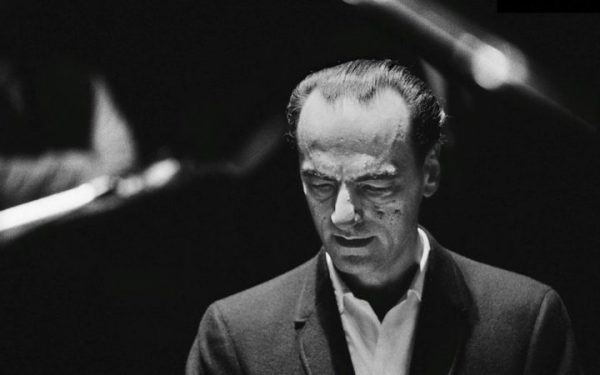 The final set of duets presents Tristano with drummer Roger Mancuso. I'd characterize the audio for this set as being of "good rehearsal tape" quality. Throughout these tracks, Mancuso excels doing a swing style. Sometimes, as in this session, when Tristano plays with a drummer who supplies an up tempo, he sticks even closer than usual to the middle register of the piano, and that limits his expressive possibilities. The first tune, "Palo Alto Street," is based on "It's All Right With Me," and on it Mancuso takes his only drum solo. It's only slightly elaborated beyond basic timekeeping, but whenever Tristano used a drummer that is what he wanted — timekeeping.
"Session" is based on the chords to "What Is This Thing Called Love?" Mancuso provides interesting support, giving Tristano a solid foundation to work with. A nice swinging feel develops — a relaxed vibe. There will be some who might miss having a bass player, but I don't agree. Be prepared for the ending of this and a number of other tunes to be cut off.
"Changes" is "Out of Nowhere" and "My Baby" is another go-round with "My Melancholy Baby." "Imagery" is based on "You Stepped Out of A Dream" and "That Feeling" is "That Old Feeling."
"Minor Pennies," known on other recordings as "Pennies In Minor" is "Pennies from Heaven," taken by Tristano in a minor, as opposed to a major, key. Maybe it's raining half-pennies? The muted approach adds an overcast feeling to this sunny standard. The pianist is a powerful force here, albeit one who seems to want to usher us gently into the dark side.
Tristano's performances on this recording are representative, but listeners familiar with his earlier work may find a few surprises: the increased influence of Monk, more dead stops and playfulness with riffs as well as the pursuit of free playing in the duos with Crothers, heard in "Descent into the Maelstrom." Drummer Mancuso performs expertly while the blowing of saxophonist Popkin is fluid and thoughtful.
Tristano's exploration of counterpoint, polyrhythms, chromaticism, group interaction, and superimposed harmonies created a unique musical language. The pianist's enthusiasts will no doubt take issue with the qualifications I've raised here, and I may not spark the curiosity of those who are not familiar with the Tristano canon to want to find out what the fuss is or isn't about. But I hope they are intrigued enough give Tristano a try. His playing may not be all things to all people, but the question of whether it touches the heart can only be answered by listening to the music.
---
Steve Provizer writes on a range of subject, most often the arts. He is a musician and blogs about jazz here.