By Peg Aloi
The Lodge suggests that our money, social privilege, and carefully crafted stability are not enough to keep the wolves from the door, or to protect us from the dangers that lurk indoors.
The Lodge, directed by Veronika Franz and Severin Fiala. Screening at Kendall Square Cinema, AMC Boston Common 19, and Cinema Salem.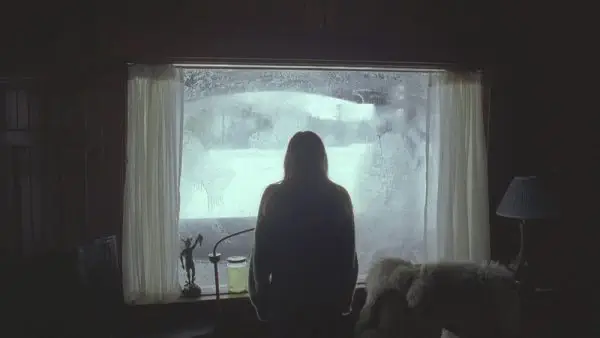 This new film from Austrian co-directors Severin Fiala and Veronika Franz is every bit as atmospheric and terrifying as their debut, Goodnight Mommy. But unlike their German language film, which  did not play very long in American cinemas, The Lodge was made with American audiences in mind. The film even casts well-known actress Alicia Silverstone in a role that seems central, but ends up being very brief. It's impossible to discuss the film's opening minutes without describing a major plot spoiler. Silverstone plays a woman named Laura whose impending divorce, we learn as the film opens, is brought on by her husband Richard's affair with a younger woman. Laura drops off their two children for the weekend with Richard, their father, who tells her he wants their divorce to move along because he is now engaged. Laura is distraught to the point that she kills herself. The moment is utterly unexpected and shocking (I shouted aloud in the theater), partly because it occurs in a quiet and mundane  domestic setting. This horror hangs darkly over the rest of the film.
There's a sad, rather cold-looking funeral scene, and six months after Laura's death Richard (Richard Armitage, who is currently in The Stranger on Netflix) asks son Aidan and daughter Mia if they want to go to their usual Christmas holiday getaway, a lodge in the mountains. The caveat: dad wants to bring his fiancé Grace (Riley Keough, seen in It Comes at Night) along, to "get to know" the kids. Teenage Aidan (Jaeden Martell, seen recently in Knives Out) is horrified — he's not interested. Mia (Lia McHugh) is younger and still grieving deeply. She has a doll collection and one of her dolls, dressed as her mom, never leaves her side.
There is also a large dollhouse in Mia's room that resembles the country lodge the family owns. In its tiny rooms figures play out scenes of horror that are later reenacted. It's a compelling visual device, albeit one that's been seen before via the presence of miniature artists (as in Hereditary and a well-known plot arc in the series CSI). But the frequent appearance of the dollhouse serves as an intriguing reminder that places often absorb our memories and fears. The idea was also vividly expressed in Goodnight Mommy, where the main setting, a modern beautiful home, was in the middle of the woods: its remote location was more terrifying than peaceful.
We see Aidan and Mia whispering as they move things around in the dollhouse. They are bonded in their grief while their father pursues his new relationship. They do some research on Grace, whom their father met when he was writing a book about her childhood as part of a Christian cult, a sect that disappeared via a mass suicide when she was a teenager. Grace was the only survivor. She also bears a physical resemblance to their mother, another painful irony.
Despite Aidan's misgivings, Richard brings Grace along on their Christmas retreat, and she brings her small dog along. She is neither effusively friendly nor hostile to the kids, perhaps biding her time by being unobtrusive. Richard has to leave for several days for work, leaving Aidan, Mia, and Grace alone in the lodge. We see Grace taking pills regularly for an unnamed mental health issue, which she politely but minimally describes for Mia when she asks about it. The three get along in a civil polite manner, sitting by the huge fireplace, watching movies, and enjoying various creature comforts, with Aidan avoiding Grace as much as possible. After what seems to be a few days, during which the house is inundated with windy snowstorms, things begin to unravel. One morning, when the power goes out, Mia opens the refrigerator to discover that every bit of food has been removed. Grace's pills go missing. It seems the kids may be playing a cruel prank. Meanwhile no one's phone works and they're snowed in, living on cold canned beans and crackers.
Without her meds, Grace's mood cracks and her grasp on reality slips. Her intense religious upbringing begins to influence her actions and words and thoughts; her traumatic past surfaces. I'm not sure  The Lodge needed to come up with an intricate backstory about a religious cult to explain why someone deprived of their mood-altering medication would unravel in a remote, unfriendly place, but the context allows for spooky use of visuals.
The most powerful moments in The Lodge are supplied by the fine performances from the trio of actors with the most screen time. Aidan and Mia seem like two ordinary upper-middle-class kids, until their mother's sudden death and their father's betrayal of her memory ignite their resentment, unleashing a complicated sequence of behaviors. It's hard to get a firm sense of who Grace really is: she's all backstory, though Keough portrays her psychological unraveling with precision. As with Goodnight Mommy, metaphor and social commentary are subtly interlinked: the loneliness of modern existence, the potential cruelty of children who feel that they've been wronged, the illusion of safety conjured up by big old sturdy houses. The Lodge suggests how easy the facade can fall: our money, social privilege, and carefully crafted stability are not enough to keep the wolves from the door, or to protect us from the dangers that lurk indoors.
---
Peg Aloi is a former film critic for the Boston Phoenix and member of the Boston Society of Film Critics. She taught film studies in Boston for over a decade. She writes on film, TV, and culture for web publications like Vice, Polygon, Bustle, Mic, Orlando Weekly, Crooked Marquee, and Bloody Disgusting. Her blog "The Witching Hour" can be found at themediawitch.com.