By Jessica Lockhart
The Boston Dance Theater's talented group of dancers spent much of the performance nervously twitching and swaying.
Boston Dance Theater at the ICA Boston, December 13-15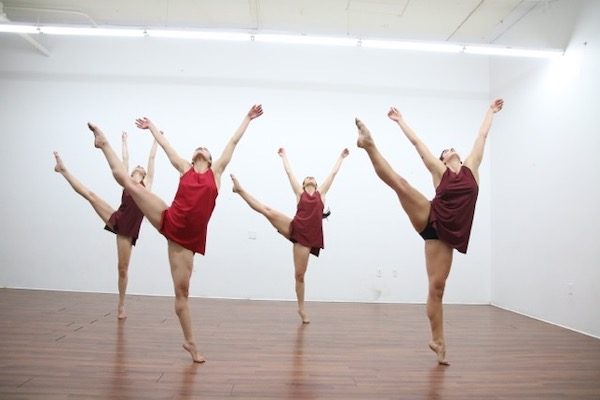 This performance featured four dances by four different choreographers who appeared to have the same theme in mind; exploring the different ways people deal with issues of lost identity and diminishing mental health.
This talented group of dancers spent much of the performance nervously twitching and swaying. There was an overall sense of disorientation as the dancers hunched forward or reached out, searching for something that wasn't there. They also made use of explosive full-throttle movements that displayed their power and control. What was odd was just how how similar the dance steps and gestures were in each piece — given that each had been choreographed by a different artist.
Boston Dance Theater co-artistic director Itzik Galili choreographed a piece made up of selected memories. Five dancers moved subtly throughout the darkened stage, their motions suggesting sorrow. A dancer began to speak: "I cannot erase fiction":  "I cannot erase disappointment." The list continued: "borders, time, narrow-mindedness, fear, religion, memories." The dancers seemed to reflect the melancholy of the dialogue; they seemed adrift, not knowing how they would be able to go on.
"I Had a Thought" continued with this sense of despair. Five dancers supplied robotic repetitive gestures while making screwy faces. In the program notes, choreographer Micaela Taylor writes that she was "inspired by the integrity of trying to stick to a task at hand." A voice on tape repeatedly intones, "I had a thought, what was it?," eventually stuttering and stammering the message. Taylor's choreography draws on hip-hop dance and contemporary pop, but in the piece the dancers looked as if they were mimicking people with ADHD or Tourette's syndrome. One section used campy music, an attempt to make light of the dancers' problems. The implication was that staying on task was causing them to go berserk.
"Women on the Verge" explored the now debunked belief that female hysteria was the result of a medical condition. Again, the choreographer for this dance, Shannon Gillen, chose dance moves similar to what we had seen before — shaking, rocking, frenzied grabbing, and swirling. It's as if all three of these dances made up a suite that explored what happens when people become unhinged.
Marco Goecke choreographed the final dance, and it was just plain silly. Eight dancers hid behind bowler hats and shook various body parts. The men were bare-chested and the women wore a corset-like top with straps hanging down to hold up their nylons. The piece was titled "Peekaboo" and was inspired by the children's game of hide and seek —  but the presentation wasn't comic and playful but confusing.
The dancers in all four pieces were exceptional. The line-up: Olivia Coombs, Jen Passios, Tahimy Miranda, Gabriela Amy-Moreno, Henoch Spinola, Isvel Bello Rodriguez, and Jessie Jeanne Stinnett, who is Boston Dance Theater's artist co-director.
---
Jessica Lockhart is a National Endowment for the Arts Fellow in Dance Criticism and has a BA in Communication from the University of Southern Maine. Lockhart is a Maine Association of Broadcasters award-winning independent journalist. Currently, she also works as program director at WMPG Community radio.