By Peg Aloi
There are few films these days that feel like such a familiar and sorely needed balm for stressful times.
A Beautiful Day in the Neighborhood, directed by Marielle Heller. Screening at Somerville Theatre and Apple Cinemas Cambridge.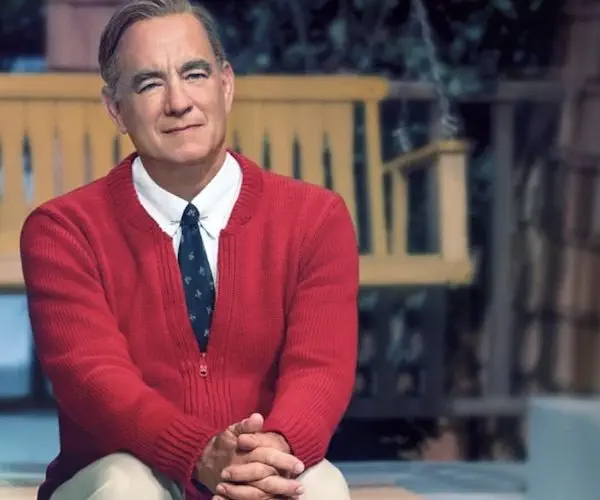 I remember reading an article about Fred Rogers in Esquire magazine many years ago. He had been on the cover, too. I don't remember the entire piece, but two things stayed with me: first, a single sentence paragraph that read simply: "Mr. Rogers is naked." The author was following Rogers around Pittsburgh (where he lived and taped his famous show Mister Rogers' Neighborhood) as he was interviewing him. They went to the gym where Rogers swam laps frequently. He weighed himself, and then turned to the interviewer and explained why he tried to always keep his weight at a constant figure of 143. Partly it was because he'd been overweight as a child. But also the three numerals corresponded to the number of letters in the three word phrase "I love you." This insight struck me hard at the time, and made me realize what a truly wondrous person Fred Rogers was: his candor and compassion were so pure and refreshing, in addition to the tireless, inspired work he did in the world of children's television.
That interview, published in 1998, was written by Tom Junod, and apparently his encounter with Rogers was life-changing. Junod showed up at his first meeting with Rogers with bruises on his face that he received after a dust-up with his estranged father (Chris Cooper in the film) at his sister's wedding. Rogers sees through the man's fib about a softball game injury. Eventually, he is prodded by the television personality to admit what happened. Junod's initial reticence was replaced by fascination as he realizes Rogers is not playing a character; he truly is a strangely kind and wise wizard dedicated to human connection. The two became friends, and that friendship —  and the events that catalyzed it — are the basis for this new film directed by Marielle Heller.
The Americans' Matthew Rhys plays Lloyd Vogel, the journalist loosely based on Junod. Fred Rogers is portrayed by the quintessential nice guy, Tom Hanks, who fully inhabits the role's physicality: that is to say, Rogers' deliberate slowness, his patience and warmth that made him so approachable to many but also somewhat strange and unknowable to others. It's hard to imagine another actor so well suited to this role.
A Beautiful Day in the Neighborhood is not so much about Rogers as it is about Vogel. Still, the story opens with a heart-jolting recreation of the miniature Neighborhood of Make Believe. This framing device anchors the story and supplies a sort of cute yet magical sense of continuity for the action; we are shown toy planes in flight, commuter cars, and even a funeral with a tiny hearse. Anyone who watched the show as a child will recognize the simple, almost crude, sets and models, the tinkling theme song, and the familiar vibe of going to this place for a half hour where things feel safe and people are friendly and supportive. Because that is what we learn about Rogers in this film, if we didn't know it before: that he was tirelessly devoted to making children's lives better, especially children in difficult circumstances.
At first, Vogel is resistant to Rogers's attempts to pierce the journalist's standoffish aura. These encounters feel genuine, despite the otherworldly breadth of Rogers's compassion. Rhys is wholly believable as a man whose anger at his father's desertion is a stumbling block to his domestic happiness. As a journalist, he had a reputation for being difficult to work with. Editor Christine Lahti sardonically reminds Vogel that Fred Rogers was one of the only interview subjects still willing to talk to him. As his wife. Andrea, Susan Kelechi Watson crafts a nuanced performance of a woman who skillfully navigates her husband's emotional challenges. There is sense of looming threat in Vogel's life, a sense that he is  a man who throws himself into his work because his life has become untenable. Rogers points Vogel away from self-destruction; he pushes the man in the direction of the simplest, yet, for Vogel, most terrifying, solution: cultivating empathy and forgiveness..
A Beautiful Day in the Neighborhood is tonally hard to pin down. Sometimes it comes off as an artfully stylized exercise in nostalgia, using the visual lexicon of Rogers' well-loved world to gently but firmly jolt us, we cynical viewers, to a time and place when our young hearts had confusing lessons to learn. I was grateful for these moments and opened myself up to them: contemporary cinema has become one of the most effective means of reconnoitering a shared past. The world of miniature trolleys and puppets gives us access to those moments when Mister Rogers (or other children's television personalities) were there for us, their gentle example teaching us how to weather life's struggles.
It's a return to a more experimental narrative form for Heller, who used animation and voice-over narration in her debut feature The Diary of a Teenage Girl. Her second feature, Can You Ever Forgive Me?, was a straightforward biopic, a very honest film about some decidedly dishonest people. With A Beautiful Day in the Neighborhood, however, Heller's considerable talents seem to have been pulled in too many directions. The film's form seems a bit confused — somehow fluid and compartmentalized at the same time. In one scene it is a domestic drama, then a biopic, then a pop culture fable. This may be a flaw in the writing (a co-written script by Micah Fitzerman-Blue and Noah Harpster, co-creators of the Emmy-winning series Transparent). But the strong performances, the culturally ubiquitous context, and the embraceable story line (who didn't have difficult childhood experiences that affect their adult lives?) give this film a weight and heft that makes up for its shortcomings — there are few films these days that feel like such a familiar and sorely needed balm for stressful times. Indeed, Fred Rogers, who admits he has a temper, may help us to figure out what to do with the mad that we feel.
---
Peg Aloi is a former film critic for The Boston Phoenix and member of the Boston Society of Film Critics. She taught film studies in Boston for over a decade. She writes on film, TV, and culture for web publications like Vice, Polygon, Bustle, Mic, The Orlando Weekly, Crooked Marquee, and Bloody Disgusting. Her blog "The Witching Hour" can be found at themediawitch.com.