By Allen Michie
Let the unimaginative people diddle around with their baseball cards and stamp collections. This is the kind of irrational, eccentric passion that you will be remembered for.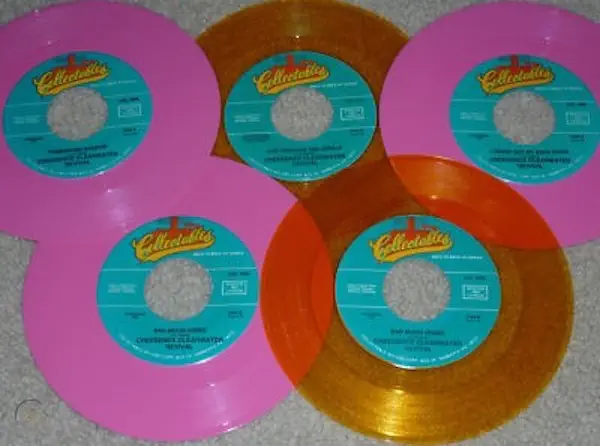 If in the course of your lifetime you have upgraded from singles to 8-tracks to cassettes to LPs to CDs, here's why you should join me in spending lots of money to downgrade your music collection. It's time to go full circle — seven inches in diameter, to be exact — and go all the way back to 45s.
It makes you listen to one song at a time
It changes the way you listen. You listen to one song — just one — then you have to get up, as in physically get out of the chair and walk to the turntable, before you hear another song. (I am assuming that you are not ruining your records by stacking them on one of those antique spindles.) You therefore aren't going to listen to 45s while you're having a dinner party, or washing the car, or making a baby, or doing other activities that place distracting demands on your attention and physical presence. The music, therefore, takes on a different — more immersive — character and purpose.
Take, for example, Carole King or James Taylor songs, easily found on 45. One by one, they can be three-minute masterpieces of structure, wit, atmosphere, and musicianship. Played 10 or 20 or 100 in a batch from a Greatest Hits CD or shuffled on a streaming playlist, what used to be a bracing encounter becomes a warm bath. The little jewels of composition risk becoming a blur of bland, folksy, harmless Adult Contemporary commercialism.
Another example, from the opposite extreme, is novelty records. This now extinct genre once provided a much-needed rude fart now and then on the pop charts. In October 1975, for example, right alongside the dignified chart-toppers like "Fame" by David Bowie, "I'm Sorry" by John Denver, and "Rhinestone Cowboy" by Glen Campbell, there it was, stinking up the charts at a peak of #4: Dickie Goodman's "Mr. Jaws." Listening to an entire album of Dickie Goodman songs, or of Rick Dees ("Disco Duck") tunes, is just unthinkable. It would be irritating and unfunny. Taken one at a time, though, having something like Ray Stevens's "The Streak" come up in rotation is just what you need after a stretch of Sinatra or Diana Ross records.
[Recommendation: "Troglodyte (Cave Man)" by the Jimmy Castor Bunch. Silly stuff, and it is definitely not PC, even by low 1972 standards, but this earworm is as funky as it is hilarious. I heard it in a record store for the first time in about 45 years and was surprised — and a little appalled — that I remembered almost every word.]
The discoveries on the B-side
There are two ways to look at B-sides. The first is that the B-side offered an opportunity for an artist to show off versatility for a wide listenership. The B-side usually stood in opposition to the hit single on the A-side. If the A-side is a dance number, the B-side is likely to be a ballad. Sometimes the B-side is so completely different that it's a head-scratcher. The flip side of Linda Ronstadt's huge 1974 hit "You're No Good" is "I Can't Help It," a straight-up Hank Williams country tune complete with steel guitar, performed with the same powerful authenticity as the bluesy pop smash on side A. Or the Pointer Sisters doing legit, unironic country music on "Fairytale," the inexplicable B-side of the funky "Love in Them There Hills."
The other way to look at the B-side is that it's there to take out the trash. It's a game each time to imagine the motivations. Is the artist mocking our interest in the A-side? Terry Jack's sentimentally serious "Seasons in the Sun" is backed with what may be, without hyperbole, the worst pop song ever recorded — "Put the Bone In." Or is it the artist just going through the motions of fulfilling a recording contract? Sonny & Cher's "Hello," backed with "But You're Mine," is nothing but idle studio chatter about the necessity of having something on the B-side. Or is it just a pretentious misfire? The Four Seasons emptied the dance floor by putting the shapeless and soporific "Slip Away" on the B-side of "December 1963 (Oh What a Night)."
[Recommendation: "Our B-Side" by Three Dog Night, on the flip side of  "Shambala," is a joy to stumble across, not only for the cheekiness of its title and the lyrics, but also for the chutzpah of the material. It's an epic hodgepodge of melodic scraps and various studio effects. It's much closer to something from Monty Python or the Beatles' White Album than anything you'd ever expect from Three Dog Night. There's a passage about a minute in that shifts time signatures four times within just a few seconds, and the band pulls it off effortlessly without losing the groove. Parts of it are downright catchy, and the grand finale is hilariously over the top. Bonus points for the wholly unnecessary children's chorus. It never appeared on anything but the 45 until a compilation CD in 1993.]
Even the cheeseball Muzak stuff sounds better
Would you ever spend actual money on a Lawrence Welk CD? Of course not. But would you spend 25 cents to have a 45 of Lawrence Welk playing the theme to "The Addams Family" as a polka? Oh hell yes. One song at a time, it's a fling, not a lifetime commitment.
Somehow low fidelity and surface noise improves easy listening music. It somehow reinjects humanity, imperfection, and soul into it. The sweet dance bands and territory bands that survived into the '50s, already playing through the gauzy filter of nostalgia for the '30s, somehow sound more in their element played on hardware that approaches the sound of a Victrola horn or a cabinet AM radio struggling to pick up a signal all the way from Kansas City.
Some of the cheesiest music is great fun once the listener is free from the responsibility of making it all the way through a 20-minute LP side or 60-minute digitally remastered CDs. Pick up anything you see from Ace Cannon or Floyd Cramer. The record store will be thrilled to sell the stuff on very competitive terms, and their songs will go through your head for days on end. You can tell it's them in three notes, every time — always the mark of a master musician.
[Recommendation: It might sound like a dodgy proposition, but by all means get your hands on a Mystery Box. Most record stores have them — often a sealed box of 50 45s for $5, or sometimes even more for even less, which you have to buy on faith alone. About half of them will be pretty good, probably lesser hits from big stars, or big hits from the lesser stars, or big hits from the big stars but with the vinyl in bad condition. But the other half will be the unsellable 45s the store picked up as part of a lot. There will be easy listening, moldy oldies, reissues of swing bands from the '30s and '40s, and a fair amount of straight-up Muzak (the Sandpipers, Al Martino, Ray Coniff, Guy Lombardo). You're sure to find some beautiful nostalgic gems from a sweeter and simpler time, like "May You Always" from the McGuire Sisters or "Shenandoah" by Jimmie Dean. What does not amuse can be given to the kids for craft projects.]
It's the way they some hits were meant to be heard
If you are the type who has two complete Beatles box sets, one in mono and one in stereo, then you believe it matters how music was meant to be heard at the time it was released. This also means you need to be buying more 45s. Yes, you can almost always find the tracks on some sanitized CD compilation somewhere, but you're missing the one-two punch of the A-side and the B-side the way it was meant to be heard. Before the era of the dreaded "shuffle play," artists and producers lost sleep and arguments with one another about the delicately fine art of sequencing. Can you imagine "Sgt. Pepper's Lonely Hearts Club Band," "Abbey Road," or "Dark Side of the Moon" with any other track order? For the same reasons, when you hear "Hey Jude," you also need to immediately hear "Revolution," which was the original flip side of that single-only original release. The complements and contrasts are powerful. Love and hate. Resolution and doubt. Peace and violence. Harmony and screaming.
[Recommendation: Fats Domino, "I'm Walkin'" backed with "I'm in the Mood for Love." Fats Domino just sounds better on 45. It's how his records were put out, how they were sold, how they were used, and how they were loved. The up-tempo rhythm somehow matches the speed of the 45 spinning — something you'd never notice otherwise. The dominant mid-range of the horns and drums seem naturally attuned to the kind of speakers you find on AM radios and the record players teens could afford in 1957 (something also true of the early Motown and Stax records, especially that loose snare drum on those Al Green classics). The New Yorker always said that jazz tenor saxophonist Stanley Turrentine sounds great on a car stereo (I've tested it, and they were right). Similarly, Fats Domino, Chuck Berry, Smokey Robinson & the Miracles, and (strangely enough) Hall & Oates all sound better on 45. And they sound better still on a 45 played from a jukebox. You simply haven't heard Fats Domino properly until you've heard him on a jukebox — it's just an empirical fact.] Which brings us to…
If you have 45s, you now have an excuse to get a jukebox
Once you have at least 50 45s, you can now pitch to your family the idea that you are under a cultural obligation to get a jukebox for the den or game room. They're spectacular. They're expensive, but they hold their value and are excellent investments. They're retro beyond hip. You'll have one, your friends won't, and they will be jealous. Jukeboxes are coming back — you heard it here first.
[Recommendation: Anything with bubbles.]
They are dusty, heavy, and they take up lots of space
Once you have a starter set of 1,000 45s, perhaps including the gorgeous instrumental version of "I Want You" on the flip side of Marvin Gaye's vocal version, then you'll have vinyl cred far surpassing that of your aging hipster friends and their collection of expensive 180-gram audiophile LPs played on their zero-gravity blah blah blah.
[Recommendation: Big band box sets. These can be bought for just a few dollars at many shops. Before LPs caught on, record companies packed 3-6 singles at a time from Duke Ellington, Benny Goodman, Artie Shaw, Louis Armstrong, Glenn Miller, and many others into box sets with notes. They're almost always in better condition than most other 45s because of the sturdy packaging.]
They're fun to buy and re-sell
Welcome to the world of crate-diggers! Second-hand stores, Goodwill, garage sales, and used bookstores are often loaded with 45s. Usually people just throw them all in together, so go first for the ones that are in paper sleeves. Also go for the vinyl records with the thinner edge over the styrene records with the thicker edge (here's how to tell the difference). If it looks like it's never been played and is in mint condition, buy it — even if you don't like it. Set up an account at Discogs.com. That record you got for 25 cents may get you $10 or more. Much more. Much, much, much more in some cases. Don't think of it as shopping, think of it as archeology.
[Recommendation: Look out for the regional, private label, and corporate promo records. They may not resale for much because no one has ever heard of them. But, then again, if you can find that special collector who MUST have one, you may have the only one in the world in Very Good+ condition with the original sleeve. They are also often hilarious (intentionally or otherwise) and always cheesy fun. Sometimes they can be quite moving—maybe a bad but sincere little love song that someone wrote for their sweetie and had a dozen copies made from a mail-order company. ]
It takes you back to your childhood
Think back to the blessed days when music mattered one song at a time. No shuffle play on 10,000 albums in your Spotify account. Back when the worn-out grooves on the record indicated how much you loved it. You mentally check off the pops or surface noise as they come along when you listen to the song. When you hear it on CD, it just doesn't sound right — you still know every note, and you still like it, but it isn't YOUR song anymore. This is also true of LPs, but if you are of a certain age, you had 45s before you had LPs. And your parents almost certainly did.
[Recommendation: Don't be too proud to buy Partridge Family records. They sound great on 45 because that's also the way they sounded on your TV speakers in 1972. There were some serious studio musician chops on those sessions, the compositions are packed with hooks, the harmony arrangements borrow from The Fifth Dimension and the Beach Boys and, of course, there's the earnest blue-eyed soul of David Cassidy. You haven't heard some of those songs in decades, but you'll remember them with an affectionate laugh right away, including the B-sides.]
The names written on the labels, the DJ's X's, and the comments
You may have an expertly curated digital collection on iTunes, carefully sequenced with ratings and thematic playlists. But none of your digital files have inked notes on them with DJ's proclaiming comments and ratings ("DO NOT PLAY THIS SIDE!," mercifully, on "Put the Bone In"), or a name written in ballpoint in the flowery handwriting of a pre-teen girl on "Heartbeat, It's a Lovebeat" by the DeFranco Family so it wouldn't get mixed up with anyone else's copy at the sleepover party. A 45 (and this is also true of many LPs) often carries with it a miniature cryptic history of how it was loved or hated, and by whom.
I have a copy of "Candida" by Dawn with the name Susan Darby in Magic Marker along with the note "My first 45 rpm record." I wish I could let Susan Darby know that it's in good hands and still enjoyed.
They make great alarm clocks
Why wake up to the same boring bleat or digital sound clip every day? Get a timer, the kind you use to turn your lights on and off when you're on vacation to defeat those amateur burglars, and hook it up to your record player. Put the needle on the groove of a different record every night, go to sleep, and wake up to 3 minutes of something soulful and groovy. Hipster level achieved: Ninja.
[Recommendation: Sade, "No Ordinary Love." If you absolutely, positively, MUST. GET. OUT. OF. BED. no kidding on time, then it's "Paralyzed" by the Legendary Stardust Cowboy.]
Develop a specialty
I collect Bert Kaempfert 45s. Kaempfert led an orchestra that was cheesy even in its day and would now be considered "lounge" or "exotica." It sounds best in rooms with lots of teak furniture. It would be dreadful on a cleaned-up mastered CD, unless that disc included the sound of dropping the needle and the occasional pop of warm surface noise. But there's something about the signature weird thumpy sound of the Kamepfert electric bass guitar that seems to have been designed for a jukebox. Granted, this is a subjective call — the sound of that bass takes me right back to when I was a kid hearing records on my grandparents' jukebox, using a pool cue as my bass guitar.
Let the unimaginative people diddle around with their baseball cards and stamp collections. This is the kind of irrational, eccentric passion that you will be remembered for. People will always know what to get you for your birthday (no more having to make embarrassing faces of fake delight for misfire gifts). 45s are something the kids can afford. Some wag at your funeral will mention that you were generally a stable person, but that you also had an almost complete collection of Partridge Family 45s. Everyone will smile, nod their heads, and/or shake their heads.
[Final Recommendation: After that funeral is over, it will gradually dawn on your family that they have to find something to do with your collection of Partridge Family 45s. You will have played a great practical joke on them from beyond the grave. They'll eventually sell them to a local independent record store, or maybe they'll donate them to Goodwill. You will have given some other obsessive record collector in a whole different town, maybe thousands of miles away, a welcome rush of nostalgia or discovery. By then your vinyl-summoned ghost will be sure to smile and nod along from over on the B-side of life.]
---
Allen Michie works for the state of Texas in higher education administration. He has a PhD in English from Emory University and is the author of several scholarly works. He writes articles to work out personal issues such as why he feels compelled to collect Bert Kaempfert 45s.