By Susan B. Apel
Cyberspace begins to look like a hostile place for women, as dangerous as a frat party. Females log-on at their peril.
Jordan by Brenda Withers. Directed by Jess Chayes. Staged by Northern Stage at the Barrette Center for the Arts, White River Junction, VT through November 3.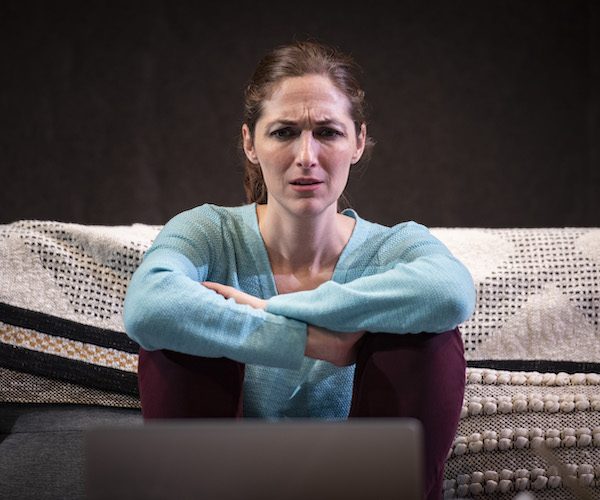 Jordan is a cautionary tale for the digital era, reminiscent of those creepy horror films in which the beleaguered heroine discovers that a threatening phone call is actually coming from inside the house. In this case, however, Lara (Danielle Slavick) let the perpetrator in by simply opening up her laptop.
This world-premiere production opens on a spare white-on-white set evoking, perhaps, The Cloud, that nebulous Internet trove of stored information and secrets. Off to one side, Lara is engaged in conversation at a real-world bar with ex-boyfriend Wade (Ben Beckley). It's a chummy encounter that quickly goes very wrong when Wade recalls a recent sexually explicit conversation he had with Lara that she can't remember. The misunderstanding escalates. It turns out that talk took place online in the middle of the night, the exchange supposedly instigated by steamy texts Lara sent to Wade. She denies it, and realizes that someone, somehow, has hacked her.
Lara goes home to her fiancé Peter (Eric M. Messner) to try to solve the mystery, which only worsens as more men from Lara's past and present declare that they too have received salacious texts and photos from her. As she works harder and harder to unmask the hacker, Lara becomes  increasingly distrustful of those around her. The police are of no help, calling it "a civil matter." Lara, Peter, and their friends can't figure how and why she has been victimized. Could you say that she been assaulted, they wonder, when there has been no physical contact? How do you categorize this kind of crime — and the horrendous harm it does?
The script questions the ubiquity and unhealthy role that computers are playing in our lives. Weren't they supposed to deliver us into some modern techno-utopia of discovery, efficiency, and fun?  But no one, let alone those who control social media at the top, bothered to anticipate the inevitable problems that would arise. The proverbial horse of progress has now long since left the barn. Lara's hacker is faceless, unknowable, and hides behind impenetrable IP addresses. Yet he is still eerily present.
Jordan tells a story about gender and sexuality as well. Because she is the victim of such an expressly sexual cyber-attack, Lara is judged,  as a woman, with insulting skepticism. She is certain that some people believe she may have sent the texts herself. Worse, even those who believe in the existence of the hacker find her tainted, culpable in some way. Her fiancé Peter wonders why she has kept in touch with ex-boyfriends — and how the hacker knows so much about her personal life.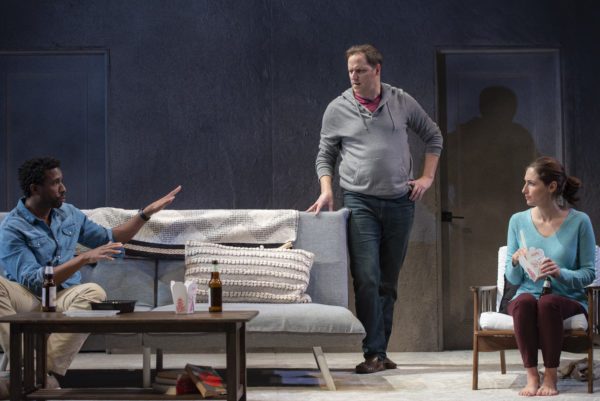 Most damning, and sadly predictable, is the slut-shaming and blame Lara must face. Didn't she pose for an (albeit modest) swimsuit photo at Disneyland, a picture that was later posted by her aunt on Facebook? Peter wants that matter clarified, and later, in a memorable scene, accuses Lara of having "weak passwords." Maybe if she had changed them once in a while, the hacker wouldn't have been able to wreak such havoc. The suggestion is that failure to tend one's passwords — if you are a woman — is the equivalent of wearing a thigh-high skirt and having one drink too many. Maybe Lara was just a tiny bit asking for it? Cyberspace begins to look like a hostile place for women, as dangerous as a frat party. Females log-on at their peril.
All of the actors, including William Oliver Watkins as Peter's office mate, Casey, are convincing as young professionals who are trying to sort out their own lives as well as their interactions with fast-moving technology. The Internet itself serves as a fifth character, making itself known through projections that hang in the air like malevolent specters. A giant blinking cursor ends up filling audience members with considerable dread.
The ending to this who-done-it-and-why may be the least satisfying part of the script. The resolution is unclear, with Lara moving from obsession to something akin to resignation. What to do about this mess we have created? The audience is left feeling powerless and Jordan doesn't offer any solace or answers — just that giant blinking cursor.
---
Susan B. Apel is a freelance writer and retired law professor whose work has appeared in various online and print publications such as the Fredericksburg Literary and Art Review, Literary Mama, and  Persimmon Tree. Her blog, ArtfulEdge, in which she writes about the arts in the Upper Connecticut River Valley, appears regularly at Herecast.us. She is an art correspondent for The Woven Tale Press and a columnist for the newspaper, Vermont Woman. She lives in Lebanon, NH.