By Mark Hänser
Tinariwen's music exudes determination, the soulful energy of ethnic resilience.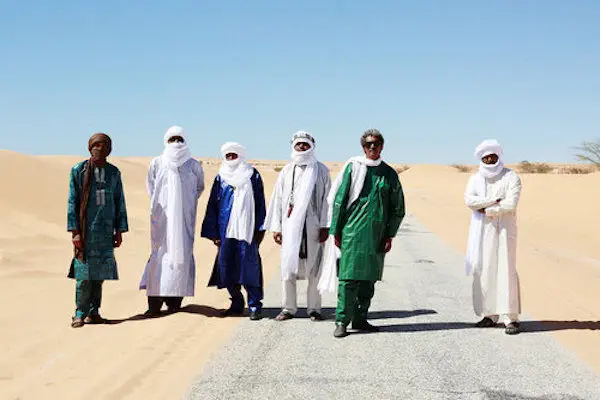 The Tuareg people of the Sahara are called "the blue people" because of their use of indigo dyes from distant Guinea to color the long scarves that cover their heads. A Berber — or, more properly, an Amazigh — people who cross the boundaries of Algeria, Mali, and Niger via camel and Range Rover, the Tuaregs are an ancient North African tribe with equally old traditions.  Music, proto-tribal and pre-Islamic, are among them. Western music stars such as Peter Gabriel, Robert Plant, and Ry Cooder have long championed (and been influenced by) the Tuareg collective Tinariwen. A listen to Amadjar, the group's excellent new album, makes the reasons for their appeal  crystal clear.
On September 20 at the Royale in Boston, Tinariwen played before an SRO crowd in a concert presented by Bowery Boston and Global Arts Live. Tinariwen's tunes took me back in time to 35 years ago, when I was young and fearless and traveled to the edge of the Sahara where I heard songs of timeless beauty. It was the sound of Saharan bebop, Malian proto-blues, primarily guitar driven, in a style referred to as assouf in Tamasheq, the Tuareg language. Tinariwen's clothes weren't designed for the stage, and that only made their appearance more amazing. It was indigenous Amazigh wear: So much blue, from navy to indigo to periwinkle, and scarves ranging from obsidian black to the whitest white.
We were fortunate that Tinariwen was on stage to be admired. The group customarily tours with between six and nine members; at the Royale, five were present: Ibrahim Ag Alhabib, Touhami Ag Alhassane, and Elaga Ag Hamid, all on guitar and vocals; Abdallah Ag Alhousseyni, acoustic guitar and vocals; and Eyadou Ag Leche, bass and vocals. Both of the group's percussionists, Said Ag Ayad and Amar Chaoui, have been (according to a group spokesperson) "stuck in Paris for an undetermined period waiting for our visas because of DS-5535 — extreme vetting — procedures. We have had the percussionist Brahim Fribgane since Atlanta." And Fribgane was superb, a magnificent human metronome. Before the concert began, Global Arts Live's Jennifer Fox took the stage to note the visa issues that have plagued the group's US tour, noting that "music knows no boundaries."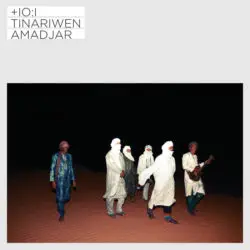 Now for the music. Most of the evening's material came from Amadjar.  Tinariwen's opening number was incendiary, with an insistent groove that reveled in the funk of the souk. This music exudes determination, the explosive energy of ethnic resilience. The number that followed reveled in a rough, mid-tempo Grateful Dead-like groove, rising and falling in polyrhythms. So many of the numbers that came after, like the propulsive "Sastanáqqám," embraced a sinuous and sensuous groove, with driving drones and wailing guitars and impassioned vocals in Tamasheq and Arabic with soupçons of French. "Aregh Danagh," with its call-and-response chanting á la John Lee Hooker, recalled the routes and roots of both North and West African music.
The encore began as a plaintive desert blues, led by Abdallah Ag Alhousseyni plucking his acoustic guitar like an oud, the other band members joining  him in succession. It was an exquisite finale that deservedly received a rapturous reception. In Tamasheq, "Tinariwen" means "deserts," and the group brought the sound of the Sahara, the music of the sun, to Boston.
Opener Lonnie Holley provided an effective launch for the evening.  A native of Birmingham, Alabama, Holley — also known as "The Sand Man" —  is a visual and performing artist who works in paint and sculpture inspired by traditional African American forms; onstage, quoting from his website's bio, "his music and lyrics are improvised on the spot and morph and evolve with every event, concert, and recording."
Trombonist Dave Nelson and drummer Marlon Patton provided an atmospheric foundation for Holley's Griot-like poetic lamentations. Lots of jazzy blue notes and Coltrane-like improvisations  — the pair have formed an instrumental duo called Nelson Patton. The trio performed the following pieces: "I've Been Down By the River Too Long," "You Asked Me," "Beyond," and "Secrets of the Aftermath." It was a satisfying opening set.
---
Mark Hänser is a visual and performing artist, poet and writer, actor and musician, and educator. Mark has a BA in History from California State University Long Beach, where he majored in Medieval and Renaissance Studies; a BFA in Painting and Interrelated Media, with a minor in Art History, from Massachusetts College Of Art And Design; and an Ed.M in Arts In Education from Harvard University. He has written and edited for a number of publications, including the Boston Phoenix, where he wrote about music.
Mark has taught art in a number of Boston-area arts programs, and taught drama for a semester at the Cambridge Friends School. He really enjoys donuts.