By Paul Robicheau
David Byrne and the band have clearly made a home out of the Emerson Colonial, working out tweaks in what has evolved into an extremely tight, invigorating show.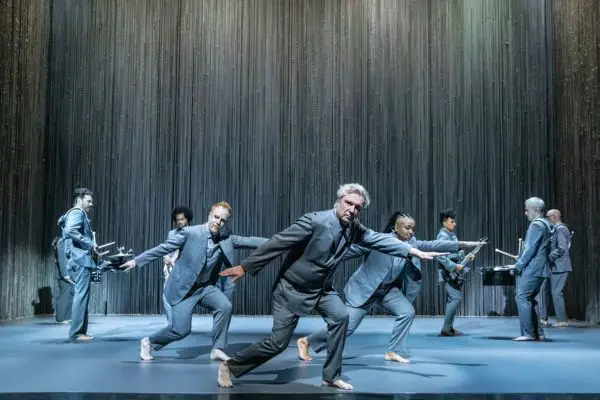 David Byrne anchored what is inarguably one of the greatest concert films of all time in Stop Making Sense, where director Jonathan Demme captured the artful piece-by-piece buildup of a riveting 1983 performance by the Byrne-led Talking Heads. And Byrne, who left Talking Heads three decades ago, staged another conceptual landmark with last year's American Utopia tour, where the singer/guitarist and his musicians romped untethered to wires or stations on a wide-open stage. Britain's New Musical Express gushed that it "may just be the best live show of all time."
Such superlatives preceded Byrne as he brought American Utopia to the Emerson Colonial Theatre for 18 performances in a pre-Broadway run that ends Saturday. And you can't lose with a show that echoes both of those previous high-water marks in different ways. Granted, it's essentially the same show as Byrne's 2018 concert tour, just scaled back for theatrical clarity and laced with more narration that doesn't overly distract from the songs. The move to an intimate sound stage like the Emerson, however, brings fresh focus and detail to a staging that recalls the perfection of Stop Making Sense, itself filmed at a small LA theater.
As on Talking Heads' 1983 tour, American Utopia still opens with Byrne alone onstage — but he's examining a model of the human brain to muse about each region's connections in "Here," an idea that spreads to our connections to others as a thematic seed for the 105-minute show. As we become older, Byrne explains, our brains keep those connections we find useful and prunes others. It was like his 11-piece band – which slowly joins Byrne, two to a few musicians at a time, barefoot in gray suits like their leader — stripped only to instruments that connect to the body. Because, he says, we most enjoy watching people.
That's where American Utopia production consultant Alex Timbers (director of Moulin Rouge!) and choreographer Annie-B Parson make a difference, because watching a dozen musicians move at random wouldn't work as well as the show's tightly rehearsed groupings and patterns. The best choreography often seemed the simplest and most natural to the band and audience alike: lines weaving forward, backward, and sideways in formations similar to a marching band. Other times, the movement was more abstract, but the contrasts in choreography were welcome. Free-floating dancers worked better in opposition to taut percussion and Byrne's forceful vocals in the Afro-funk "Born Under Punches (The Heat Goes On)" — one of nine Talking Heads songs in the 21-song show — than when Byrne and three bandmates briefly made physical connections with their hands in an oddly stiff couple pairing.
If there's a slight downside to the wondrous American Utopia, the precision and mood of a stage production sometimes take priority over the spontaneity and energy of a concert. A sit-down audience couldn't fuel an early pairing of Heads favorites "I Zimbra" (interlocking guitars by Byrne and Angie Swan leaving room for its sliding bass note from Bobby Wooten III) and the playful "Slippery People." Yet, even when Byrne said it was okay for people to dance — apart from in the aisles — and fans rose to their feet, "Burning Down the House" sounded uncharacteristically sluggish, although it proved more interesting in a slow percussive breakdown.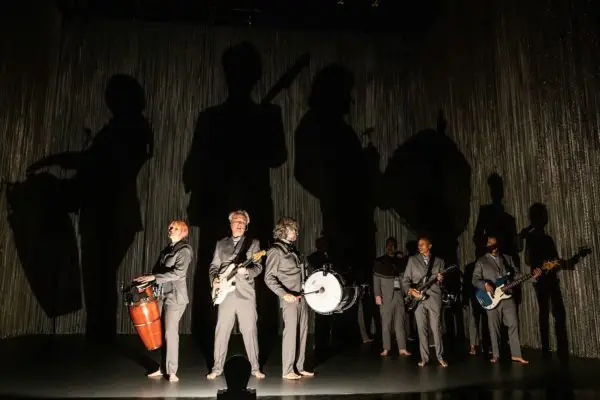 Directed by longtime Byrne associate Mauro Refosco, six percussionists provided the band's most pervasive element, splitting the parts of a drum kit (and sundry international instruments) like a marching band or New Orleans second line. They overshadowed the keyboard-borne horn signatures of "Blind," which sported big silhouettes on the stage's beaded curtain backdrop in an homage to Stop Making Sense. And all 12 of the musicians played percussion for Janelle Monae's protest song "Hell You Talmbout," a tune Byrne said Monae told him was a song for humanity, chanting the names of African-American victims of gun violence.
"I Should Watch TV," from Byrne's 2012 album/tour with St. Vincent, lent some dramatic, edgy tension around the confusing connections generated by television, while last year's joyous single "Everybody's Coming to My House" found the band loosening up. Byrne noted the song's character leans toward suspicion, but that a high-school choir came up with a more inclusive version that he actually preferred. When the Scottish-born singer added of the musicians, "We're all immigrants," Thursday's audience let out a huge cheer. Then the band dipped back into the Heads songbook for "Once in a Lifetime." Byrne mimicked a few jerky motions from its MTV-era video, Swan cued the song's climax with a slashing guitar, and the results were levitating.
Four shows until the end of the run, Byrne was in fine voice – and, if his commentary occasionally seemed a bit awkward, the delivery fit his personality. And when the group's co-vocalists — including the sassy dancers Chris Giarmo and Tendayi Kuumba — clustered choir-like for the Brian Eno/Byrne collaboration "One Fine Day" near the end of the show, the singer conveyed a powerful message of hope. Another theme occurring among the songs was home. "Home is where I want to be," Byrne sang in "This Must Be the Place (Naïve Melody)." And the band has clearly made a home out of the Emerson Colonial, working out tweaks in what has evolved into an extremely tight, invigorating show. And if it seems a bit more like a concert than a Broadway production, that's quite likely what his fans prefer.
---
Paul Robicheau served as the contributing editor for music in The Improper Bostonian in addition to writing and photography for The Boston Globe, Rolling Stone and other publications.