By Steve Feeney
Keep Talkin' further solidifies Yoko Miwa's place on the list of pianists who can lift evolved spirits without resorting to stridency.
Yoko Miwa Trio – Keep Talkin' (Ocean Blue Tear Music)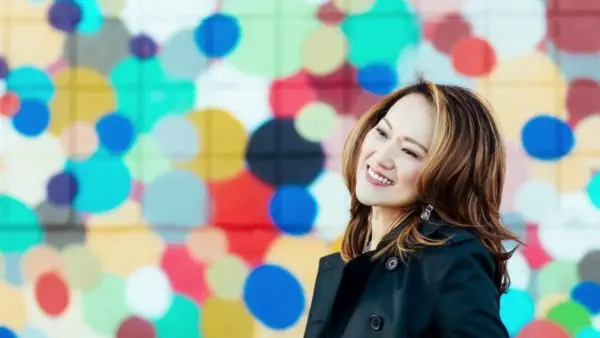 Pianist Yoko Miwa has gained a strong reputation by infusing her solid musicianship into the progressive mainstream jazz tradition. Her latest disc, Keep Talkin', further solidifies her place on the list of pianists who can lift evolved spirits without resorting to stridency.
The 40-something Kobe, Japan native came to the U.S to study at the Berklee College of Music and stayed on to reach her present position as a professor at that institution.  But that job hasn't kept her off the bandstand or out of the recording studio. Tasteful in its execution, the playing on the new disc, her eighth album, is both technically impressive and gently moving.
The disc finds her with regular trio-mates Will Slater on bass and Scott Goulding on drums (Brad Barrett replaces Slater on one cut).  They dig into an expansive recital that mixes Miwa originals with some choice pop and jazz covers.  The formal versatility of all three musicians is quickly apparent.
Taking the originals first, the title tune is a bit of Horace Silver-ish jazz funk that quickly finds its groove in a form that some critics see as the last time jazz tapped into its roots on the street.  Her "Secret Rendezvous" exudes a certain mysterious allure — rich chords fly above a Latin rhythm.  The pianist's Sunset Lane" explores a gentler path, full of rolling harmonies, while in "Tone Portrait" Slater and the pianist converse in a composition that rivals those of Brad Mehldau, who built drama around a tune's firm center.  "If You're Blue" comes hard out of the blocks and then rides a walking groove that's completed by a brief Goulding solo.  "Sunshine Follows the Rain" has the composer/leader waxing rhapsodic after some fine arco bass work from Barrett.
Pop sounds are very much within Miwa's reach, as she demonstrates on cuts by Lennon & McCartney and Joni Mitchell.  The trio's take on the Beatles' "Golden Slumbers/You Never Give Me Your Money" is as pure an example of pop-jazz as you are likely to find.  Miwa adds melodic variations that perfectly tease out the piece's melancholy, mixing in nostalgia as she pulls off a fresh appreciation of one of the Fab Four's classics. Mitchell's "Conversation" generates a gentle feel that encourages the composer (and Miwa in her interpretation) to tell very human stories.  "Casa Pre-Fabricada" builds on the foundation of a Brazilian tune, but stays loose as it transports the listener elsewhere.
The inescapable tradition of bebop gets its due on assertive takes of Thelonious Monk's "In Walked Bud" and Charles Mingus' "Boogie Stop Shuffle."  Both pieces, as performed by the estimable Miwa trio, honor the originals while making a convincing case that the music is still very much alive in the hands of such adroit players.
Miwa's music may be stylistically familiar.  But there are many subtle pleasures to be had if you just keep listenin'.
---
Steve Feeney is a Maine native and attended schools in Maine, New Hampshire and Massachusetts. He has a Master of Arts Degree in American and New England Studies from the University of Southern Maine. He began reviewing music on a freelance basis for the Portland Press Herald/Maine Sunday Telegram in 1995. He was later asked to also review theater and dance. Recently, he has added BroadwayWorld.com as an outlet and is pleased to now contribute to The Arts Fuse.