By Tim Jackson
In Photograph, embracing your roots can nurture love — in very unexpected ways.
Photograph, directed by Ritesh Batra. Screening at Landmark's Kendall Square Cinema , AMC Boston Common 19, and the Coolidge Corner Theatre.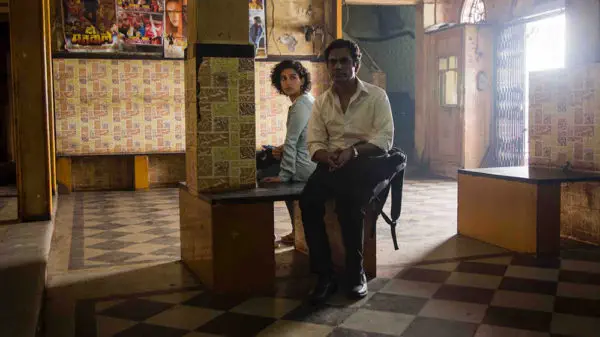 Ritesh Batra's new film, Photograph, begins with a romantic comedy cliché : a couple "meet cute." Rafi (Nawazuddin Siddiqui), a working class Mumbai street photographer, snaps a picture for Miloni (Sanya Malhotra), a shy girl from an upscale family. She forgets to pay him and walks off. Rafi is a poor bachelor, struggling to pay his late father's debts while putting up with his grandmother Dadi's (marvelous 86 year-old Farrukh Jaffar) nagging that he find a suitable wife. The old woman has threatened to stop taking her medication until her grandson finds a wife, so he uses Miloni's photo to invent himself a fiancé. Dadi's coming for a visit, so Rafi must convince Miloni to go along with the ruse. The game is on and — despite their social differences — the contrivance born of desperation goes surprisingly well.
A very predictable premise, but Batra develops the relationship in unconventional ways, consciously avoiding melodrama, obvious laughs, and even scenes that, ordinarily, would be key plot points in a feel-good narrative. He favors encounters that are focused on revealing character, creating momentum (and generating interest) through quiet gestures, astute pictorial framing, and brief, understated conversations.
For example, there no snappy exchange between the two when Miloni agrees to act as his fiancé. Rafi catches sight of Miloni as she boards a bus and, recognizing she is the girl in the photograph, takes the seat behind her. She seems to sense his nervous presence. The man next to her leaves, but Rafi still can't up get the nerve to talk to her. A moment passes. She shifts over one seat and he joins her. Few words are exchanged — but there is a palpable sense of yearning. That welcome (and effective) use of dramatic restraint persists throughout much of the film. Good-naturedly, Rafi's friends mock his efforts: "Couldn't you pick a less pretty girl? You're as dark as coal." Peter Raeburn's score is a considerable assist, insinuating romance into the aching silences of the performances.
Rafi charms her in spite of himself. And Miloni, despite having a family that wants her to follow a professional career path as an accountant, feels herself to be an outsider. She wants to be respected for desiring an uncomplicated life. Rafi's patience and self-determination balance her introverted nature and resourceful intelligence. Still, neither will break the ice. What helps things move along is symptomatic of the film's gentle charm.  One afternoon over a cup of chai, Miloni reveals her love for Campa Cola, which she claims is no longer being sold. To find that elixir becomes Rafi's Holy Grail. The one old man who still makes this particular cola has the unlikely name Mr. Sodabottlewallah. This story thread is underplayed and it is not really brought to a conclusion. Yet it mysteriously sets up the story's deft shift move into fable, as mystical elements are brought in to provide a cleverly unpredictable resolution.
Besides its unpredictability, Photograph's playful humor draws us into its reserved emotional world. The most beguiling banter comes from grandmother, Dadi. (Her spirited confrontations will remind you of Chunibala Devi's performance as the wizened aunt in Satyajit Ray's Pather Panchali.) The chatty and wise senior citizen speaks truths that force others to face reality. "She'll be a chartered boat and you a canoe paddling with the anchor down" Dadi opines. "Look at you — black as a raisin." Despite the tough love, Rafi respects and listens to his grandmother's observations. "She was so funny when we were children; we would laugh until we forgot how hungry we were," he recalls. The amiable Miloni wins over the old woman. Dodi gifts her with an heirloom ankle bracelet. Feet are a major visual and thematic motif in Photograph. They may signify Batra's celebration of  the conservative virtues of being grounded in family, society, and social class. Embracing your roots can nurture love — in very unexpected ways.
---
Tim Jackson was an assistant professor of Digital Film and Video for 20 years. His music career in Boston began in the 1970s and includes some 20 groups, recordings, national and international tours, and contributions to film soundtracks. He studied theater and English as an undergraduate, and has also has worked helter skelter as an actor and member of SAG and AFTRA since the 1980s. He has directed three feature documentaries: Chaos and Order: Making American Theater about the American Repertory Theater; Radical Jesters, which profiles the practices of 11 interventionist artists and agit-prop performance groups; When Things Go Wrong: The Robin Lane Story, and the short film The American Gurner. He is a member of the Boston Society of Film Critics. You can read more of his work on his blog.