By Thomas Filbin
The Club is an entertaining and absorbing journey to another century, when the art of communication and the spirit of thoughtful engagement attracted men and women of acute sensibilities.
The Club: Johnson, Boswell, and the Friends Who Shaped an Age by Leo Damrosch. Yale, 473pp, $30.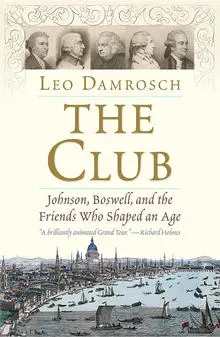 Asked his opinion of whiskey, a politician replied, "If you mean the devil's drink, the gateway to sin, I am against it. If you mean the nectar of the gods and the lubricant for good conversation, I am for it." For the good fellows of what was known in London as "the Club," alcoholic spirits proved to be an invaluable boost to their already estimable brilliance. Founded in London in 1764 by such literary and artistic luminaries as Samuel Johnson, Joshua Reynolds, Edmund Burke, and Oliver Goldsmith, the gathering was devoted to food, drink, and, above all, lively conversation. Other wits and intellectual celebrities joined later: James Boswell, David Garrick, Edward Gibbon, Adam Smith, and Richard Brinsley Sheridan, to drop a few names. Leo Damrosch's latest book explores the intersection of these fabulous lives at a time before the ascension of  electronic media. There was a time when face-to-face interactions fueled the exchange and debate of ideas, to the point that brainy people were kept up at night. Given our digital age, dedicated to gluing eyes to screens, will such a golden age of conversation ever return?
Damrosch is an academic who has a gift for interweaving informative scholarship and interesting side bars in ways that both enlighten and entertain. He paints a picture here of each of "the Club"'s distinctive members, weaving their portraits into a masterfully crafted narrative. These men (and, although not members, the women they loved to spend time with, such as Fanny Burney) readily debated politics, literature, scientific progress, and the 'deep' questions of life — peppering all the vivid talk with wit and gossip.
The meetings at the Turk's Head Tavern were fueled by food and drink, but the "pub grub" of that day was sumptuous. Beef, mutton, geese, ducks, lamb, rabbit, and pheasant were on the menu. Seafood was also on offer: fish, turbot, sturgeon, sole, carp, and eels were accompanied by mussels and oysters. Liquid sustenance was abundant; wine, fortified punch, port, and brandy flowed freely — although not hard liquor. Boswell, despite being a Scot, did not like whiskey. Damrosch notes that "At various times in his life Johnson drank no alcohol, saying that he was capable of abstaining but not of moderation." One can only imagine how passionate the parley became as the hour grew later and club members leaned forward to pour themselves one for the road.
Johnson, essayist and lexicographer extraordinaire, was a man whose presence filled a room. Six feet tall in an age when many men were far shorter, he could be overbearing in his judgments, but he expressed his thoughts so well he was forgiven for his bullying.  The son of a bookseller, Johnson ran out of money after one year at Oxford and came home, dogged by the melancholy that would vex him at intervals all his life. He tried his hand at running a school, failed at that, and finally resolved to earn his living by the pen. Marriage to an older woman with some money solved his financial problems, but the coupling was a mismatch. She lost interest, ending up living in a boardinghouse to be by herself and her illnesses. Once she had been settled there, Johnson noticed gouges in the walls of the staircase. The proprietor gave him the depressing cause: they had been struck repeatedly by the coffins being taken down.
Boswell, who became Johnson's celebrated biographer, was not an early member. His puppy-dog like attachment to his idol got him an admission ticket. Son of a well-to-do Scottish law lord, Boswell preferred London and the literary life to being a lawyer in Edinburgh. A heavy drinker and frequenter of prostitutes, Boswell was not a luminary of the first order. But he is an example of a man whose soul craved association with highbrows artists, and was willing to put a life of his own aside in order to be part of a starry constellation. In his London Journal he reflects, "Indeed, as to the happiness of life, it is not in this thing or that thing. It is in everything."
Sir Joshua Reynolds, portrait painter to anyone who was anyone, was also a member. His 1775 portrait of Johnson captures him as a learned beast, hunched over a book with his bad eyesight and tilted head, engrossed in learning to the exclusion of the world. Reynolds grew wealthy from his art; he was a savvy businessman who carefully cultivated the value of what he offered.
Edmund Burke, member of parliament and powerful polemicist, added spark to the gatherings. Although known more for his politics, he wrote an influential essay as a young man on the sublime and the beautiful. His reflections to the revolution in France established his conservatism; his views addressed Britain's anxiety about the age's political upheavals. Damrosch observes that Burke "…had a debater's talent for inventing arguments, and an exceptional gift for persuasive language." Johnson said of Burke, "His stream of mind is perpetual."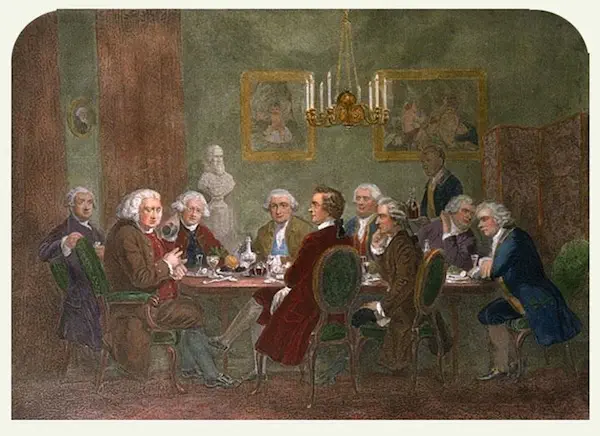 Adam Smith, the father of modern economic theory, added devout seriousness to the group, while the actor and producer David Garrick brought spark and vigor. His Drury Lane theater was at the center of drama in London; he was the Olivier of his generation. Garrick had been briefly a boarding school student of Johnson's, and we might well assume drank deeply from the well of the master.
The novelist Fanny Burney survived until 1840, dying at the age of eight-seven. Although not formally a member of the club, she was a friend to those who were. The Club per se was short-lived, but a successor, known as the London Literary Society, carried on its ideals with such members as Walter Scott, Thomas Babington Macaulay, Matthew Arnold, and Rudyard Kipling.
British intellectuals  have always seemed to tend toward the conservative, In France, the great thinkers were born in the Enlightenment and accepted its transformative premises. Johnson and other club member suspected new doctrines, fearing the overthrow of king, church, and government by a rabble. Their preference was generally for rule via the educated, propertied class. Johnson was of this traditionalist disposition; in terms of religion, he regarded deism, the prevailing belief of the forward-looking literati in the 18th century, as repugnant. Damrosch notes that "…for him, every one of the doctrines of Christianity was true…But that meant that the skepticism Johnson showed in every other context had to be firmly suppressed in this one."
The Club is an entertaining and absorbing journey to another century, when the art of communication and the spirit of thoughtful engagement attracted men and women of acute sensibilities. Looking back in time is not always a matter of nostalgia — sometimes it can show us a time when people got important matters right.
---
Thomas Filbin is a free lance writer whose work has appeared in the New York Times, the Boston Sunday Globe, and The Hudson Review.